A Celestial Marvel Beckons As August gracefully nears its end, Dubai's night sky is poised to deliver an extraordinary spectacle for stargazing enthusiasts and curious onlookers alike. Prepare to be captivated by the grandeur of a rare event – the Blue Supermoon – set to grace the heavens on Thursday, August 31, 2023.
Understanding the Blue Supermoon: A Convergence of Wonders
The Blue Supermoon, a phenomenon where a second Full Moon graces the same calendar month, is a celestial rarity that occurs every 10 to 20 years. This unique alignment of events creates a truly captivating spectacle for those fortunate enough to witness it. Contrary to its name, the term "Blue" doesn't refer to the moon's color, but signifies the uncommon occurrence of two full moons within a single month.
Unveiling the Brilliance: A Brightness Like No Other Of the three Supermoons in 2023, this Blue Supermoon shines the brightest. It's an event that demands attention, as the moon reaches its closest point to Earth during its elliptical orbit, a phenomenon known as perigee. At an astonishingly close distance of 357,181 kilometers, the moon's brilliance will illuminate the night sky like a celestial beacon.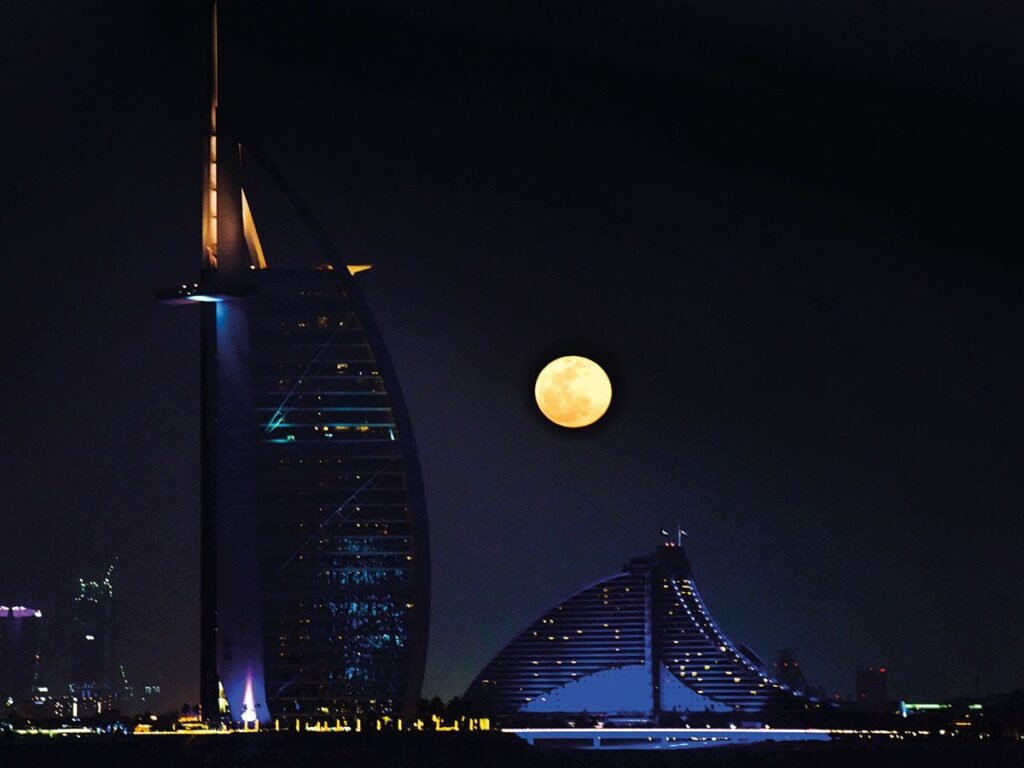 Also read: Terra Cabins At JA Hatta Fort Hotel: Escape To Nature's Tranquility And Discover Enchantment
A Glimpse into Rarity: A Cosmic Synchrony The convergence of a Supermoon and a Blue Moon is a cosmic synchrony that stargazers and astronomy enthusiasts hold dear. Unlike the typical three to four Supermoons in a year, the combination of these lunar events is a truly special occurrence, offering a chance to connect with the universe in a profound way.
Eager Anticipation: Mark Your Calendars As August bids farewell, the anticipation for the Blue Supermoon grows stronger. The night of Thursday, August 31, presents a unique opportunity to witness this celestial masterpiece. No specialized equipment is required – simply direct your gaze towards the sky, and let the awe-inspiring sight unfold before you.
Embracing the Exceptional: A Reminder of Cosmic Majesty The Blue Supermoon serves as a reminder of the vastness and splendor of the cosmos. It's an invitation to pause, look upwards, and contemplate the wonders that lie beyond our earthly realm. With the next Blue Supermoon not expected until 2037, this year's event is an exceptional moment that deserves to be embraced and cherished.
Advertisement

Prime Skywatching Locations: Where to Witness the Blue Supermoon While the Blue Supermoon is a celestial event visible from various locations, Dubai offers a range of prime spots for an enhanced stargazing experience:
1. Al Thuraya Astronomy Centre: Located in the midst of Mushrif Park, this center boasts one of the region's largest telescopes. It offers guided sessions for observing the night sky with telescopes.
2. Al Sadeem Astronomy: An Abu Dhabi-based private firm specializing in deep-sky research and stargazing experiences. It offers guided private sessions and features the exclusive Vaonis smart telescopes.
3. The Al Quaa Milky Way Spot: This location in UAE's deep desert areas offers minimal light pollution, making it a haven for stargazers seeking pristine views.
4. Sharjah Centre for Astronomy and Space Sciences: Equipped with telescopes and an observatory, this center provides opportunities to observe stars, planets, and even lunar events.
5. Hatta: While urban developments have introduced light pollution, Hatta's Hajjar mountains still offer good stargazing conditions.
Also read: Skaya Art Agency Presents: 'Art In Shades Of Gold' Exhibition By Yana Rusnak At ME Dubai
A Mesmeric Finale to August's Celestial Symphony August has undoubtedly been a month of celestial delights, from meteor showers to Micro Moons. As the month draws to a close, the Blue Supermoon takes center stage as a mesmerizing finale. This event unites the ethereal beauty of a Full Moon with the intrigue of its rarity. So, remember to cast your gaze skyward on the night of August 31, and be enchanted by the radiant allure of the Blue Supermoon – a beacon of wonder in the vast expanse above.
Advertisement