As the excitement heightens for the second leg of the 2023 Formula 1 season, fans and enthusiasts eagerly await the grand finale – the Formula 1 Etihad Airways Abu Dhabi Grand Prix 2023. With a limited number of experience packages left, this event promises an unparalleled blend of heart-racing action on the Yas Marina Circuit track and a sensational array of international culinary delights.
A Culinary and Racing Extravaganza: Formula 1 Etihad Airways Abu Dhabi Grand Prix 2023
A Glimpse of the Remarkable Hospitality Experiences In its 15th edition, the Formula 1 Etihad Airways Abu Dhabi Grand Prix 2023 is set to take the hospitality experience to new heights. Featuring an array of 15 captivating hospitality experiences, the event invites fans to indulge in an unforgettable weekend filled with racing, luxury, and gourmet excellence.
Introducing New Culinary Stars Among the highlights is the introduction of the new "Deck at Two," a VIP-viewing platform situated at Turn 2. This exclusive vantage point provides guests with an up-close view of the racing action, paired with delectable menus from acclaimed establishments.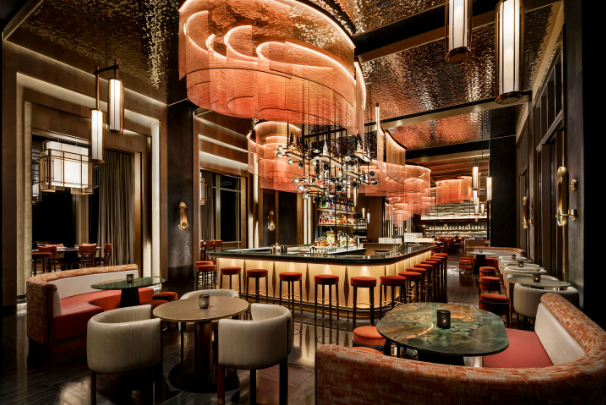 Nobu Dubai, renowned for its fusion of Japanese and Peruvian cuisine, showcases the culinary expertise of Head Chef Damien Duviau exclusively for the #AbuDhabiGP weekend. Hakkasan Dubai presents a tailored collection of Cantonese dishes, specially curated for the event by Chef Andy Toh as part of the "Only At" collection. Additionally, the esteemed estiatorio Milos tempts attendees with the finest in Greek Mediterranean fare.
Also read: Experience The Rare Blue Supermoon In Dubai's August Night Sky
New Entrants on the Scene Making its debut is Roka at Club 58, introducing premium sushi and grilled Japanese offerings to the menu. For those seeking a luxurious setting to enjoy the thrilling speeds, the Hillside Terrace offers a dynamic party atmosphere. Dubai's own The MAINE Oyster Bar & Grill, known for its New England Seaside Brasserie concept, presents an exclusive menu that promises an extraordinary day-to-night experience atop the Abu Dhabi Hill, offering stunning vistas of the North Hairpin.
Advertisement

Reimagined Classics and All-Time Favorites Returning favorites like Turns at West, North Straight Hospitality, and Deck At Nine with Opa, along with the popular Luna Lounge featuring Ce La Vi, promise to delight fans once again. Turn 1 with Il Borro, Alici, and Maya Bay, as well as Shams Suites featuring Japanese-inspired Gohan and Ninive, cater to the diverse tastes of attendees.
Limited-Time Opportunities These remarkable experiences will be available for a limited time, as organizers recognize the overwhelming demand from fans worldwide. For those seeking an immersive weekend filled with entertainment both on and off the track, detailed information can be accessed at www.abudhabigp.com.
Beyond the Racing Thrills In addition to the electrifying racing weekend, all ticket holders for the Formula 1 Etihad Airways Abu Dhabi Grand Prix 2023 gain access to a host of exclusive perks. The 'Yas All In' ticket not only grants entry to the event but also offers the opportunity to explore Yas Island's captivating theme parks, Qasr Al Watan, and the renowned Louvre Abu Dhabi from November 22nd to 27th.
Also read: Terra Cabins At JA Hatta Fort Hotel: Escape To Nature's Tranquility And Discover Enchantment
A Grand Finale to Remember Concluding the longest F1 season in history, the Formula 1 Etihad Airways Abu Dhabi Grand Prix 2023 is poised to set new records both on and off the track.
With exciting announcements yet to come, enthusiasts are encouraged to secure their experience packages for this premier sports and entertainment event at www.abudhabigp.com, ensuring an unforgettable journey from November 23rd to 26th on Yas Island.
Advertisement