As the summer sun starts to wane, the air is filled with the electric buzz of a new school year. Mister Baker, a beloved name resonating through UAE's celebrations since 1990, is all set to make this Back-to-School season unforgettable with its captivating array of confectionery wonders.
Elevate Your Excitement with Irresistible Back-to-School Treats
A Legacy of Celebration: Mister Baker and UAE's Treasured Moments
For over three decades, Mister Baker has been more than just a bakery – it's an integral part of the UAE community's cherished celebrations. Now, in the spirit of the upcoming school year, they are introducing an exclusive collection of "Back-to-School treats", showcasing their culinary craftsmanship.
Edible Artistry: "Back-to-School Treats" That Spark Wonder Imagine a cake that's not only a treat for your taste buds but also a feast for your eyes. Mister Baker's Back-to-School cakes are meticulously crafted edible masterpieces, adorned with delightful symbols of learning, such as whimsical school buses and scholarly pens. These cakes truly capture the essence of education, transforming it into a delectable work of art.
Prices That Delight: Starting at 315 AED for Your "Back-to-School Treats" Mister Baker believes in spreading joy and celebrating milestones. Their Back-to-School cake collection starts at just 315 AED for a 2 kg marvel, making it an affordable yet exceptional centerpiece for your special moments. Each bite becomes a celebration of growth and learning.
Also read: Embark On An Exciting Back-To-School Adventure With TYPO, Kipling, And EROS Group
Tiny Tokens of Joy: Exploring "Back-to-School Cupcake" Delights If you prefer bite-sized delights, Mister Baker's Back-to-School Cupcakes are an absolute must-try. Priced at an attractive AED 126 for 6 cupcakes, these tiny treasures are a perfect representation of the classroom environment. Edible renditions of textbooks, chalkboards, and notepads adorn these cupcakes, encapsulating the spirit of education in every bite.
Customization Magic: Turning "Back-to-School Treat" Dreams into Reality Mister Baker understands that each celebration is unique, just like every student's journey. That's why they offer a customization option, allowing you to turn your dream cake into an edible reality. Let your imagination run wild and infuse your cake with personal touches that mirror the excitement of a new school year.
Advertisement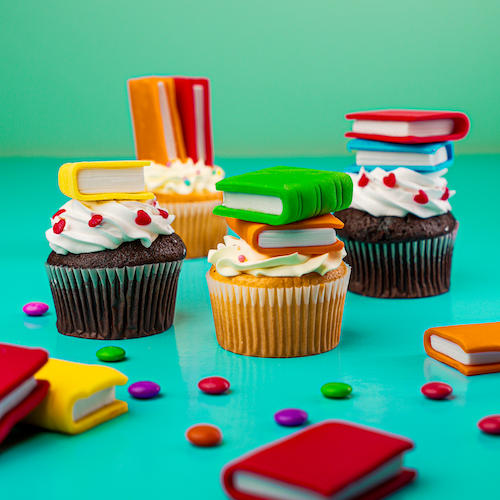 Creating Sweet Moments: Mandeep Chanana's Vision for Back-to-School Excitement Mandeep Chanana, the visionary General Manager at Mister Baker, shares his insights, "As a new school year dawns, both students and parents feel a mix of emotions. Mister Baker believes that every moment deserves celebration. Our limited edition Back-to-School treats are designed to turn those initial jitters into a symphony of happiness, making the start of school an even sweeter experience."
Also read: Back To School Offer: Discover The Ultimate With Selfdrive's Fleet Of 1000 Vehicles
Crafting Joyful Beginnings: "Back-to-School Celebrations" Redefined As students step into a fresh school year, Mister Baker's enchanting "Back-to-School treats" stand ready to accompany them on this incredible journey. Whether it's the intricate cakes that capture the joy of learning or the delightful cupcakes adorned with classroom symbols, each bite is a celebration in itself.
Quick Details :
What:  Mister Baker Sweetens Back-to-School Moments with Irresistible Cakes and Cupcakes
Price: Cakes start at AED 315 for 2 kgs, cupcakes start at AED 126 for 6.
Locations: Dubai: Karama, Deira, Dubai Silicon Oasis, Al Nahda, Mirdiff, Etihad Mall, Al Barsha, Umm Sequim, JLT, Jumeirah 2, Dubai Motor City, Dubai Investment Park.
Abu Dhabi: Hamdan Street, Airport Road, Khalidiya, Baniyas, Al Ain Mall, Muttawa.
Sharjah: Abu Shagara, Al Gubaiba, Al Zahra, 
Ajman: Dana Plaza, Al Jurf, City Life Mall.

Let the celebration begin with Mister Baker's Back-to-School collection, turning ordinary moments into extraordinary memories. Savor the sweetness of growth and the excitement of learning with these delectable treats that redefine Back-to-School celebrations.
Advertisement