As Oktoberfest approaches, Trump International Golf Club is gearing up to deliver an unforgettable celebration of Munich's legendary festival. Throughout the entire month of October, the prestigious golf club will transform into a Bavarian wonderland, offering an array of delectable experiences, live entertainment, and happy hours that promise to elevate your Oktoberfest experience.
Caddy Shack: A Bavarian Extravaganza
Nestled in the stunning surrounds of Trump International Golf Club, Caddy Shack sets the stage for a month-long Oktoberfest celebration. With a welcoming ambiance, live entertainment, and happy hours, it's the perfect spot for memorable gatherings with friends and family.
Also read: Sultan AlNeyadi's Space Mission Transforms Education In UAE
BBQ Platter at Caddy Shack
For barbecue aficionados, Caddy Shack is the place to be. They will be hosting a Munich-inspired Oktoberfest and serving up a tantalizing BBQ platter. Guests can indulge in perfectly seasoned Chicken chops, Lamb chops, Beef sausage, Sauerkraut, and Beef medallion, all accompanied by a crisp salad. This culinary delight takes place every Thursday to Saturday from 5 p.m. to 9 p.m. and is priced at AED 199, including a bucket of four beer bottles.
Live Entertainment at Caddy Shack
As the sun sets, the ambiance is taken up a notch with live entertainment serenading you with catchy German tunes every Friday from 5 pm to 8 pm.
Happy Hours at Caddy Shack
Dust off your Lederhosen and Dirndls because Caddy Shack offers an exclusive happy hour deal. From noon till 8 pm, every day, you can relish the taste of Germany with beers like Hofbrau Original, Lowenbrau, and Becks starting at a pocket-friendly AED 37.
Advertisement

For reservations or more information about Caddy Shack, please call +971 54 417 0399, email reservations@skelmorehospitalitypartners.com
Oktoberfest Extravaganza at 71 Sports Bar
For those seeking Oktoberfest vibes, 71 Sports Bar is your go-to neighborhood hangout, nestled in the picturesque Damac Hills. Available from noon to 10 pm daily, this friendly sports bar promises to take your taste buds on an indulgent journey through the flavors of Bavaria.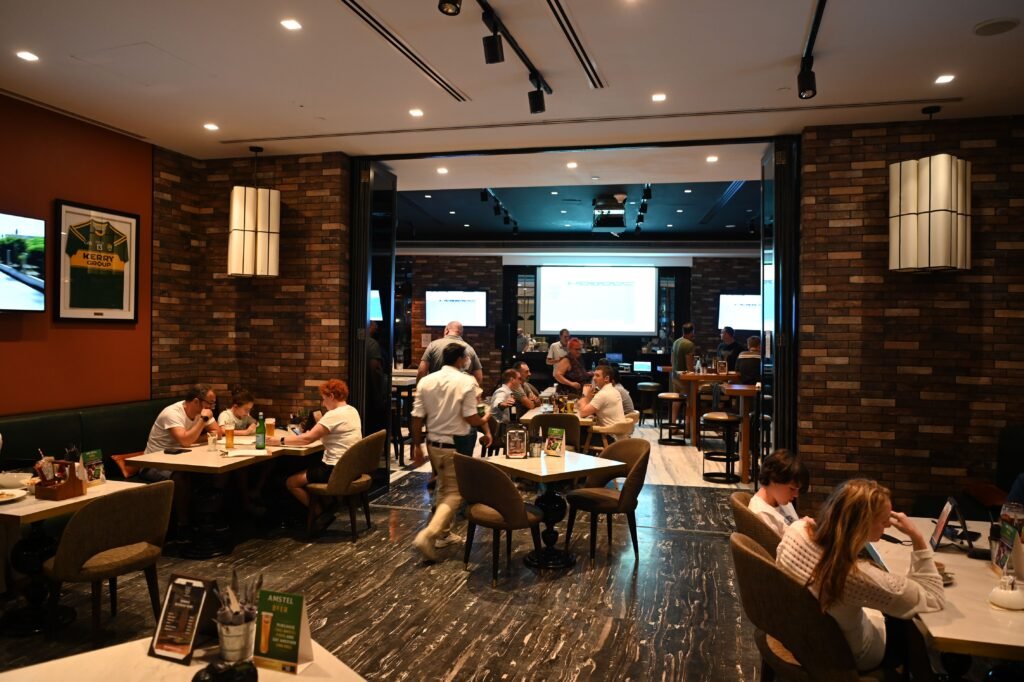 Also read: Dubai And Abu Dhabi Dining Offers: Exciting Dining Offers At 3 Exquisite Destinations
Delectable Offerings at 71 Sports Bar
At 71 Sports Bar, you can savor a Grilled half chicken served with Bratkartoffeln and Sauerkraut at just AED 85. Delight in the Pork schnitzel served with cranberry sauce and spaetzle at AED 95, or enjoy the Currywurst at AED 55. For the pièce de résistance, relish an authentic Bavarian experience with a German main course paired with a pint, all for an unbeatable AED 119.
Whether you're a fan of BBQ platters, live entertainment, or simply looking to soak in the Oktoberfest atmosphere, Trump International Golf Club has you covered. Don't miss out on this month-long celebration of Bavarian culture and cuisine.
For reservations or more information about 71 Sports Bar, please call 04 245 3988, email reservations@skelmorehospitalitypartners.com, visit https://www.trumpgolfdubai.com/dining
Join Trump International Golf Club in raising your stein and toasting a month of Oktoberfest fun and flavors!
Advertisement