Mama Zonia, the beloved fusion restaurant nestled in the heart of Dubai Marina, is taking taste buds on an exhilarating journey with the launch of its new menu. Inspired by the Amazonian jungle and Head Chef Cesar Contreras Crisologo's Peruvian roots, this culinary adventure promises to tantalize even the most discerning palates.
The multi-award-winning restaurant is adding 16 delectable dishes across appetizers, salads, poultry, and seafood options. Mama Zonia's new menu is a harmonious fusion of Nikkei, Asian, and Peruvian flavors, designed to create a sensory experience like no other.
Mama Zonia Dining: An Appetizing Prelude
The journey begins with a selection of flavorful starters. Indulge in the Salmon Tartare Pani Puri, savor the Tuna Tataki, or revel in the Sea Bream Ceviche. These appetizers are a testament to Chef Cesar's culinary artistry, setting the stage for an unforgettable dining experience.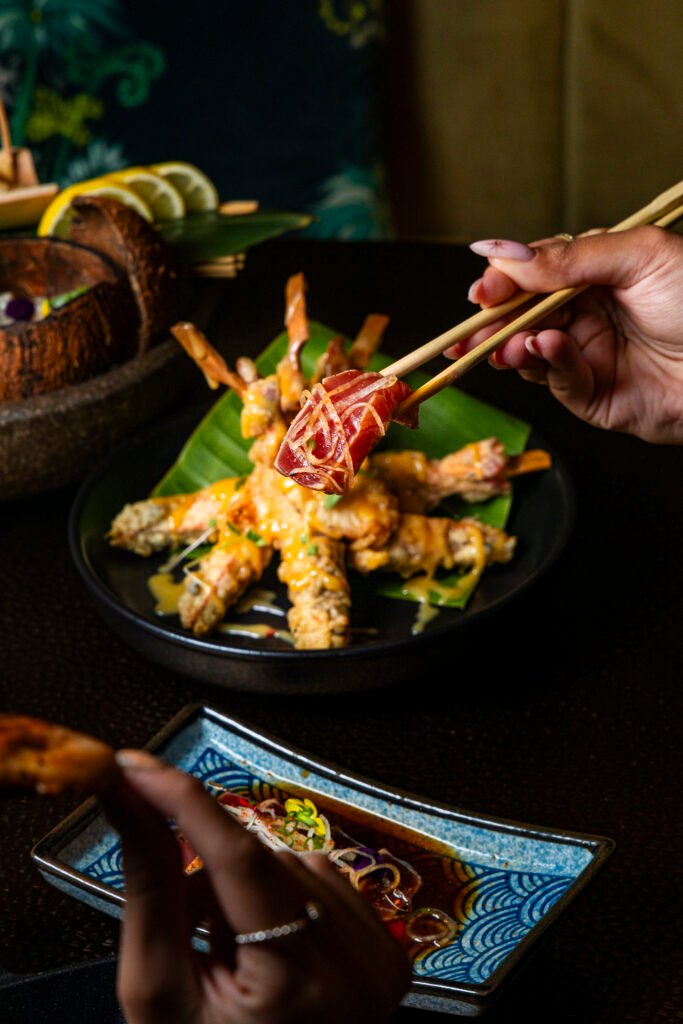 Main Courses that Dazzle
Mama Zonia's main course offerings are equally impressive. Try the Confit Duck Cazuela for a taste of Peruvian perfection or opt for the Smoked Rack Lamb or Chateaubriand Black Angus to satiate your carnivorous cravings. These dishes are the epitome of culinary innovation.
Also read: 7 Unbeatable Reasons To Choose Mazagan Beach Resort
A Sweet Farewell
No meal at Mama Zonia is complete without a sweet finale. The Caramel Milk Cheesecake dessert is a classic that will leave your taste buds dancing with delight. It's the perfect ending to an extraordinary meal.
Sip and Savor with a View
As you dine, complement your meal with a selection of spirits, wines, beers, and specialty cocktails, all while enjoying the breathtaking backdrop of Dubai Marina's skyline. Mama Zonia crafts a refreshing dining experience that transports patrons to the heart of the jungle, offering an array of exotic dishes that captivate the senses.
Advertisement

A Feast for the Eyes and Palate
Situated in the heart of Dubai Marina, Mama Zonia's lush interiors and vibrant ambiance provide the perfect setting for indulging in these new culinary delights. The restaurant's classic a la carte menu remains a favorite, featuring an array of dishes, including Raw offerings, Salads, Maki Rolls, Sashimi, Nigiri, Hot Starters, Tacos, Skewers, Fish, Seafood, Meat, and Poultry dishes.
Also read: Parlour Boutique Introduces A Luxurious French Culinary Experience In The UAE
More than Just a Meal
Mama Zonia goes beyond exceptional dining; it offers a calendar filled with exciting events throughout the week. From Ladies' Night to Your Best Misteak, Secret Jungle Brunch, Happy Hour, and Sushi Sundays, there's something for everyone at this sought-after hotspot.
Book Your Journey
Reservations for this Amazon-inspired culinary adventure can be made by calling +971 4 240 4747. Grab on to explore the flavors of the jungle at Mama Zonia in the heart of Dubai Marina. It's an experience that promises to be as unforgettable as it is delicious.
For those seeking a culinary journey like no other, Book your table today and embark on an adventure of taste and flavor inspired by the Amazonian jungle.
Advertisement