The UAE's efforts to help victims in the Turkey-Syria earthquake is not hidden from us. At least 4,000 people have died and the area has been completely destroyed as a result of earthquakes in Turkey and Syria. People got stuck in the rubble as buildings collapsed, forcing rescuers to use their bare hands to attempt and dig them out.
The UAE reaffirmed its support for Turkey, Syria, and the victims of the enormous earthquake. His Highness Sheikh Mohamed bin Zayed Al Nahyan, President of the UAE, directed the allocation of $100 million towards the relief efforts for individuals impacted by the earthquakes in Turkey and Syria. In addition to giving $50 million to the benevolent Turks, Sheikh Mohamed's offer also includes $50 million for the afflicted in Syria.
That aside, the UAE also helped set up field hospitals, sent aid planes, sent a search and rescue team and also pledged AED 50 million in urgent aid. Also Read: HH Sheikh Hamdan Meets The Heroic UAE Search & Rescue Team That Saved Earthquake Victims
But, the country's efforts didn't stop there. Volunteers at the Dubai World Trade Centre packing relief supplies for earthquake-ravaged Turkey and Syria were in for a pleasant surprise when some very prominent and helpful guests visited them. On Monday, His Highness Sheikh Mohammed Bin Rashid Al Maktoum, Vice-President and Prime Minister of the UAE and Ruler of Dubai was accompanied by young royals along with Sheikh Hamdan and Sheikh Maktoum.
On Monday, about 2,000 volunteers gathered at the Arena Hall to pack 15,000 boxes of aid for the earthquake-devastated countries, and received encouragement and support by the royal family's children who rolled up their sleeves and began packing relief supplies alongside them.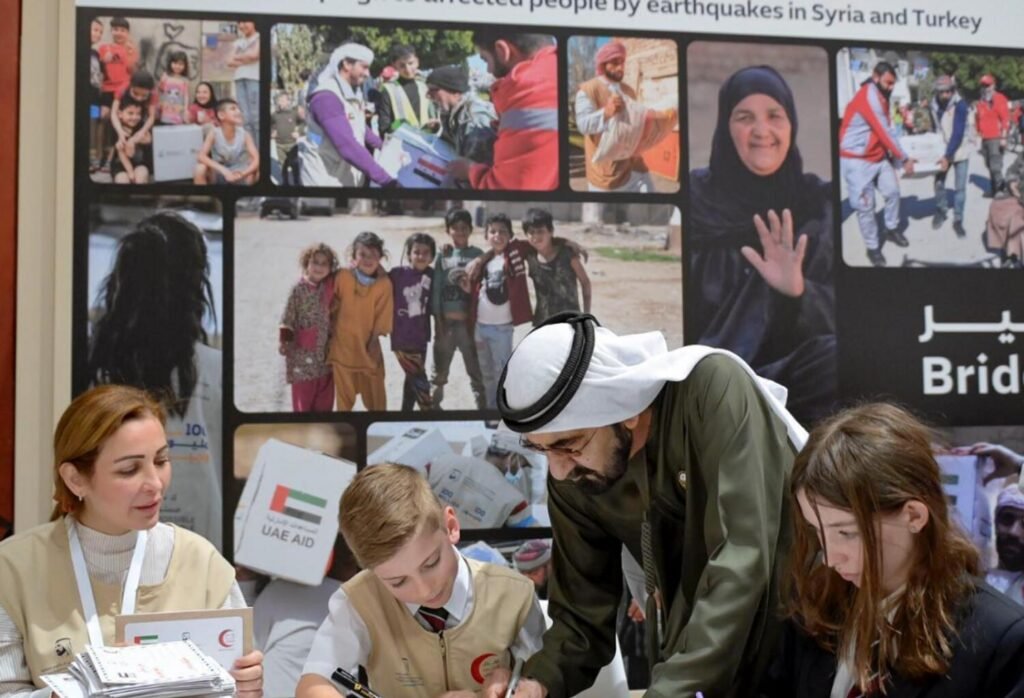 Sheikh Mohammed also signed a postcard in support of the people who were harmed by the catastrophic earthquake that struck Turkey and Syria on February 6. In the postcard, he urged the people to maintain their positive outlook.
"We are with you, and we will always be by your side. You have all our support. Don't let go of hope…", read the handwritten postcard that has gone viral on the internet.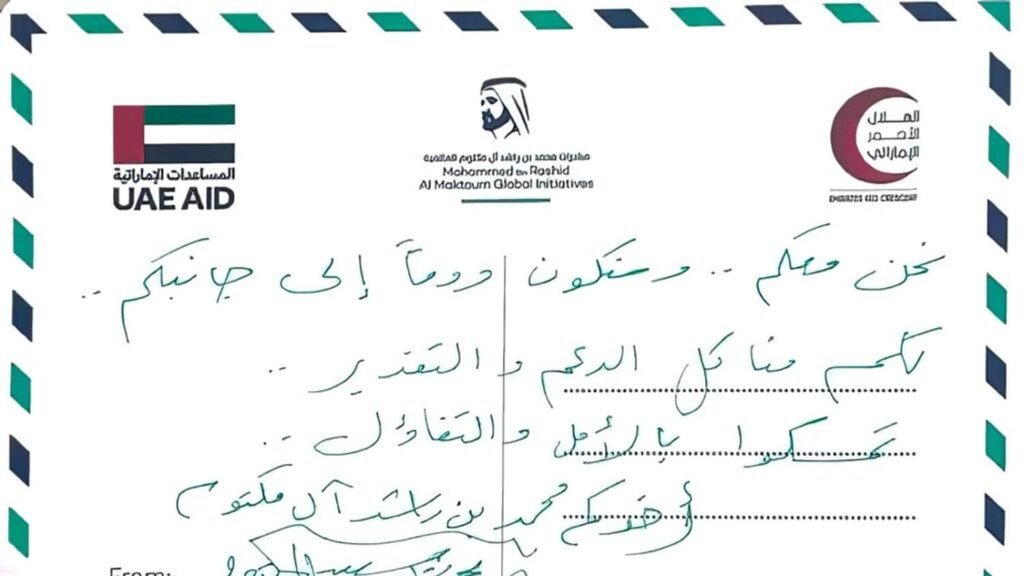 He said, "Today, I visited the Bridges of Giving campaign launched to help Syria-Türkiye quake victims… The UAE is always keen to extend a helping hand to people in need, consolidating human fraternity and solidarity. The goal is to send a message of hope and solidarity to all our brothers and sisters in Syria and Turkiye."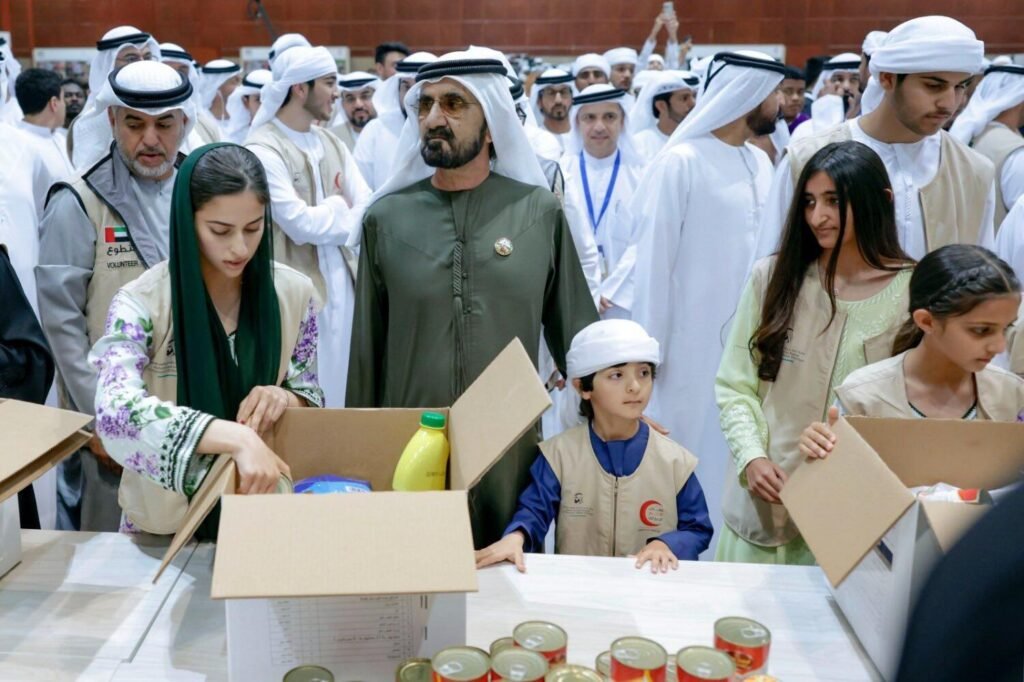 The Crown Prince of Dubai, Sheikh Hamdan bin Mohammed bin Rashid Al Maktoum, was also seen helping to pack food boxes.
The royal family's young members quickly got to work after carefully observing the process. Alongside the volunteers, they packed relief supplies by placing various items in boxes.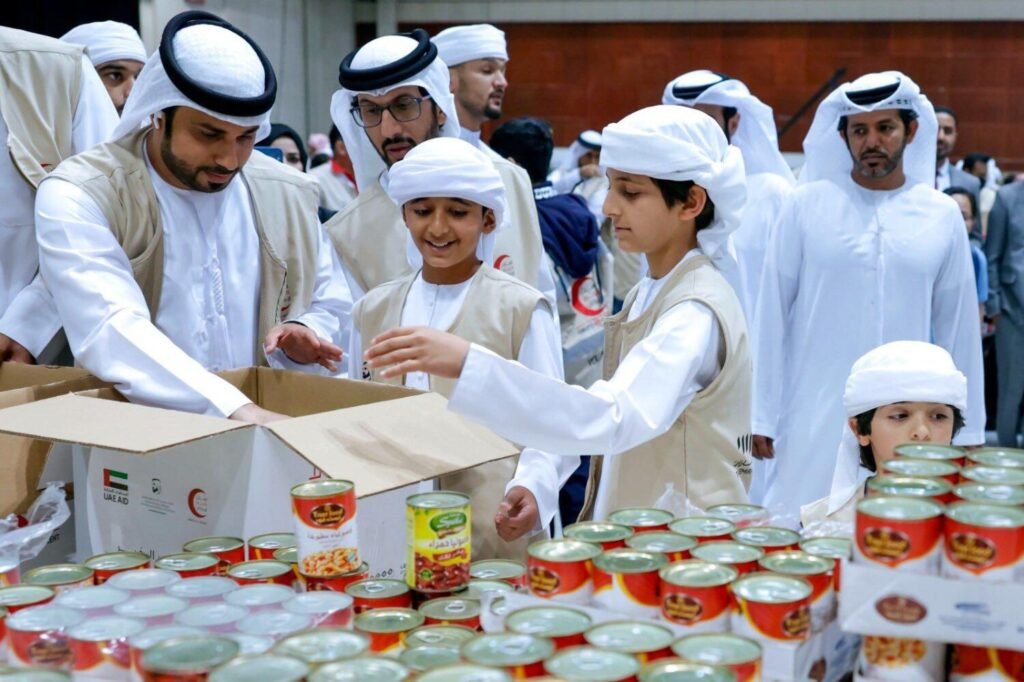 Also read: Dubai's Top Chefs Come Together To Support Turkey And Syria