In a fashion-forward move that's set to make waves in the world of beachwear, Hamac Beach Boutique is thrilled to present Hadia Ghaleb's SS'2023 swimwear collection. This exciting addition brings a touch of elegance and empowerment to beach fashion, blending timeless designs with innovative features. From UV protection to rapid drying, these swimwear options are designed to cater to your sunny getaways or relaxing days by the pool. Let's dive into the fabulous world of Hadia Ghaleb's latest swimwear collection.
1. The Icing Shorts Set: Embrace Elegance and Comfort
Are you on the hunt for swimwear that seamlessly combines style, comfort, and sophistication? Look no further! Hadia Ghaleb introduces the Icing Shorts Set, complete with a game-changing swimwear jacket. This remarkable ensemble includes a trois-quart jacket, top, shorts, skirt, and scarf, providing the perfect combination for any pool gathering. The swim jacket features intricate designs and gold accents for that extra touch of elegance.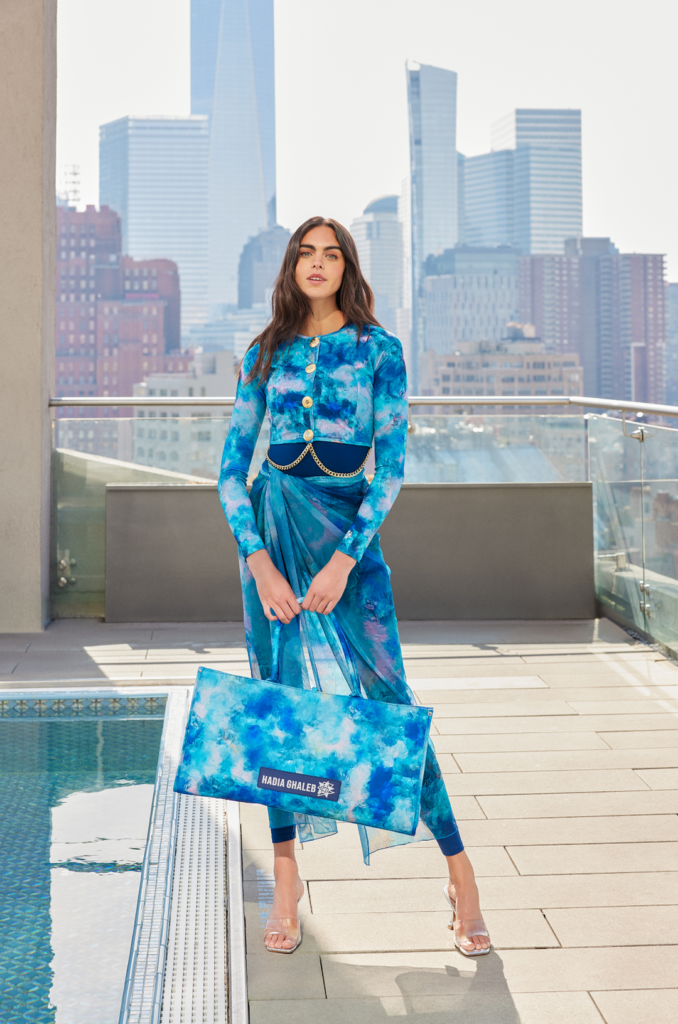 Price: AED 1099
Also read: Diwali Exhibitions: 2 Back-to-Back Festive Extravaganza (socialkandura.com)
2. Aurora Full Set: Radiate in Northern Lights
Prepare for a summer ensemble that captures the beauty of the northern lights in its stunning design. Comprising a swimwear top, leggings, skirt, and scarf, the Aurora Full Set is a true spectacle of nature's magic. The Hadia Ghaleb logo proudly displayed on the front center of the top represents this fashion-forward swimwear line, ensuring you stand out as the most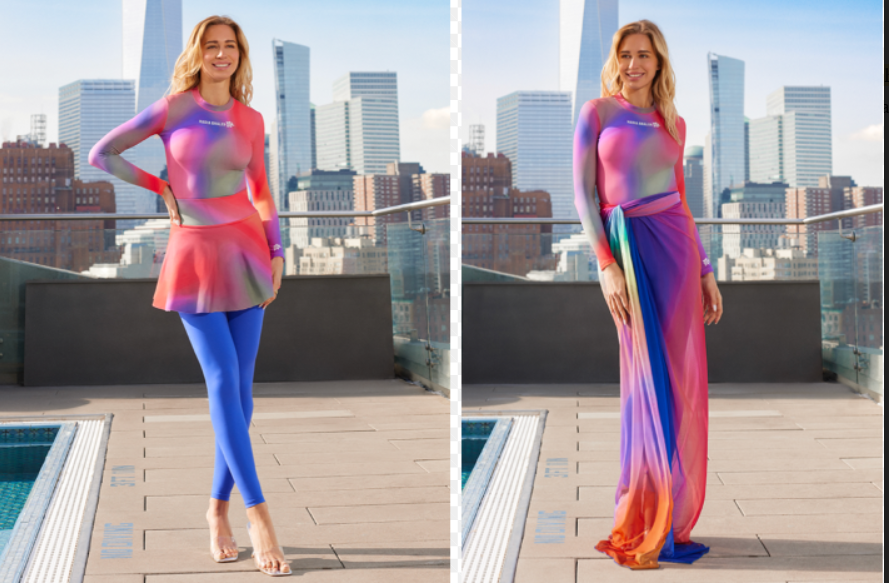 elegant in any room.
Price: AED 999
3. The Cherry Blaze Shorts Set: Bold and Geometric
The Cherry Blaze Shorts Set is the cherry on top of this collection. This vibrant four-piece ensemble features a sleeveless swimwear top, shorts, skirt, and a scarf, all adorned with a bold geometric print inspired by the Hadia Ghaleb logo. Adding an edgy twist is the front zipper on the top, accompanied by a beautiful sarong that elegantly cinches the waist.
Advertisement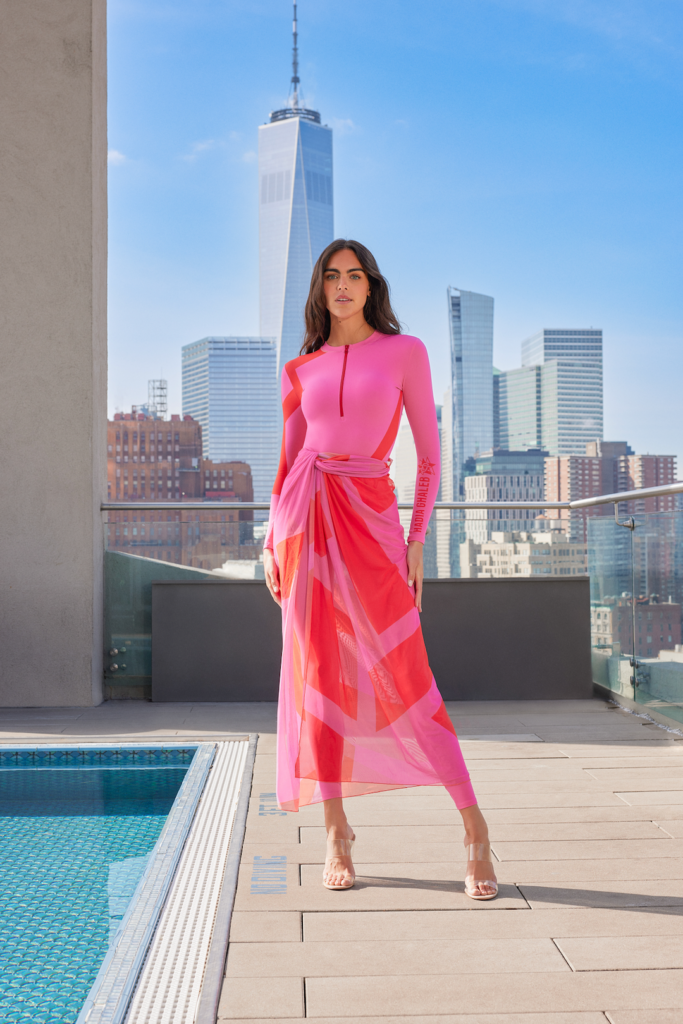 Price: AED 999
4. Starry Ballerina Full Set: Elegant and Versatile
The Starry Ballerina Full Set is a gem in its own right. Consisting of the ballerina top, full coverage leggings, and monogram scarf, it offers the perfect blend of style and comfort. Whether you choose to dress it down for a cozy beach day or dress it up with accessories and heels, this swimwear set flatters your curves in all the right places. Wherever your plans take you, be it lounging poolside or enjoying an evening dinner by the beach, the Starry Ballerina has you covered in both fashion and comfort.
Price: AED 999
Also read: Anuv Jain Dubai Debut: A Night Of Musical Magic In Dubai
5. Dreamy Tawoos Shorts Set: An Artistic Marvel
Unveiling the season's most imaginative swimwear ensemble, the Tawoos Shorts Set. This three-piece set includes a captivating swim dress, leggings, and scarf, all adorned in mesmerizing turquoise with stunning 3D peacock artwork. With a short-sleeve mini-draped dress and matching shorts, it offers both style and comfort with a flattering fit and flexible stretchable fabric. Whether you're relaxing by the pool or taking a refreshing dip in the ocean, the Tawoos swimwear is a guaranteed standout piece.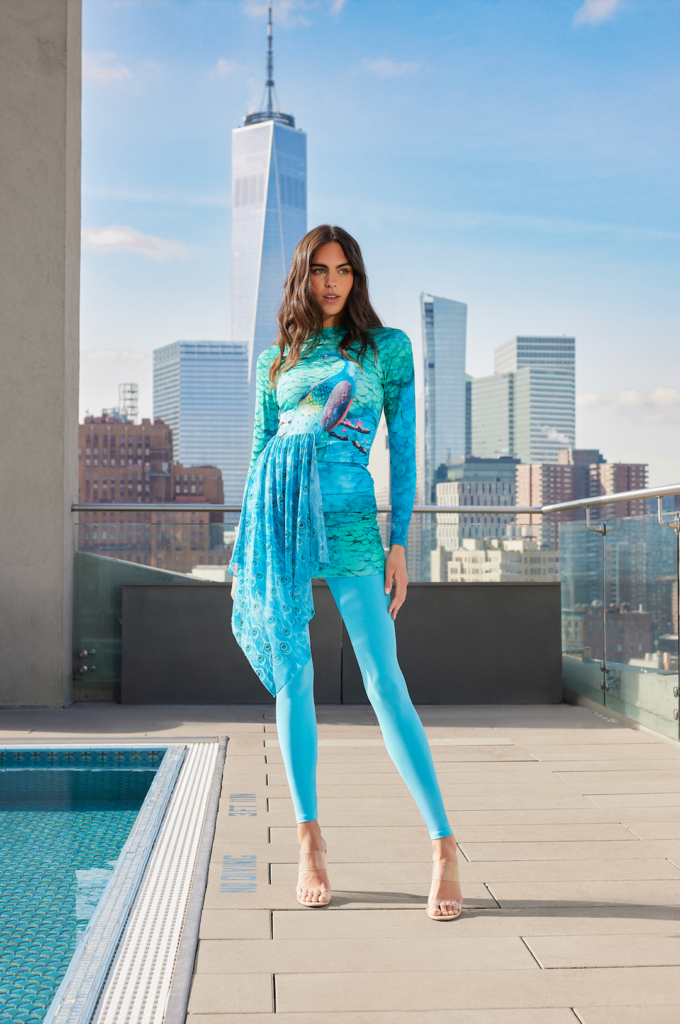 Hadia Ghaleb's SS'2023
Hadia Ghaleb's SS'2023 swimwear collection at Hamac Beach Boutique is a testament to her commitment to blending elegance, innovation, and empowerment in beachwear fashion. So, why wait? Embrace your inner fabulousness and make a splash with these stunning swimwear options, available now at Hamac Beach Boutique. Explore the world of timeless and modest swimwear like never before.
Experience the elegance and innovation of Hadia Ghaleb's SS'2023 Swimwear Collection, exclusively at Hamac Beach Boutique. Get ready to make a splash!
Advertisement