Moong Dal Kunafa – a harmonious blend of a classic Indian dessert with an Arabic-inspired twist – is ready to enchant its patrons with a heartfelt gesture this Emirati Women's Day. In the vibrant culinary landscape of Dubai, where tradition meets innovation, Bombay Bungalow stands as a beacon of creativity and flavor. The famed Michelin Guide-listed restaurant is poised to captivate hearts and palates alike with this remarkable creation.
Set against the backdrop of Emirati Women's Day, a day venerating the remarkable strides of women in the UAE, Bombay Bungalow is all set to celebrate with a touch of sweetness and cultural fusion.
On August 28th, this culinary haven will unveil the exquisite Moong Dal Kunafa, a dessert that embodies the spirit of two rich culinary heritages merged into a single, unforgettable delight.
A Palate-Pleasing Fusion: The Irresistible Moong Dal Kunafa
Crafted to perfection, the Moong Dal Kunafa is a symphony of textures and flavors. Featuring split yellow mung beans, meticulously blended with the velvety richness of cream cheese, it's a marriage of indulgence and innovation. This dessert promises not just to satiate the taste buds but to create a crescendo of delight, amplifying the jubilation of Emirati Women's Day celebrations.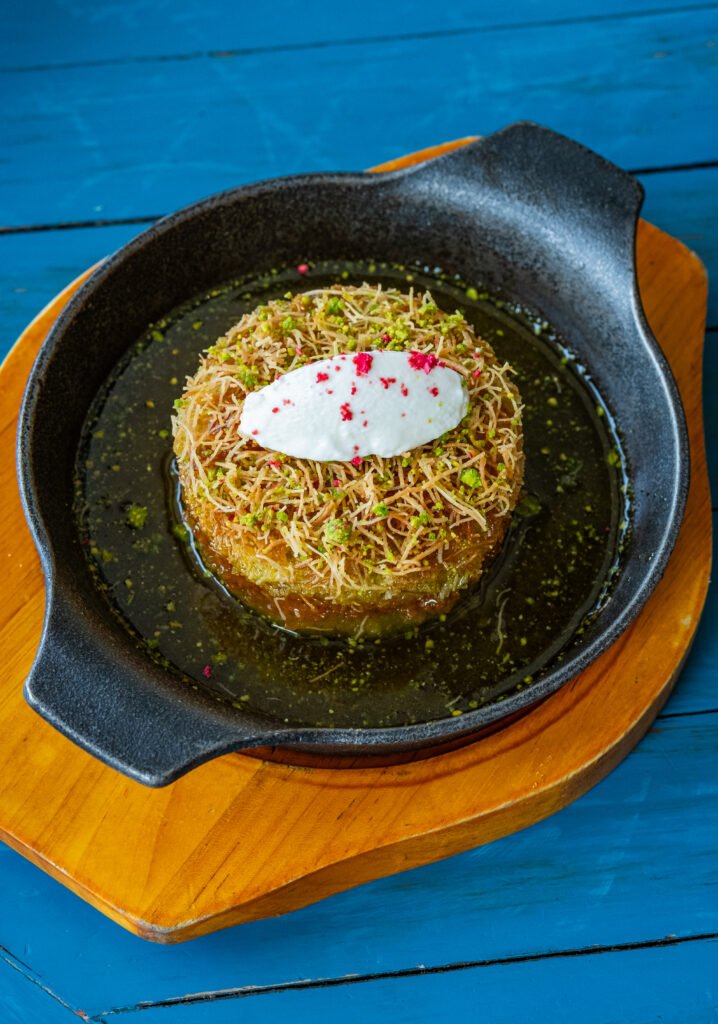 Also read: Lebanese Terrace Enchantment: Emirates Palace Mandarin Oriental, Abu Dhabi Presents An Exquisite Culinary Journey
Emirati Women's Day holds profound significance in the UAE's cultural tapestry. It's a day that lauds the invaluable contributions of Emirati women in steering the nation's progress. A beacon of inclusivity, it also ignites inspiration among the younger generations, encouraging them to aspire and achieve. This day encapsulates the unyielding determination of UAE's women to etch their legacy and their pivotal role in the nation's diverse cultural mosaic.
Advertisement

As a gesture of their appreciation, Bombay Bungalow weaves sweetness into every interaction. For intimate duos sharing a meal, each table will be graced with a complimentary serving of the exquisite Moong Dal Kunafa, transforming their dining experience into a memory to cherish. The joy amplifies for larger gatherings, where groups of three or more can revel in two to three servings of this culinary masterpiece.
Also read: "Back-To-School Treats" By Mister Baker: Indulge In Delightful Back-To-School Moments
Be it commemorating the accomplishments of remarkable women or relishing moments with loved ones Bombay Bungalow ensures that each occasion is adorned with an extra sprinkle of sweetness. This heartwarming gesture stands as a testimony to the restaurant's admiration for the grace, resilience, and achievements of Emirati women – and indeed, women everywhere.
In a single dessert, Bombay Bungalow encapsulates the essence of celebration, fusion, and homage The Moong Dal Kunafa is more than a dish; it's a tribute to the spirit of progress, the beauty of unity in diversity, and the delectable journey of flavors. As Emirati Women's Day dawns, Bombay Bungalow beckons all to join in this feast of flavors and emotions, reminding us that every bite can be a testament to the confluence of cultures and the empowerment of women.
Advertisement