With great excitement and joy, Amitabh Bachchan, the megastar of the Indian cinema, stepped outside his residence to greet his adoring fans, marking his first appearance since his injury on the set of 'Project K'. Despite wearing a handmade sling, the beloved actor remained as gracious as ever, humbly greeting his devotees with a respectful namaste, a tradition he holds dear and performs every week.
Big B's first public appearance after the injury
The ever-resilient Amitabh Bachchan had a bit of a setback during the shooting of his highly anticipated film, 'Project K', in Hyderabad. The renowned actor suffered a painful muscle tear in his right rib cage while performing an intense action sequence for the movie. As a result, the shooting had to be put on hold, and the star returned to his Mumbai home to recuperate from the injury, which would take him weeks to fully recover from. However, on a recent Sunday – 26th March, the beloved Big B surprised his loyal fans by emerging from his Jalsa residence to greet them.
Check Big B's blog post here!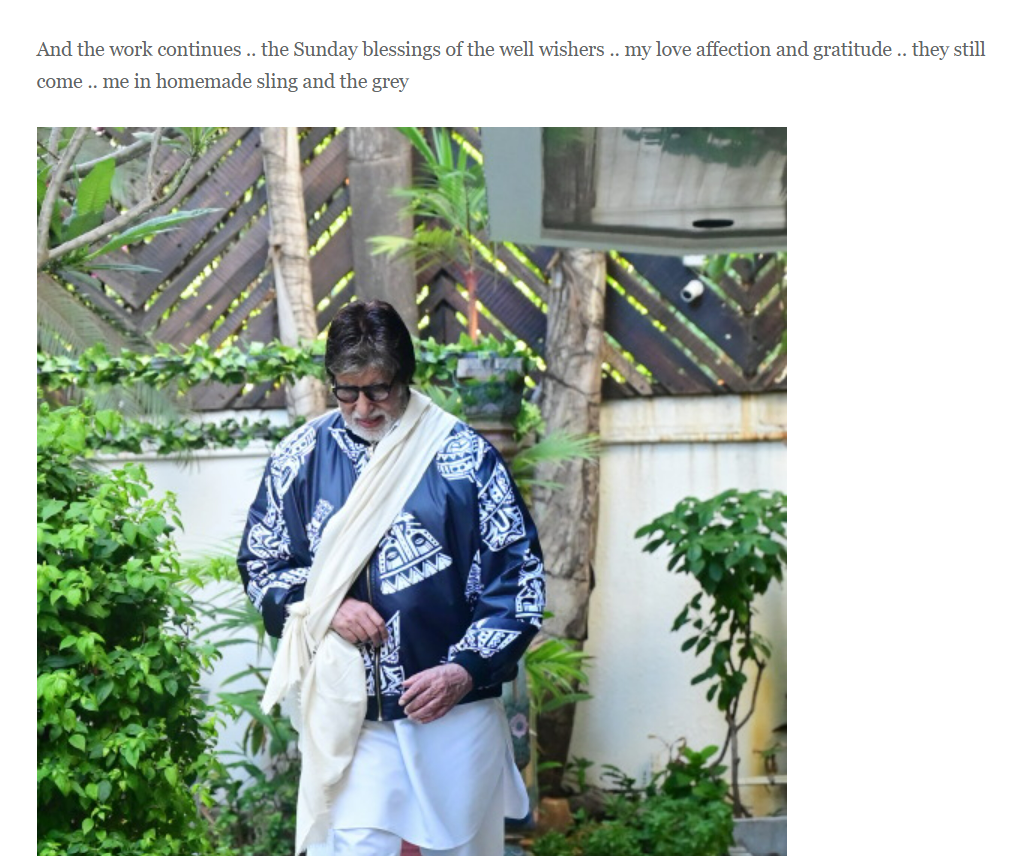 In a heartwarming post on his blog, the megastar expressed his gratitude for the love and support he had received. Despite the setback, the work continues, and the unwavering affection of his well-wishers continues to inspire him to keep moving forward.
May Amitabh Bachchan make a complete and speedy recovery.
To know more, read: Amitabh Bachchan Suffers Rib Injury While Filming 'Project K' In Hyderabad
About the upcoming film 'project K'
Get ready to witness the mesmerizing world of fantasy as Project K takes you on an adventure like never before! Starring the dashing Prabhas in a brand new avatar, this Ashwini Dutt-backed film also features the stunning Deepika Padukone as the female lead, marking her first-ever collaboration with the Baahubali superstar. To add to the excitement, the legendary Amitabh Bachchan plays a pivotal role in this magnum opus, set to grace the silver screens in 2024. According to Ashwin, the film explores the modern-day incarnation of Lord Vishnu, taking you on a thrilling journey into a futuristic realm. Brace yourselves for a cinematic experience like no other with Project K!
Also read: Deepika-Prabhas' 'Project K' To Release In Two Parts