Indulge in the 'Instaworthy' Dessert Menu at India Palace!
India Palace, the award-winning fine dining restaurant with 12 outlets across the UAE has launched the much-awaited new collection of Signature desserts & drinks.
India Palace as a brand echoes the tradition and cultural heritage of India adorned by the royalty, richness, and diversity of flavors found across the country. 
In addition to the extolling Mughlai experience, epicures can now relish their taste buds with a range of exquisite, show-stopping, and Insta-worthy desserts like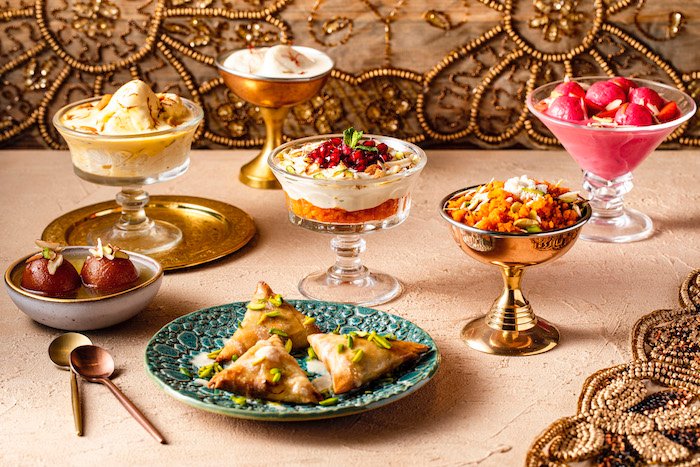 Motichoor Jugalbandi- a heavenly parfait of layered gram pearls and ras malai cream with fresh pomegranate (AED 22)
Burfee Samosa-Sweet & crisp samosas stuffed with Indian Milk Mithai enriched with almonds (AED 24)
Noor Jahan Cheesecake- Rich Baked Newyork Cheesecake, served with saffron Pistachio enriched Rabri
Advertisement

(AED 36)
Paan Rose Kulfi- Indian Milk Icecream with Paan Rose flavors (AED 22)
Strawberry Rasmalai- Baby cottage cheese balls infused with plump strawberries and condensed milk (AED 24)
Inspired by the influences from the Mughal era & the likes of eminent local clientele, India Place promises sweet treats to all the Desserts-aholics.
Don't forget the cup of Low Sugar Hot Chocolate Bomb (AED 24) or Vanilla Latte (AED 22)  or Caramel Latte (AED 22)  to add to your smokey signature dessert. Simply an Insta-tastic experience you just can't wait to share.
All 12 outlets of India Palace across UAE
Instagram: @Indiapalaceme
Website: www.Indiapalace.ae
Advertisement