Yummy Dosa – a restaurant specializing in Mumbai-style street food is here with their Back To School new menu for all Mumbaikars.
Adamant about taking all the Mumbaikars on a nostalgic trip to their Mumbai College Dosas Days, and who better to head this venture than the Dosa specialized restaurant that offers over 99+ types of Dosas!
Bringing you the Dosas from the Top 5 Mumbai College Favourites starting the journey from
Bhavans College in Andheri for its Chopsuey Schezwan Dosa for just AED 22.
Bhavans College in Andheri Chopsuey Schezwan Dosa
Taking the route to the sea-facing college in the heart of Mumbai- Rizvi College in Bandra for its Veg Manchurian Dosa for just AED 25.
 Rizvi College's Veg Manchurian Dosa
Making a stop at every student's dream college right outta school Mithibai College in Vile Parle for its Chilli Paneer Dosa for just AED 26.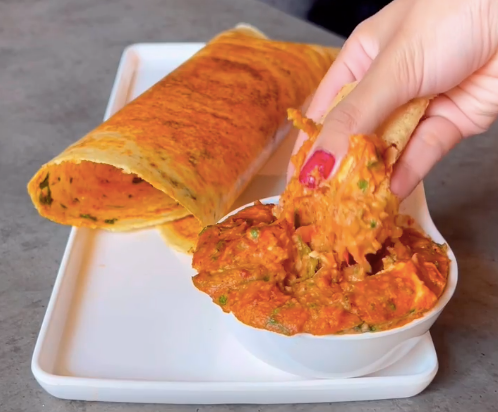 Halting at the Hinduja College in Girgaon for Mysore Masala Dosa for just AED 20 and last but not least arriving at the KC College in Churchgate for its mouth-watering Dilkhush Dosa for just AED 23
Hinduja College in Girgaon- Mysore Masala Dosa
Relive the good times with Yummy Dosa, enjoy the same street-style Dosas from your college days, and reminisce about the good ol' days with your mates and the same taste of Dosa you remember so well.
Back to College Days Dosa Menu
Available now
Price: From AED 20 to 26
Address:
83 Sheikh Khalifa Bin Zayed St – Dubai – United Arab Emirates
Contact Details: 048767982
Advertisement