Into gaming? Then, we've got something you're gonna jump out for! Chaos Karts- Dubai's first ever gaming experience which combines Go-Karting and Video games is set to open on September 1, 2023. The go-kart experience combines actual racing with augmented reality, and it closely resembles Mario Kart in real life. Chaos Karts immerses players in a virtual setting with on-screen racing competitions.
Also Read: Walk Through A Sea Of Floating Butterflies At This Magical Place In The UAE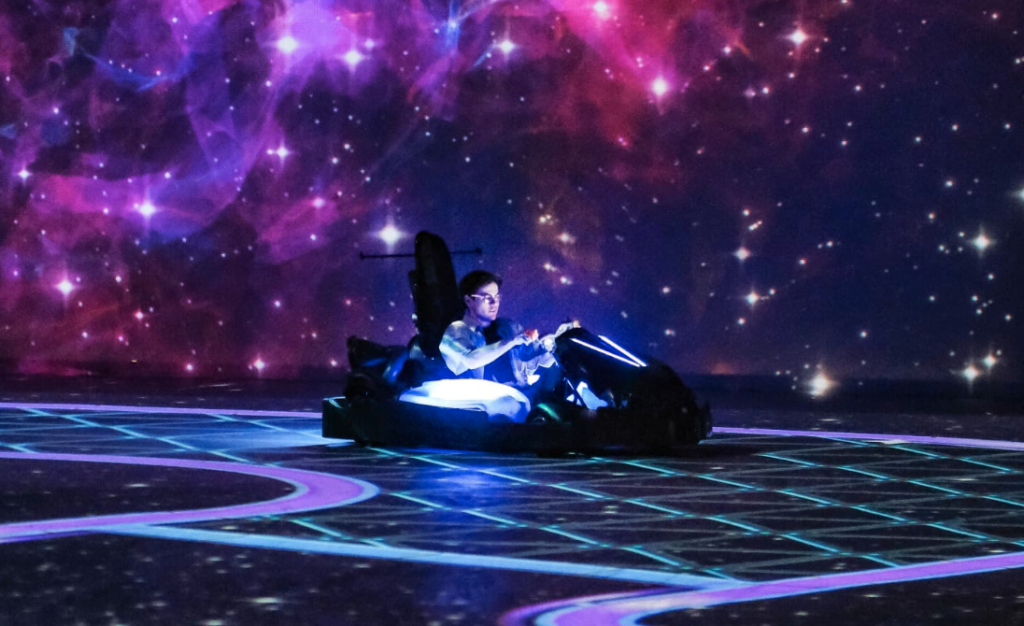 The UK's premier augmented reality karting experience will soon make its debut in Dubai. The Chaos Karts platform is designed to fully immerse you in a supremely fun augmented reality video game experience that feels and drives as if you're inside the game itself.
Also Read: Dubai's First Water Tricycle Is Now Here & It Screams 'FUN'
how does it work?
To start the AR experience, teams select the track they'd like to race. They can choose from several circuits, including an Outer Space circuit and an old school Daytona Beach circuit. Players can race their way through different racecourses or circuits during a session and sample out of this world graphics and environments they wouldn't otherwise experience on a traditional karting track. Aside from interacting with the track itself, players can also interact with and use projectiles, obstacles, and power-ups to help them win against other players.
Chaos Karts takes gaming to the next level by bringing it into the physical world and immersing you in it. The virtual world is literally projected around you, and this means there are no physical obstacles. Well, that also means drivers won't need to wear helmets or driving suits. It's just you, your kart, and the virtual tracks.
The experience comes complete with varying track designs, a fully reactive and drivable electric kart and most importantly, usable in-kart power-ups and weapons that will allow you to 'battle' right up to the finishing line.
Also Read: You Can Now Enjoy An Adventurous Brunch With Leopards In The UAE
Participants can choose their own weapon
Having fun may all be well and good, but how do you WIN? All you need to do is race your fellow players, and collect points along the way. The player with the most points wins the race, and the player who wins the most races, wins the tournament. There's also a list of weapons that racers can pick from to win the race. You can choose from:
1. Laser guns- Fire lasers at your opponent and win points
2. The Hammer- Swing the hammer at your opponent and wipe out other players
3. Speed Boost- Literally sticks to its name and does the same
4. Bomb- A package of points, you can drop them behind to stop your opponents
With in built collision-reduction technology and other high-tech safety features, you can satisfy your inner speed demon without the need for pesky helmets and overalls.
Ans lastly, stepping into a video game also means stepping into infinite possibilities. This means you can race in fun tracks that are digitally projected in unique settings. While one minute you are on Daytona Beach, the next you might be in Space.
We aren't yet sure where in the city the karts will be racing, but the race track will officially open Friday, September 1, 2023, and you can already sign up for your spot here. The price of the tickets are yet to be confirmed. We'll keep our eyes peeled for more info. Stay tuned for more updates!