As winter arrives in Dubai, it's time for outdoor enthusiasts to answer the call of the desert and pitch their tents. The Dubai Municipality (DM) has officially announced the commencement of the winter camping season at the Al Awir desert area, providing a perfect opportunity for residents to embrace the great outdoors. In this comprehensive guide, we'll walk you through the process of reserving your campsite and the rules you need to follow to ensure a safe and enjoyable camping experience.
Camping Season Details
The winter camping season in Al Awir will run from Tuesday, October 17, 2023, until April 2024, offering a family-friendly environment with essential amenities and services for visitors. The Dubai Municipality has made special provisions, reserving spaces for people with determination and senior citizens, while also allocating sites for business owners to provide goods and services to campers.
Also read: Dubai RTA Unveils Innovative Smart Project To Ease Transport (socialkandura.com)
Campsite Reservations
If you're a Dubai resident eager to embark on a desert adventure, you must obtain a camping permit before setting up your tent. After receiving the necessary permits, you'll be allowed to create your camping space, complete with a temporary fence, tailored to your preferences, provided it is intended for family use.
For government partners who wish to create their own unique camps, the municipality has set aside a designated area. To start the reservation process, residents can visit this link.
Camping Options
Campsite options are available in both single and double configurations. Single campsites measure 20 by 20 meters, while double campsites span 20 by 40 meters. Double camping is only permitted in outdoor areas.
Advertisement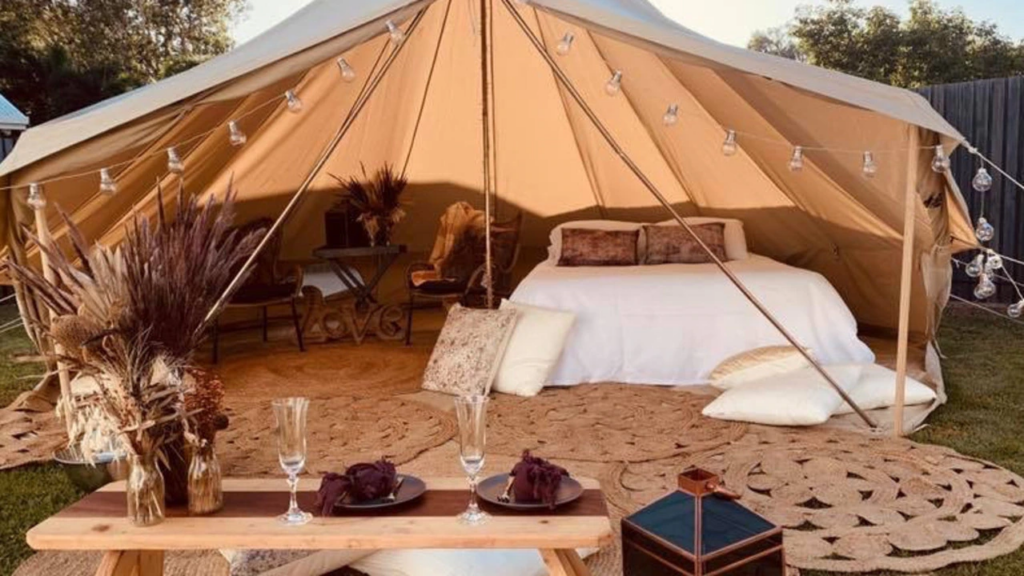 Also read: Emirates' Eco-Friendly Amenity Kits Promote Wildlife Conservation And Sustainability
Camping Rules and Regulations
To ensure a safe and enjoyable camping experience for all, the Dubai Municipality has established a set of rules that campers must adhere to:
Private Use: Campers must use the campsite for temporary private use and are not allowed to use or lease permits for commercial purposes.
Temporary Fence: A temporary fence must be erected around the campsite for safety and privacy.
Digital Dashboard: A digital dashboard must be placed in a public area within the campsite.
Cleanup: Campers are required to remove the camp and all associated items after the permit expires.
No Excavations: Any digging or excavations are strictly prohibited to preserve the natural environment.
Hygiene and Safety: Campers are expected to maintain the cleanliness and appearance of the campsite and follow fire safety rules. Fire extinguishers must be present inside the camp, and the use of fireworks is prohibited.
Speed Limits: Sand bikes inside the camp area must not exceed speeds greater than 20kmph.
Noise Restrictions: The use of floodlights and speakers is not permitted to ensure a peaceful camping environment.
Dubai's winter camping season offers a unique opportunity to enjoy the desert's beauty in a safe and controlled environment. By adhering to these rules, campers can make the most of their experience while protecting the natural surroundings.
So, if you're ready to explore the serene beauty of Dubai's desert, don't forget to secure your camping permit and follow the guidelines for a memorable adventure. Embrace the beauty of the outdoors this winter, and make lasting memories in the heart of the desert.
Advertisement