In a delightful culinary revelation, Deliveroo UAE has unveiled its latest innovation, the "Takeaway Map," offering food enthusiasts in Dubai a guided tour of the city's diverse gastronomic landscape. This exciting journey takes customers on a dish-by-dish exploration of Dubai's neighborhoods, revealing the most cherished culinary treasures.
Discovering Dubai's Flavors, One Neighborhood at a Time
Dubai, a bustling tapestry of cultures and flavors, comes to life through the eyes of Deliveroo's Takeaway Map. The journey begins in iconic neighborhoods such as Dubai Marina, Jumeirah Lake Towers (JLT), Greens, Jumeirah, Downtown Dubai, Motor City, Mirdif, Satwa, and Deira. Each area unfolds its unique culinary story, one bite at a time.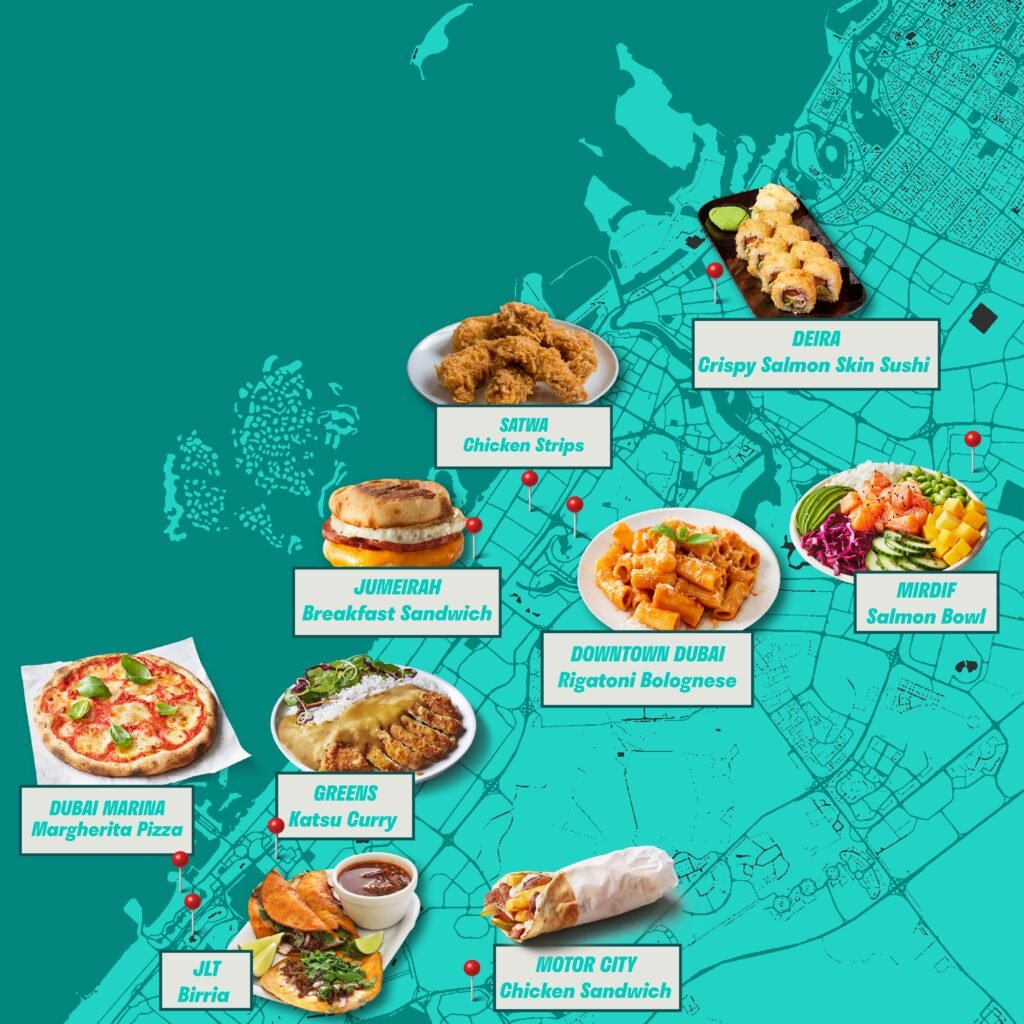 Also read: Exclusive: Abu Dhabi International Airport's Impressive View (socialkandura.com)
Dubai Marina's Margherita Pizza Delight
In the heart of Dubai Marina, Margherita Pizza reigns supreme, capturing the hearts of food lovers with its timeless simplicity and deliciousness.
Downtown Dubai's Rigatoni Bolognese Indulgence
Meanwhile, Downtown Dubai leans towards the rich and hearty flavors of Rigatoni Bolognese, offering foodies a taste of Italy's finest.
JLPT's Love for Birria
Jumeirah Lake Towers (JLT) residents have a penchant for Birria, savoring the bold and flavorful Mexican dish.
Jumeirah's Breakfast Sandwich Bliss
Jumeirah residents kickstart their day with the perfect Breakfast Sandwich, a morning delight to satisfy every craving.
Motor City's Comforting Chicken Sandwich
Over in Motor City, a comforting Chicken Sandwich takes center stage, providing residents with a satisfying and delicious meal.
Greens' Katsu Curry Favorite
The Greens neighborhood proudly showcases the beloved Katsu Curry, offering a taste of Japan's culinary excellence.
Satwa's Chicken Strips Temptation
For those residing in Satwa, Chicken Strips are the go-to comfort food, providing a crispy and delectable experience.
Deira's Crispy Salmon Skin Sushi
As the map ventures across the Creek to Deira, the spotlight shines on salmon, with Crispy Salmon Skin Sushi taking the lead as the favorite dish.
Mirdif's Salmon Bowl Love
Mirdif residents show their appreciation for salmon with the Salmon Bowl being the most beloved dish, providing a healthy and flavorful option.
Yasmine Mroueh, Head of Commercial at Deliveroo UAE, expressed their mission, saying, "At Deliveroo, our mission is to connect people with the food they love. Through our Takeaway Map, we celebrate the diverse culinary landscape that defines Dubai's neighborhoods. Dubai is a city where every corner has its own unique flavor, and we're proud to deliver this world of food to our customers' doorsteps."
Also read: UAE Public Holidays In 2023: Three-Day Weekend Confirmed For September
Deliveroo Takeaway Map: A Culinary Adventure Awaits
Whether you're a Dubai resident or a visitor, Deliveroo's Takeaway Map is your passport to an unforgettable culinary adventure. Dive into the flavors of Dubai, one neighborhood at a time, and savor the delicious diversity this vibrant city has to offer.
Experience the Taste of Dubai with Deliveroo's Takeaway Map!
Advertisement