In a remarkable display of solidarity, Mahzooz and Al Jalila Foundation have once again combined their efforts to create a profound impact on lives. This time, their partnership has brought a ray of hope to Sarab, a Syrian expat who had tragically lost her vision. The two organizations united to raise funds for crucial vitrectomy surgery, giving Sarab the chance to regain her sight and rebuild her life.
Uniting for Transformation: Mahzooz and Al Jalila Foundation's Positive Force
Sarab's Journey from Darkness to Light Sarab's life took a somber turn after the passing of her husband, leading to a period of overwhelming grief and stress. These circumstances gradually eroded her vision due to severe retinal and ocular fluid complications. The resulting visual impairment significantly hindered her daily activities and overall quality of life. Recognizing the urgency of the situation, Mahzooz and Al Jalila Foundation's "A'awen" program joined hands to extend a lifeline to Sarab.
A'awen: Illuminating Lives through Medical Support The esteemed "A'awen" program, championed by Al Jalila Foundation, is widely renowned for its steadfast commitment to providing essential medical treatments to those who lack the means to afford them. This initiative perfectly aligns with Mahzooz's and Al Jalila Foundation's shared mission of empowering communities and driving positive change.
Sarab's story took a heartening twist when she underwent a successful vitrectomy surgery, a procedure pivotal in addressing her retinal challenges. Mahzooz's and Al Jalila Foundation's collaboration serves as a testament to their dedication to noble causes and their unwavering resolve to create meaningful change in the lives of those in need.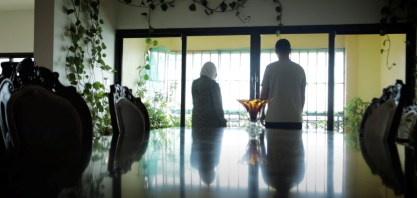 Also read: 100% Wastewater Recycling By 2030: Dubai's Pioneering Drive
Unwavering Commitment to Impactful Change Suzan Kazzi, the Head of Corporate Social Responsibility and Communications at Mahzooz, reiterated the company's commitment to catalyzing change. "Our purpose at Mahzooz is to be a catalyst for transformative experiences," she affirmed. The alliance with Al Jalila Foundation to provide life-altering treatment to Sarab is a vivid demonstration of this commitment. Kazzi expressed her hope that this partnership would rekindle Sarab's spirit, granting her newfound independence and the ability to embrace life's myriad opportunities.
Advertisement

A Beacon of Hope: Transforming Lives through Unity Sulaiman Baharoun, Director of Fundraising at Al Jalila Foundation, conveyed deep gratitude to Mahzooz for their steadfast support. "The unswerving dedication of Mahzooz is pivotal in our efforts to usher positive change into the lives of patients like Sarab," Baharoun emphasized. The partnership's enduring support not only fosters hope but also enables healing for individuals who have confronted significant health challenges.
Mahzooz's and Al Jalila Foundation's impact transcends individual cases. With over AED 427,000,000 distributed in prize money to more than 250,000 winners, Mahzooz has created a ripple of joy. Furthermore, their dynamic Corporate Social Responsibility (CSR) program has touched the lives of over 10,000 beneficiaries through collaborations with NGOs and not-for-profit partners, aligning seamlessly with their mission of transforming lives.
Also read: Sucre's Decadent Sunday Lunch Menu: Complementary Sunday Lunch Offerings
Championing Transformation: Al Jalila Foundation's Vision Established by His Highness Sheikh Mohammed Bin Rashid Al Maktoum, Vice-President and Prime Minister of the UAE and Ruler of Dubai, Al Jalila Foundation stands as a beacon of philanthropy, dedicated to revolutionizing lives through medical treatments, education, and research programs.
The collaboration between Mahzooz and Al Jalila Foundation to restore Sarab's vision serves as an inspiring testament to the power of unity, compassion, and a shared vision. By joining hands, these organizations have not only transformed an individual's life but have also illuminated a path toward a brighter, more inclusive future for all.
Advertisement