L'Occitane En Provence, the beloved beauty and skincare brand, is transporting customers into the heart of the festive season with the launch of a brand-new holiday virtual store. This immersive online experience, developed in partnership with Emperia and acclaimed artist Steven Wilson, harks back to the brand's roots and captures the joy of giving and sharing.
L'Occitane En Provence: A Virtual Chalet in the French Alps
This virtual store, set within a cozy chalet nestled in the Provençal French Alps, is a celebration of the spirit of gifting. Visitors can explore the limited-edition holiday collections while also embarking on a journey to discover L'Occitane's recycling initiatives.
Interactive Shopping at Its Best
The virtual store is brimming with interactivity and product discovery. It simplifies the gift-finding process by categorizing products into five distinct areas: advent calendar, holiday limited edition collection, gift sets, fragrances, and Santa's wish list. It's never been easier to find the perfect gift within your budget.

Also read: 6 Tips & Places For Successful Christmas Decor Shopping In Dubai
The Art of Gift Wrapping
In the true spirit of the holidays, the virtual experience offers a lesson in the art of gift wrapping. As guests explore the space, they'll come across various gift-wrapping elements. Each item they discover presents different personalization options, such as tissue paper and box patterns. After completing this engaging mini-game, an animation reveals a customized box, rewarding participants with a special L'Occitane En Provence Christmas treat.
Artistic Collaboration with Steven Wilson
Renowned UK-based artist Steven Wilson, known for his work with major brands like Nike, The Oscars, Virgin, and MTV, has brought his unique touch to the holiday collection designs. His illustrations blend retro and contemporary design to evoke pure joy.
A Magical Christmas Outdoors
Stepping outside the virtual chalet, visitors encounter a magical Christmas experience. An olive tree can be illuminated at the guests' discretion, and the Provencal Christmas tree, symbolizing joy, strength, and togetherness, provides the canvas for creating personalized postcards. These postcards contain curated product wish lists, perfect for sending to loved ones.
Advertisement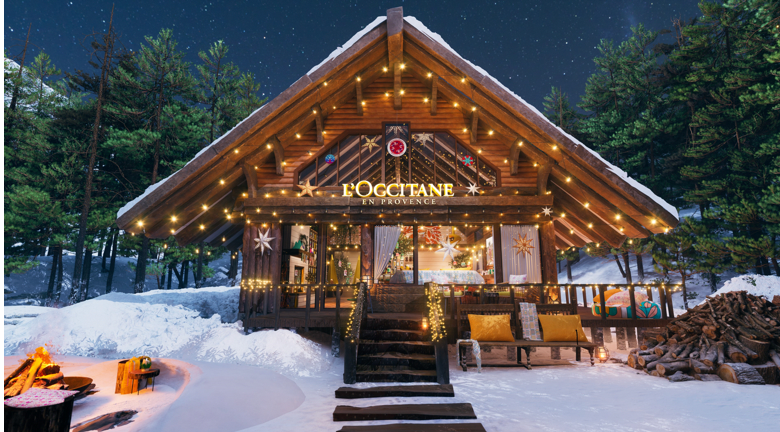 Also read: Events And Concerts In The UAE Postponed Due To Regional Events, All You Need To Know!
A Message from L'Occitane En Provence
Mariana Rodrigues, Marketing Director of L'Occitane En Provence Middle East, shares the brand's vision, saying, "We're incredibly proud of this virtual experience that immerses our customers in the enchanting holiday spirit. It's a dream journey, like being in a chalet, where they can explore the true origins of L'Occitane as a brand. The olive tree is symbolic and traditional for Provence, so our vision was to bring back those traditions to our customers. The holiday season is pure magic, and we want our customers to experience the enchantment of L'Occitane and Provence."
Elevating Online Retail with Emperia
Emperia, the platform behind this virtual store, is known for creating data-driven, personalized, and brand-driven online retail experiences. According to Olga Dogadkina, co-founder and CEO at Emperia, "virtual stores are no longer a one-off campaign but rather fulfill the need of a new generation of shoppers to get to know their retailer on a personal level, improving brand loyalty and online performance."
Experience the Magic
To experience L'Occitane En Provence's new holiday virtual store, visit their website: L'Occitane Virtual Store
Get ready to embark on an enchanting holiday journey filled with the spirit of giving and sharing, all from the comfort of your own home.
Advertisement