Kipling's Back-to-School Delight
The countdown to a brand-new school year has begun, and there's a name on every parent's lips – Kipling. As a proud brand under the JASHANMAL Group, Kipling is all set to make a remarkable entrance into the classrooms of the UAE, Kuwait, Bahrain, and Oman with its Back-to-School 2023 collection. Prepare to be amazed as Kipling presents a range of school bags and accessories that redefine style and utility.
KIPLING: A Blend of Fashion and Functionality: The excitement doesn't end with the first day of school. Kipling offers an irresistible deal, a gift to every student's aspirations. Experience up to 25% OFF on all school utility purchases, and as an added bonus, a Free Gift awaits to complement your stylish Kipling Backpack. This offer is not just a sale; it's a ticket to an extraordinary school year.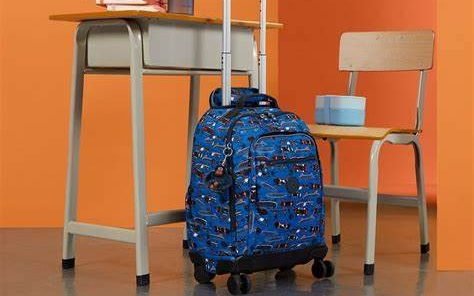 Also read: TCL C845 4K Mini LED TV: Unveiling The Ultimate Entertainment Marvel
Empower Your Child's Journey: Kipling's school bags are not just accessories; they're a statement of style, durability, and purpose. Seamlessly merging fashion with functionality, Kipling's backpacks set the stage for a year of achievements and success. Equip your child with the tools they need to conquer their academic journey with confidence and panache.
Tailored for Every Student's Needs: Diversity is key, and Kipling understands it well. The Back-to-School 2023 collection is designed to cater to every student's individual needs. From toddlers taking their first steps into education to teenagers embracing their high school adventures, Kipling has thoughtfully curated an array of options.
Advertisement

Elevate Every School Day: The journey to knowledge is filled with excitement, and Kipling is here to enhance it. Discover a range of everyday school Backpacks, designed to make carrying essentials a breeze. Whether it's primary school or high school, Kipling has your back, quite literally.
Beyond the Books: Accessories that Inspire: Education goes beyond textbooks, and so does Kipling's collection. Delve into a world of Bag Accessories, including premium Lunch Bags and Pencil Cases. These thoughtful additions add a dash of organization and personal flair to every school day.
Also read: Ladurée Celebrates Emirati Women's Day With Exclusive "12 Signature Macarons" Tiara Collection
Accessible Luxury: Where to Find Kipling's Back-to-School Collection: Finding the perfect school gear shouldn't be a hassle. Kipling's Back-to-School 2023 collection is available at KIPLING stores, JASHANMAL outlets, and other selected premium retail stores. For the tech-savvy shopper, the collection is also available online for a seamless shopping experience.
Prepare for Greatness: Embrace Kipling's Back-to-School 2023 Collection: As the new school year beckons, Kipling stands as a symbol of empowerment and style. Embrace the excitement of learning with Kipling's Back-to-School 2023 collection, where every purchase tells a story of potential and aspiration.
Advertisement