Get ready, food enthusiasts, because Five Guys, the UAE's beloved burger brand, is all set to tantalize taste buds and paint Town Square, Dubai, in their iconic red and white colors. Known for mouth-watering burgers, hand-cut fries, and an array of customizable toppings, Five Guys is about to open its newest UAE store at Rawda 1, Town Square, Dubai. The doors to this delectable haven will be wide open for guests starting from Friday, October 6, with a grand opening celebration planned for Monday, October 9.
Five Guys: A Culinary Revolution
Located in the heart of the thriving Town Square community, nestled near Al Qudra and Emirates Road, this new addition to the Five Guys family is part of their ambitious expansion strategy to bring the highest quality, fresh ingredients to fans across the UAE.
Sudhin Siva, VP of Commercial Operations at Shamal Holding and the franchise owner of Five Guys in the UAE, expressed his enthusiasm for this milestone, stating, "We have ambitious growth plans across the country, and we are excited to welcome customers to our new location in the Town Square community. We have recently opened branches in Al Jada Avenue in Sharjah and Galleria Al Barsha, and we are looking at several new locations with plans to open in other emirates in 2024, as we continue to invest in the Five Guys franchise across the UAE."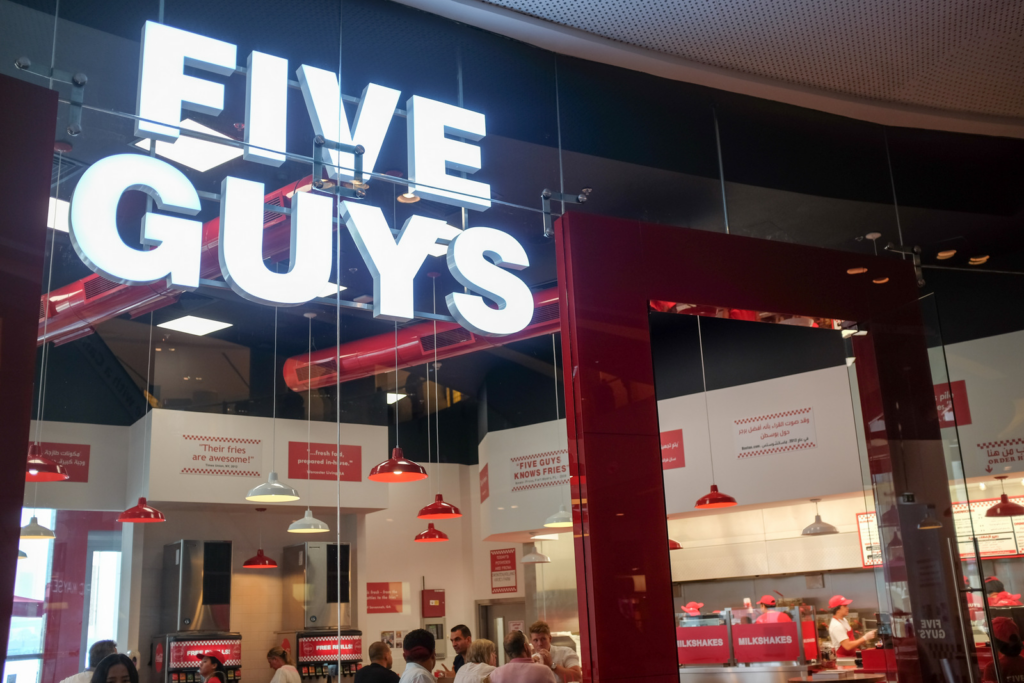 Also read: Dubai's First Cinépolis Cinema Arriving At Circle Mall, JVC
The Five Guys Experience
Staying true to the Five Guys ethos, the new Town Square branch will serve freshly made-to-order menu items without the use of freezers, microwaves, or timers. What sets Five Guys
Advertisement

apart is its commitment to providing a memorable dining experience. With an impressive range of customizable toppings, customers can create up to 250,000 unique burger combinations, ensuring that each visit is a unique and satisfying culinary adventure.
Fries That Are Second to None
Five Guys' iconic fries are unpeeled, boardwalk style, and hand-cut right in-store. They're fried twice in peanut oil, shaken exactly 15 times, and can be seasoned with either salt or the beloved Cajun spices. For those looking for alternative options, the menu includes bunless lettuce wraps and bowls, grilled cheese sandwiches, and hot dogs, catering to various dietary and taste preferences. To satisfy your sweet tooth, the newest milkshake mix-in, the Lotus Biscoff® Caramelized Cookie Crumble, is a must-try.
Also read: Ripe Market Returns To Academy Park, Doubling In Size For An Exciting Season
Expanding Taste Horizons
The expansion into Town Square follows the successful launches of recent UAE locations in Galleria Mall Al Barsha and Al Jada in Sharjah, building on the brand's strong presence after openings in Nakheel Mall, Dubai Hills Mall, and The Galleria Al Maryah Island, Abu Dhabi.
So, mark your calendars for a deliciously unforgettable experience as Five Guys get ready to serve up their signature burgers and fries in the heart of Town Square, Dubai. This new culinary delight is bound to delight your taste buds and keep you coming back for more.
For more information about the grand opening and Five Guys' menu offerings, visit their official website or social media channels.
Advertisement