When it comes to Dubai, restaurants aren't just about the food. The ambiance plays a huge role, transporting you literally to another place in no time. And, one gorgeous restaurant in town does exactly this. Mura, the Italian restaurant tucked away at The Pointe Dubai literally whisks you off to Italy's Amalfi Coast. How, you ask? Read on and find out.
Mura is a bright and colorful trattoria ideally located on the West Marina of The Pointe and facing the Fountain Show. Its name is a reminiscence of the fine art of crystal glass-blowing born near Venice, in Murano, and expresses all the flamboyance and warmth of a rich Italian culture, an ode to the Amalfi Coast. The restaurant's decor is fantastically ostentatious- as the website reads.
As you enter the venue from the ground floor up, the décor is set. The dining area is decked with lemon trees which literally come together to create a leafy canopy ceiling. That means, diners can enjoy a meal under a pergola of lemon trees.
This then leads you to an alley, taking you up a beautifully ornated staircase, which then opens to the restaurant itself. You then enter the heart of an extravagant lemon grove, dramatically staged by superb chandeliers and underlined by bright tones of Klein blue. The mosaic-like tiling, the superb bright colors will transport you to another world, a hyperbole of the Italian riviera at large.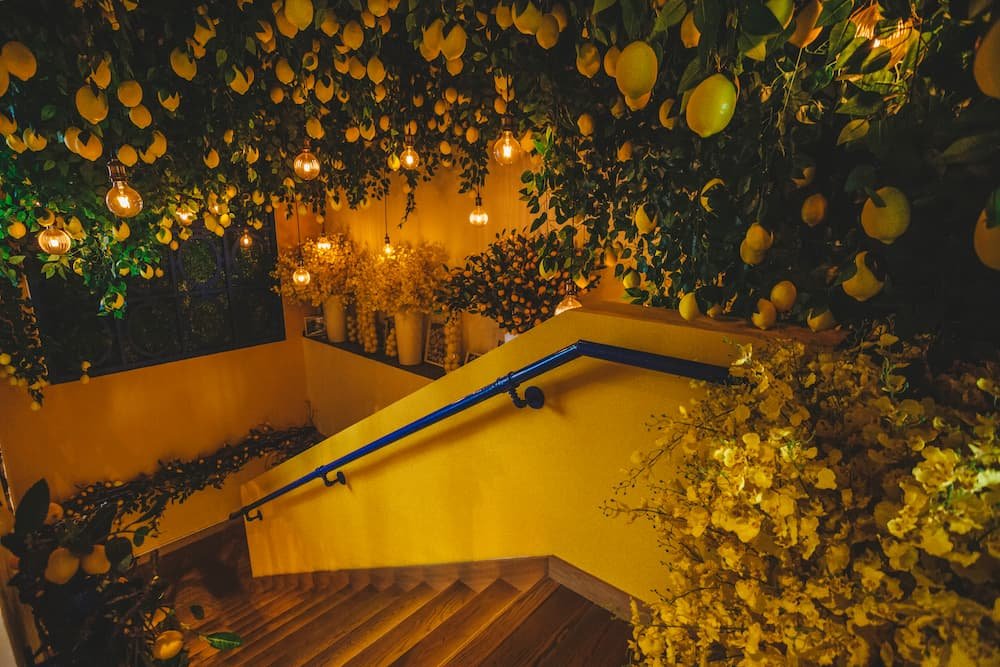 Guests can expect to be seated in the midst of a magical Mediterranean forest overlooking a Capri-like "terrazza", where a temperamental, bold Italian cuisine unveil a bold and flavorful refinement.
As for the menu, the restaurant offers patrons a rustic authentic menu, featuring much loved Arancini, Parmigiana, handmade pizzas, classic risottos, delicious lobster pasta, sumptuous meats and fish prepared in true Mediterranean style. For those with a sweet tooth, heart-warming desserts including "The Lemon" a delicate signature of Mura.
Whether you want to join for a sunset session on the terrace, a night amongst friends in the private dining room, a ladies night, or late evening brunch, there is always something going on at Mura. And the best part- dinner almost always ends with an after-party.
Reason enough to visit this cozy, little place, isn't it?
details
Address: Mura Restaurant, West Marina, First Floor, The Pointe, Palm Jumeirah
Timings: Monday – Sunday: 6 PM – 01 AM
Contact: +971 4 510 4800