In a remarkable stride towards global collaboration, the BRICS group of nations – Brazil, Russia, India, China, and South Africa – has taken a momentous decision to expand its membership. This expansion, termed "BRICS expansion," comes as a pivotal move to fortify the alliance's influence and outreach.
Diversifying Strength: The Essence of BRICS Expansion
BRICS Extends Invitations to Six Diverse Nations Under the dynamic leadership of South Africa's President Cyril Ramaphosa, BRICS has extended its hand to six new countries, namely Argentina, Egypt, Ethiopia, Iran, Saudi Arabia, and the UAE. This strategic expansion aims to empower the "Global South" and diversify the bloc's representation.
Unveiling the Blueprint: Principles and Phases President Ramaphosa unveiled the blueprint for BRICS expansion, emphasizing that the decision was grounded in well-defined principles, standards, and criteria. This holistic approach ensures that the growth of BRICS remains coherent and united. The expansion will take place in phases, with the initial phase introducing the new members on January 1, 2024.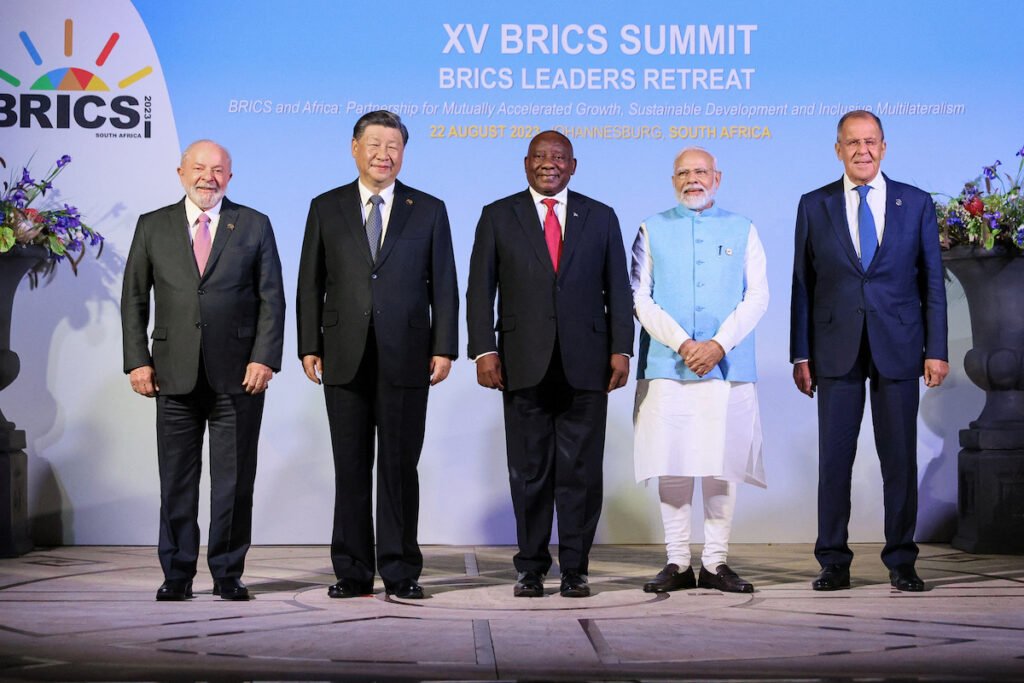 Also read: Ruler Of Ras Al Khaimah Leads UAE Delegation To 15th BRICS Summit In South Africa
Prime Minister Modi's Vision Indian Prime Minister Narendra Modi, a staunch advocate of the BRICS expansion, highlighted its potential to invigorate the organization. He views the inclusion of Argentina, Egypt, Ethiopia, Iran, Saudi Arabia, and the UAE as pivotal in fostering a more multipolar world order. Prime Minister Modi also underlined the historical relationships that India shares with the new members, emphasizing the opportunity for enhanced bilateral cooperation.
Advertisement

BRICS' Message to the World BRICS expansion isn't just about numbers; it's a resounding message to the global community. The move sends a signal that institutions need to evolve with changing times. This shift, as noted by Prime Minister Modi, mirrors the call for reform in other international establishments, including the UN Security Council.
UAE and Saudi Arabia: Gulf Region's Entrants Of notable significance is the inclusion of the UAE and Saudi Arabia, two pivotal players in the Gulf region. Their entry into BRICS exemplifies the organization's growing role in fostering cooperation beyond its traditional boundaries.
Also read: Lebanese Terrace Enchantment: Emirates Palace Mandarin Oriental, Abu Dhabi Presents An Exquisite Culinary Journey
Anticipation Builds for BRICS' Next Chapter As the countdown begins for the implementation of BRICS expansion, the world is abuzz with anticipation. The inclusion of new members underlines BRICS' commitment to representing a wider spectrum of voices and viewpoints.
A New Phase of Collaboration The "BRICS expansion" is a milestone that marks a new chapter for the bloc. With a strategic approach, unity of purpose, and an eye on fostering a multipolar world, BRICS is poised to strengthen its standing on the global stage. As January 1, 2024, approaches, the world waits to witness the synergistic potential of this expanded BRICS alliance.
Advertisement