Bollywood's original Khiladi, Akshay Kumar, has been an integral part of the Indian film industry for over three decades. His versatility in comedies, action films, biopics, and socially relevant movies has earned him immense love and respect. However, what might surprise you is that he held a Canadian passport for a considerable period and only recently acquired an Indian passport on Indian Independence Day. Let's delve into the story behind this decision.
Here's the story behind Akshay Kumar having an canadian passport
During an interview with Aaj Tak news channel on a show called Seedhi Baat, Akshay Kumar once shared the story behind obtaining a Canadian passport in the first place. He shared, "I thought that 'Bhai, my films are not working and one has to work'. I went there for work. My friend was in Canada and he said, 'Come here'. I applied and I got in. I had just two films left for release and it is just luck that they both became superhits.
He further added, "My friend said, 'Go back, start working again'. I got some more films and I kept getting more work. I forgot that I had the passport. I never thought that I should get this passport changed but now yes, I have applied to get my passport changed."
Expressing his hurt over the questioning of his love for India, he further stated, "India is everything to me. Whatever I have earned, whatever I have gained is from here. And I'm fortunate that I get a chance to give back. You feel bad when people say things without knowing anything."
Advertisement

Akshay Kumar receives the Indian passport
The accomplished actor, long under scrutiny for holding a Canadian passport, has taken a definitive step towards strengthening his ties to India by securing Indian citizenship on the auspicious occasion of the 77th Independence Day. The Ministry of Home Affairs formalized Akshay's journey back to his roots with an official certificate. The actor's caption, "Dil aur citizenship, dono Hindustani. Happy Independence Day! Jai Hind!."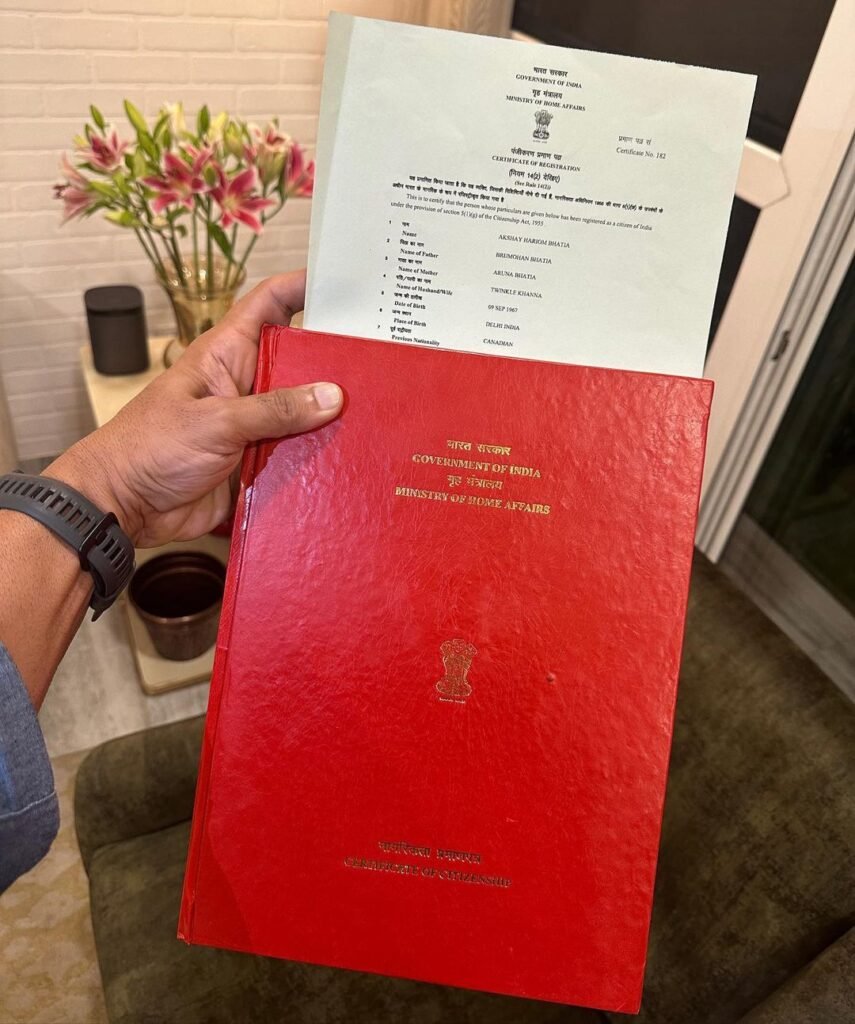 As the accolades continue to pour in for OMG 2, Akshay Kumar's personal victory in embracing Indian citizenship resonates as a significant stride towards national pride and unity. As he stands firmly on his home soil, his journey is not just about films, it's about embodying the values and ethos of a vibrant nation.
Akshay Kumar's upcoming movies
The actor's movie OMG 2 recently hit cinemas on August 11. If you haven't watched it yet, go ahead now. It's worth it.  Meanwhile the actor has a bunch of projects lined up. He will also star with Tiger Shroff in Bade Miyan Chote Miyan. In addition to all the above movies, the actor is currently also working on Hera Pheri 3 reprising his iconic role as Raju. The other movies he will be seen is Housefull 5 and The Great Indian Rescue.
Also Read: Your Independence Day 2023 Movie Guide: Top 10 Bollywood Picks To Binge
Advertisement