Yango, the tech trailblazer dedicated to enhancing the lives of people worldwide, has introduced a groundbreaking navigation solution to the vibrant city of Dubai – Yango Maps. This innovative app promises to revolutionize how residents and visitors navigate this bustling metropolis, offering an immersive experience that seamlessly combines technology, practicality, and aesthetics.
Detailed, Realistic Maps
Yango Maps presents users with an unparalleled true-to-life depiction of Dubai, showcasing a highly detailed map that goes above and beyond the ordinary. With 3D models of landmarks, it brings the city to life with an astounding level of accuracy. The map not only includes roads and buildings but also underground crossings and natural elements such as trees, creating an authentic representation of the cityscape.
This app boasts a meticulous mapping of over 3,000 kilometers of Dubai's roads, displaying lane markings, multi-level interchanges, tunnels, traffic lights, and parking spots, among other features. It is designed to provide a highly adaptive view of the route, ensuring drivers are well-informed and safe on the road.
Real-Time Traffic Updates and Smart Navigation
Yango Maps keeps users informed with real-time traffic updates and speed limit alerts. These alerts are provided in advance, allowing drivers to stay within the legal limits effortlessly. Plus, when your destination is a shopping haven, a business center, or a popular district, the app assists in planning your route by displaying nearby parking options.
For those not behind the wheel, Yango Maps is equally valuable. The app integrates Yango's ride-hailing service, making it convenient to book rides. It also provides bus schedules and streamlined walking routes, catering to various modes of transport. Exploring the city becomes a breeze with the user-friendly search feature, helping you discover new and interesting places effortlessly.
Iconic Dubai Landmarks in 3D
One of the most visually captivating features of Yango Maps is the full-color 3D representation of iconic Dubai landmarks, including the Burj Khalifa, Dubai Frame, the Museum of The Future, and the Jumeirah Mosque. Switching to dark mode even triggers lifelike lighting effects on these 3D models, beautifully replicating the city's evening ambiance.
Advertisement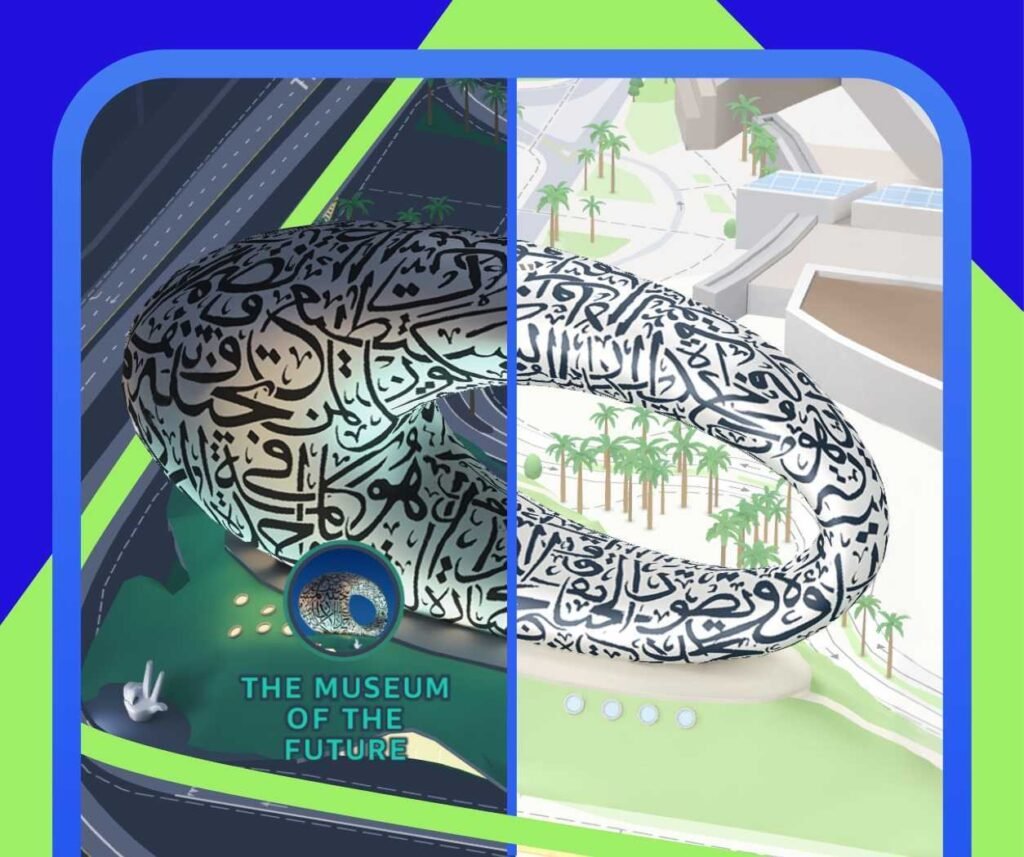 Also read: 7 Exciting Single's Day Deals And Offers In The UAE (socialkandura.com)
Yango Maps: A Commitment to Accuracy and Innovation
Yango Maps is a dynamic tool that keeps up with Dubai's ever-evolving landscape. The CEO of Yango Maps, Alexander Baksheev, emphasizes their dedication to accuracy, with approximately three million updates to the map every month. This ensures that new businesses, roads, speed cameras, and interchanges appear in the app shortly after they materialize in reality.
A Growing Ecosystem of Services
In just over a year since its inception in Dubai, Yango has already made its mark by providing high-quality services that cater to the daily needs of the city's residents. From ride-hailing to last-mile delivery solutions, e-commerce, and an AI-based Arabic-speaking smart assistant named Yasmina, Yango has expanded its ecosystem to meet the diverse demands of this vibrant city.
Also read: Introducing Yasmina: Yango's Revolutionary AI Assistant (socialkandura.com)
Yango Maps is set to redefine the way people navigate Dubai. This user-friendly, highly detailed, and visually stunning app promises a seamless and hassle-free navigation experience for everyone. With its commitment to accuracy and constant innovation, Yango Maps is poised to become an essential tool for those living in or visiting this dynamic and ever-changing city. Discover Dubai with Yango Maps, now available on Google Play and the App Store, offering both English and Arabic interfaces and voice directions. Welcome to a new era of navigation!
Advertisement