In a heartfelt display of UAE solidarity with Morocco earthquake victims, the United Arab Emirates (UAE) has united to support those affected by the devastating earthquake that struck Morocco on September 10, 2023. The focus of this solidarity is powerfully demonstrated by the illumination of two iconic landmarks – the Burj Khalifa in Dubai and the Adnoc headquarters in Abu Dhabi.
UAE solidarity with Morocco earthquake
A Dazzling Display of Support
The UAE's response to this tragic catastrophe is not just symbolic; it's a tangible gesture of support. The towering Burj Khalifa, a global symbol of architectural brilliance, and the prestigious Adnoc headquarters have been brilliantly illuminated with the vibrant colors of the Moroccan national flag. These dazzling displays of support symbolize the unwavering UAE solidarity with Morocco earthquake survivors.
Also read: UAE Launches Happiness SIM Card For Blue-Collar Workers
A Nation's Commitment to Aid
The UAE's solidarity with Morocco earthquake victims extends far beyond the visual tributes. The UAE government has openly expressed its condolences to the grieving families of the earthquake victims. Moreover, the nation has made a firm commitment to provide Morocco with essential aid and assistance in the wake of this calamity.
Ensuring the Safety of Emirati Citizens
The UAE Embassy in Rabat has issued a call to Emirati citizens currently in Morocco, emphasizing the importance of their safety. They are urged to exercise heightened caution and diligently adhere to the directives and guidelines issued by Moroccan authorities. This commitment to the well-being of its citizens abroad showcases the depth of UAE solidarity with Morocco earthquake victims.
Advertisement

Beacons of Hope in Times of Crisis
As Morocco embarks on its journey to recovery from this tragic event, these gestures of support from the UAE shine as beacons of hope and unwavering solidarity. It is a reminder that, in times of crisis, nations stand shoulder to shoulder, united by their shared humanity.
Compassion, Unity, and Global Solidarity
The heartfelt tribute by the UAE serves as a testament to the power of compassion, unity, and the enduring spirit of global solidarity. It is a heartwarming example of how nations can come together to support those in need, highlighting the importance of UAE solidarity with Morocco earthquake victims.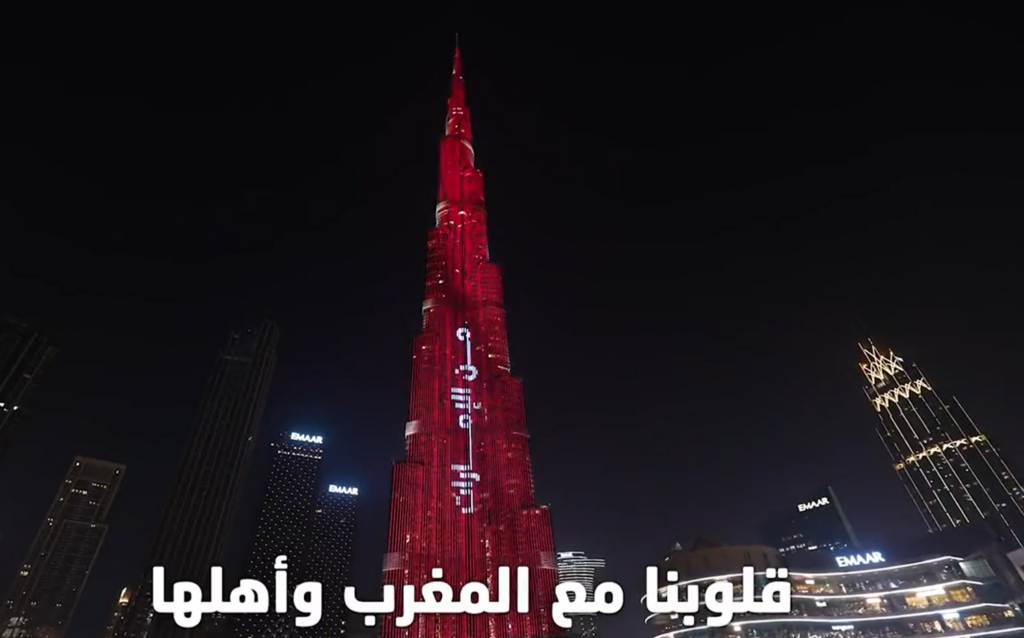 Also read: Dubai's Irresistible Business Lunch Options: A Feast Awaits!
Thoughts and Prayers for Morocco
Our thoughts and prayers are with the people of Morocco as they rebuild their lives and their nation after this devastating earthquake. The world stands witness to the remarkable UAE solidarity with Morocco earthquake victims, with the Burj Khalifa and Adnoc headquarters standing as shining symbols of this unity.
Advertisement