Emirati Women's Day takes on a dynamic new dimension this year, as The Mettleset Podcast, a groundbreaking multimedia platform committed to spotlighting underrepresented athletes and overlooked sports from the Middle East and beyond, has transcended borders to become a global sensation. Since its inception on October 3, 2022, this UAE-based podcast has captivated audiences across 92 countries, securing a prestigious place among the top 0.3% of podcasts on Apple Podcasts. The show has remarkably secured the #1 ranking in its category in 14 different countries.
Co-hosted by Dawn Barnable, a seasoned ultra-cyclist and PR specialist with over two decades of communication expertise, and Afshan Ahmed, a seasoned endurance athlete and journalist with more than 15 years of regional experience, The Mettleset is a trailblazer as the Middle East's first and only platform dedicated to placing women in sports at the forefront.
This remarkable podcast series – The Mettleset Podcast, which has garnered over 2.6 million listeners across various platforms, serves as a beacon of empowerment for female athletes in a multitude of sports disciplines. Weekly episodes delve into the inspiring stories of over 38 women participating in 24 diverse sports, ranging from ultra-cycling to action, adventure, and endurance sports.
Among these trailblazing women are 3 exceptional Emirati athletes:
Shahad Budebs, the fittest woman in the UAE and a formidable Crossfitter, who recently represented the nation at the CrossFit Games (Episode 27)
Safiya Al Sayegh, the first Arab and Emirati woman on the UCI Women's WorldTour and a prominent Pro Cyclist on UAE Team ADQ (Episode 29)
Areej Al Hammadi, a remarkable UAE National Footballer and 2x Guinness World Record Holder (Episode 37)

Advertisement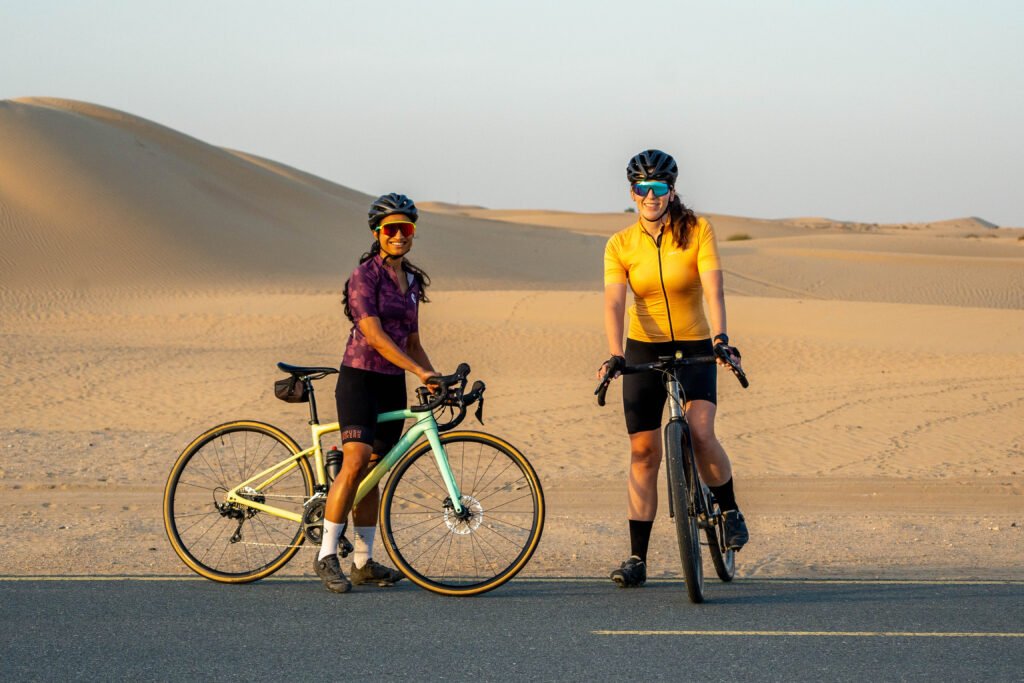 Also read: Ladurée Celebrates Emirati Women's Day With Exclusive "12 Signature Macarons" Tiara Collection
Women in Sports Soar to New Heights with The Mettleset Podcast
The roster of esteemed guests on The Mettleset Podcast reads like a who's who of the region's sporting trailblazers, including:
Sharifa Al Sudairi, the first woman on Saudi Arabia's Alpine Skiing team.
Shahad Budebs, a Rising Emirati Crossfit star who secured second place in the regional Crossfit Semi-Finals, earning a coveted spot in the upcoming Crossfit Games.
Dania Akeel, Saudi Rally Driver, the first woman globally to win an FIA Cross Country World Cup in the T3 Category, and the first Saudi woman to complete the Dakar Rally.
The podcast has also featured an array of inspirational guests, including Zeinab Rezaie, the first Afghan woman to compete in the 70.3 Ironman Championship; Director of Deep Dive Dubai Jarrod Jablonski; Emirati weightlifter Amna Al Haddad; UAE's first female camel jockey trainer Linda Krockenberger; Iranian mountain biker Faranak Partoazar; Nelly Attar, the first Arab woman to summit K2; and former Paralympian swimmer Jessica Smith, among others.
Also read: 7 Exquisite Experiences At Habtoor Grand Resort: Football, Hangover Brunch, And Beyond
The Mettleset Podcast has emerged as a catalyst for change, heralding a new era of women's empowerment within the sporting world. With an unwavering commitment to breaking boundaries and celebrating the remarkable achievements of female athletes, The Mettleset is set to reshape the landscape of sports media and inspire future generations to reach for greatness.
Advertisement