As Navratri, the vibrant Hindu festival, approaches, Dubai's culinary scene is lighting up with exclusive Navratri menus that celebrate the essence of this joyous occasion. The city is home to a diverse range of restaurants, each offering a unique food experience. Let's explore the top three Navratri menus that promise to tantalize your taste buds and immerse you in the festive spirit.
1. Dhaba Lane's Special Thali
Priced at AED 45, Available from October 15th to October 24th
Dhaba Lane, a popular Punjabi restaurant in Dubai, invites you to embrace the festive spirit of Navratri with its limited-period Navratri Special Thali. Priced at an affordable AED 45, this Thali offers a delectable selection of 9 dishes made from locally sourced ingredients. The menu includes treats like Fruit Chaat, Shakarkandi Tikka, Kaddu Ki Sabzi, Sabudana Ke Papad, Paneer Mattar Makhana Curry, and more. The Thali showcases the rich and diverse vegetarian cuisine of India, paying homage to tradition while delighting your taste buds.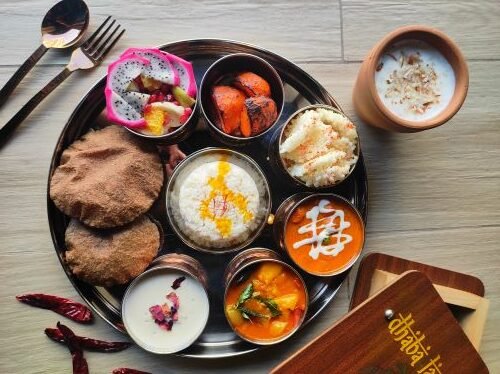 Also read: Shania Twain To Headline Yasalam After-Race Concert At Formula 1 Etihad Airways Abu Dhabi Grand Prix 2023
2. Punjab Grill's Limited-Period Set Menu
Priced at AED 150, Available from October 15th to October 24th
Punjab Grill, a Michelin-Guide Select Royal Indian Dining Restaurant located at Anantara Downtown Dubai and Ritz Carlton Abu Dhabi, brings you the true essence of Navratri with their exclusive festive Menu. Priced at AED 150, this 3-course meal is a tribute to the festive fervor of Navratri. Indulge in chaat flavors, Tikki platters, and an array of mains like Paneer Makhana Curry and Malai Kofta. The menu also features delightful desserts such as Kesar Rasmalai and Lauki Ka Halwa. Explore their menu: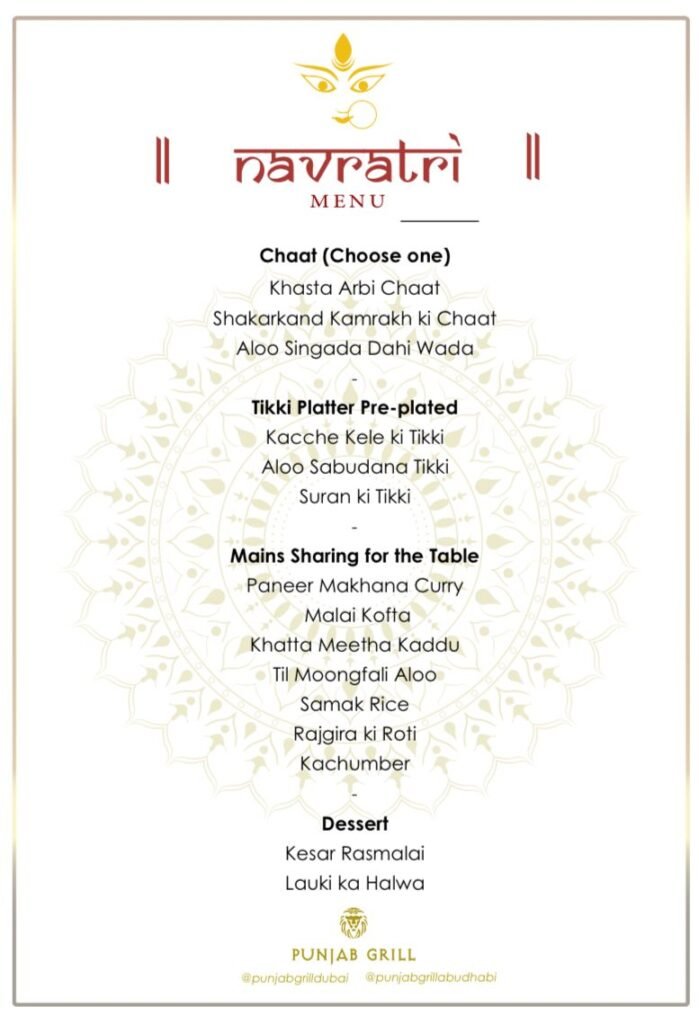 3. PINCODE's Navratri Thali by Chef Kunal Kapur
Priced at AED 99, Available from October 15th to October 23rd
PINCODE at the heart of Dubai Hills Mall is all set to immerse you in the spirit of Navratri from October 15th to October 23rd. Chef Kunal Kapur and his team are excited to offer a festive Thali priced at just 99 AED. This Thali is more than just a meal; it's a representation of the vibrant flavors and traditions associated with the festival.
PINCODE's Thali includes an array of pure vegetarian dishes that pay homage to the traditional fasting practices of this festival. The delightful offerings comprise Kuttu Puri, Vrat Ki Idli, Sabudana Vada with Falahari Chutney, Sabudana Kheer, Makhane Ki Kheer, Aloo Ki Kadhi, Pethe Ki Subzi, Samak Ka Pulao, Tadka Chaas, and Paneer Tikka. Each dish is thoughtfully prepared to ensure a truly satisfying and spiritually uplifting dining experience.
Also read: Jo Koy World Tour Abu Dhabi: Get Ready For Laughter Galore
As Navratri resonates with lively Garba nights and festive fervor, PINCODE by Chef Kunal Kapur invites you to celebrate the festival with family and friends. Come and experience the joy, tradition, and flavors of the festival at this charming culinary destination in the heart of Dubai Hills Mall.
4. Khau Galli: Festive Beats and Flavors
Khau Galli is taking Navratri celebrations up a notch. For AED 32, relish their compact thali featuring over six delectable offerings, including saboodana khichdi, freshly cut fruits, and tikki. Dance to dandiya beats and savor this Navratri thali. Khau Galli's newest outlet at Mega Mall in Sharjah is ready to welcome you. Open from 8 am to 11 pm until October 23rd.
Advertisement

5. Sagar Ratna: No Onion, No Garlic Delights
Sagar Ratna is catering to those who avoid onion and garlic during Navratri. Their special thali includes saboodana tikki, puri, saboodana khichadi, mithai, and paneer gravy dish. This flavorful thali is available until October 23rd at their Oud Metha, JLT, and Dubai Silicon Oasis locations.
6. Upvas Thali at Rasoi Ghar
For a taste of tradition, head to a renowned restaurant in Dubai offering the Upvas Thali. This vibrant thali is a celebration of Navratri's colors, featuring saboodana papad, puri, saboodana khichadi, freshly cut fruits, and a variety of sabzi. The restaurant, located in Al Karama, is ready to serve you a feast that captures the essence of Navratri.
7. Yummy Dosa: A Jain Delight for Navratri and Beyond
As Navratri approaches, bringing with it a celebration of vibrant traditions and dietary preferences, Yummy Dosa is set to enhance your culinary experience. If you're one of the many who follow Jain dietary restrictions, which exclude meat and root vegetables, and avoid onion and garlic during this festive season, Yummy Dosa has an exclusive treat for you.
Known for their Mumbai-style street food, Yummy Dosa introduces a new Jain menu that aligns perfectly with Navratri observances. This specially crafted menu features a delightful array of Sizzlers and Pasta dishes that cater to your specific dietary preferences. You can savor a range of tempting Sizzler choices, including Exotica Veg Veronica, Veg Italiano, Paneer Shashlik, Paneer Tikka, and Mexicano. Pasta lovers can indulge in comforting options like White Sauce Alfredo, Red Sauce Arrabiata, Pink Sauce Cocktail, Chilli Cheese, Chinese Schezwan, and Tadka Masala. Importantly, these dishes are available in both regular versions and onion-garlic-free versions.
Yummy Dosa, with outlets in Dubai and Sharjah, ensures that you're covered with a delectable array of dishes tailored to your vegetarian, onion-free, and garlic-free preferences. Whether you're seeking sizzlers or pasta, Yummy Dosa offers a dining experience that respects your dietary choices and celebrates the essence of Navratri.
With these fantastic options available in Dubai, there's no better way to celebrate Navratri than by indulging in authentic flavors and festive beats. Embrace the spirit of the festival, explore these culinary destinations, and enjoy the vibrant tastes of Navratri with family and friends.
Experience the joy of Navratri through these exclusive menus, and make the most of this special time with your loved ones. Enjoy the festive fervor and delicious food that these restaurants have to offer.
Advertisement