The spectacular Jason Derulo birthday celebration in Dubai left no stone unturned in delivering an unforgettable experience at Fi'lia, the renowned Italian-Mediterranean restaurant perched on the 70th floor of SLS Dubai Hotel & Residences. This exclusive event was a testament to the global superstar's immense popularity, drawing in fans and well-wishers from around the world.
A Memorable Surprise: Jason Derulo Birthday Extravaganza
The pinnacle of the evening came when Fi'lia's exceptional staff, led by women, orchestrated a stunning and heartfelt birthday surprise for Jason Derulo. As the lights dimmed and the melodious tunes filled the air, the staff gracefully took center stage, dancing to the irresistible beats of Derulo's chart-topping hit, "Savage Love."
Also read: COVE BEACH Relocates To JBR, Dubai: A New Chapter In Dubai's Beach Club Scene
Dance Magic: Fi'lia Staff Dazzles to "Savage Love"
With synchronized moves and boundless energy, the Fi'lia staff members exhibited their extraordinary dancing prowess, enveloping the venue in an electrifying ambiance. All eyes were fixated on Jason Derulo as he watched in awe as this unforgettable performance unfolded. The dance routine ingeniously captured the essence of the song, infusing an extra layer of excitement and entertainment into the celebration.
Advertisement

A Culinary Masterpiece: Birthday Cake
Following the breathtaking dance performance, a meticulously crafted birthday cake took center stage, and presented to Jason Derulo. This culinary masterpiece was adorned with intricate designs and personalized details, paying homage to the music icon.
The Birthday Moment: Derulo Blows Out the Candles
With the cake in hand, Jason Derulo took a moment to make a cherished wish before blowing out the candles, surrounded by his closest friends, adoring family, and the talented Fi'lia staff. The celebration at Fi'lia was an evening replete with joy, enthusiasm, and heartfelt moments.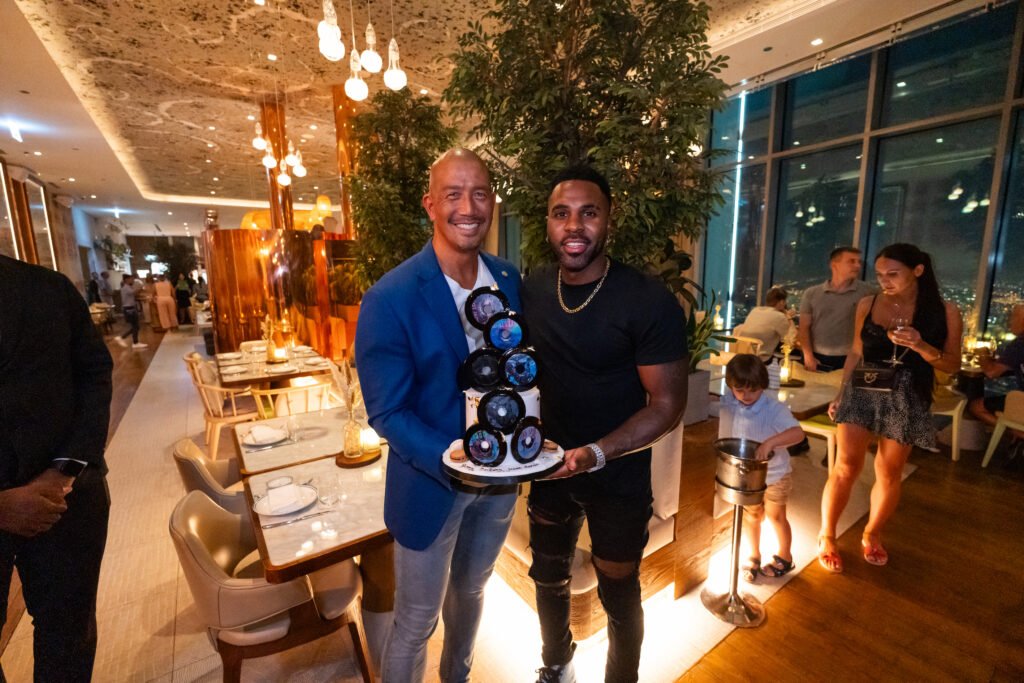 Also read: Bounce Trampoline Park Takes Sharjah By Storm With Thrilling Activities For All Ages
Fi'lia – The Premier Destination for Luxury Celebrations
Fi'lia, the distinguished Bib Gourmand Michelin star restaurant, once again affirmed its status as the premier destination for luxury celebrations in Dubai. This event serves as a poignant reminder of Jason Derulo's global appeal and the unwavering love and support he enjoys from his fans worldwide.
Spectacular Heights: Jason Derulo's Dubai Soiree
Jason Derulo's birthday soirée at Fi'lia in Dubai was nothing short of spectacular, ascending to remarkable heights both literally and figuratively. It was an evening of harmonious celebration, uniting music, dance, and culinary artistry to create lasting memories that will resonate for years to come.
Advertisement