In the heart of Aljada, Sharjah's largest lifestyle community, the renowned Japanese architect Tadao Ando is crafting a cultural masterpiece – Il Teatro. This sleek performing arts center, slated for completion in 2027, is poised to redefine the city's cultural narrative.
Diverse Cultural Offerings
Il Teatro is not just a building; it's a promise of a diverse range of cultural experiences. From opera, theatre, and dance to ballet, musicals, concerts, films, art exhibitions, and festivals, this center will be a hub for creativity and artistic expression.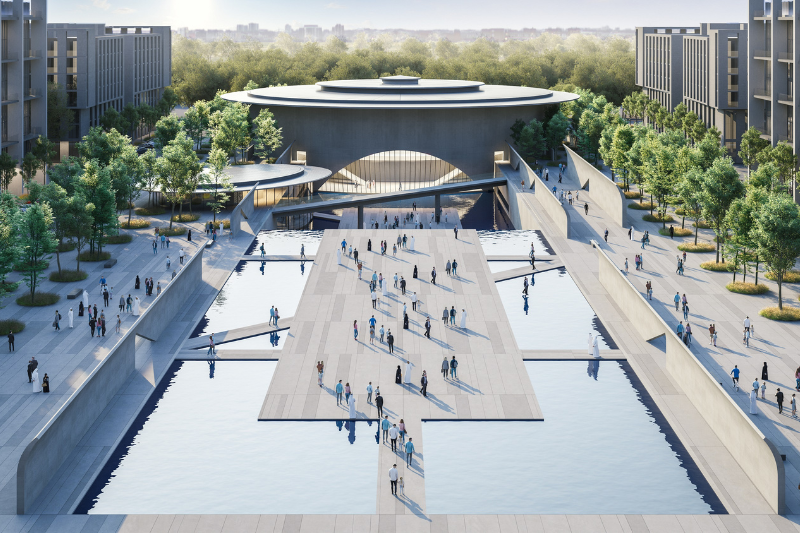 Also read: Festive Brunch Ideas: Top 5 Picks In UAE To Make Your Celebration More Scrumptious
Architectural Finesse: Tadao Ando's Signature Touch
Ando's distinctive architectural style is evident in Il Teatro's facade – a pure, cylindrical concrete mass adorned with clean, simple lines. The drama unfolds through a large, arched opening, seamlessly connecting the indoors with the multi-layered cultural plaza.
Outdoor Amphitheater: A Cultural Haven
Beyond the walls of Teatro, an outdoor amphitheater is set to enrich the cultural ambiance. Hosting a variety of events, activities, and performances, this space will not only entertain but also inspire local artists, fostering creativity within the UAE.
Construction Timeline and Anticipated Unveiling
Construction on this ambitious project is set to commence next year, with the grand unveiling scheduled for 2027. Positioned strategically in the Naseej creative district, Il Teatro will be the beating heart of a cluster of 19 buildings.
Advertisement

Green Spines: Nature Meets Artistry
Residents will enjoy seamless access to Il Teatro through two 'green spines' or urban parks. These lush spaces will not only provide a scenic route but will also feature workshops, artist studios, and cafes, creating a harmonious blend of nature and artistry.
Role in Fostering Local Talent
As Sharjah solidifies its standing as the cultural capital of the UAE, Il Teatro emerges as a catalyst for local talent. It is not merely a venue; it is a commitment to nurturing the growing creative community, providing a platform for artists to thrive.
Il Teatro Where Culture Takes Center Stage
Il Teatro is more than a performing arts center; it's a cultural catalyst set to elevate Sharjah's artistic landscape. With Tadao Ando's architectural brilliance, a diverse cultural lineup, and a commitment to community engagement, Il Teatro is poised to become a cultural cornerstone in Aljada, Sharjah. The countdown to 2027 has never been more anticipated.
Advertisement