As the festive season approaches, Abu Dhabi and Dubai are gearing up to make it a memorable time for residents and visitors alike. From delectable gelato to lavish feasts, here's a detailed roundup of the exciting offers and events you can look forward to:
1. EPI4ODES Gelato at Emirates Palace Mandarin Oriental, Abu Dhabi
Emirates Palace Mandarin Oriental, Abu Dhabi, has opened EPI4ODES Gelato, an ice-cream parlor offering artisanal gelato, sorbet, and soft serve. Their menu is a delightful twist on classic Italian gelato, featuring innovative flavors like Lavender Honey and Celery, sourced from the Palace's own gardens. You can customize your treats with fresh fruits, chocolate, and even 23 karat gold leaf for a truly indulgent experience. EPI4ODES Gelato is open daily from 10 am to 11 pm for dine-in or take-away.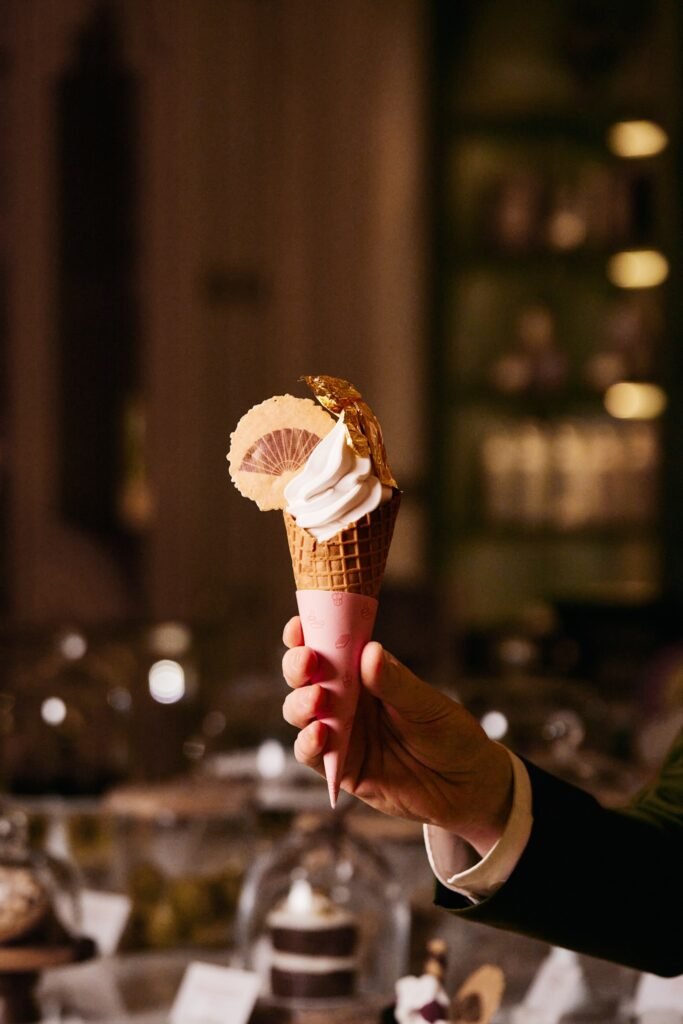 Also read: Comedy Box Office Season 2: A Night Of Laughter In Dubai With Rohan Joshi And Urooj Ashfaq
2. Celebrate at Sauce, Habtoor Grand Resort, Dubai
Sauce, the trendy American Diner Concept at Habtoor Grand Resort, Dubai, is your go-to venue for memorable celebrations. They offer specially crafted birthday packages starting at AED 120 per child, including access to the pool and beach. While kids enjoy the outdoor fun, parents can relish classic diner favorites like crispy onion rings, loaded fries, mouthwatering burgers, and decadent desserts. Sauce also hosts a special Kids Brunch every Sunday from 12:30 pm to 3:30 pm, complete with complimentary beach and pool access.

Also read: Chris Brown To Headline Yasalam After-Race Concert At Abu Dhabi Grand Prix 2023
3. Christmas and New Year Delights at PRATO, Trump International Golf Club, Dubai
PRATO, the chic Italian restaurant at Trump International Golf Club, Dubai, has a festive lineup that will delight your taste buds. For Christmas Day, they offer a Christmas turkey takeaway that includes a perfectly prepared whole roast turkey, a tantalizing half roast turkey, and a decadent sticky toffee pudding with vanilla custard. Prices range from AED 175 to AED 949.
On December 25th, you can also indulge in a Christmas brunch featuring a lavish buffet with live cooking stations, offering everything from oysters to Lobster Thermidor, and more. Prices range from AED 150 for kids to AED 715 for adults. Finally, PRATO invites you to their New Year's Eve dinner, where you can enjoy a buffet with international flavors and a dessert spread that includes live stations for crepes, churros, and peach cobbler. Prices start at AED 340 and go up to AED 770.
Also read: Seaside Finolhu Baa Atoll Maldives: Your Ultimate Festive Season Getaway
4. Festive Season at Mandarin Oriental Jumeira, Dubai
Mandarin Oriental Jumeira, Dubai, is hosting a series of exceptional dining and wellness experiences. The Bay, their beachside brasserie, is the place to be for Christmas and New Year's celebrations. On Christmas Eve, enjoy an indulgent Mediterranean set menu with shareable delicacies like Burrata and Truffle Tortellini and Grilled Beef Striploin for AED 320 per person.
Christmas Day at The Bay is an extravagant affair, with a lavish buffet including live cooking stations for turkey carving, oysters, paella, and more. Prices range from AED 350 to AED 950, with special prices for children. Finally, ring in 2024 at The Bay's New Year's Eve soirée from 8:00 pm until the early hours. Enjoy an international buffet, live entertainment, and stunning sea views for AED 2,400 per person.
Also read: Busta Rhymes To Headline Sole DXB 2023: Dubai's Premier Music, Fashion, And Art Festival Returns
'Restored Beauty' at The Spa, Mandarin Oriental Jumeira, Dubai
For moments of self-care and pampering during the busy festive season, The Spa at Mandarin Oriental Jumeira, Dubai, offers the 'Restored Beauty' experience. This 90-minute treatment includes a stress-relieving back, neck, and shoulder massage and an anti-aging facial using 111SKIN's Intensive Collection. Priced at AED 995, it's the perfect way to relax and rejuvenate.

5. Emirates Palace Mandarin Oriental, Abu Dhabi: A Luxurious Holiday Extravaganza
Emirates Palace Mandarin Oriental, Abu Dhabi, is set to enchant visitors with a holiday season filled with culinary excellence, enchanting fireworks displays, wellness experiences, and live entertainment. Here are the details:
Tree Lighting Ceremony (December 8, 6 pm): Witness the Grand Dome illuminate during the annual tree lighting ceremony, featuring carols by a children's choir and seasonal treats from Episodes.
Festive Flavours and Gift Ideas: Enjoy a Festive Afternoon Tea and Christmas flavors at Gelateria, with Retail Corners offering unique stocking stuffers like gingerbread houses and scented soy candles.
Seasonal Menus and Experiential Dining: Indulge in curated menus at various venues, from Levantine flavors at Lebanese Terrace to a 5-course Indian set menu at Martabaan by Hemant Oberoi.
Christmas Eve Extravaganza: Vendôme offers an extravagant buffet with live music, while Broadway presents a magical 4-course feast. Sand & Koal, the latest beachfront restaurant, offers a signature menu with live open-fire cooking.
Christmas Day Delights: Experience delectable dishes at Sand & Koal, old-school glamour at Broadway, or a family-friendly buffet at Vendôme. Christmas Brunch packages range from AED 550 to AED 750.
New Year's Eve Extravaganza: Join one of Abu Dhabi's most opulent affairs at Emirates Palace. After a feast at one of eight restaurants, enjoy live entertainment and a breathtaking fireworks display. Packages range from AED 2,500 to AED 4,500.
Silent Night at The Spa (December 13, 6 pm): Disconnect and reflect at The Spa's ninth annual 'Silent Night' event, offering wellness treatments and limited-edition spa packages throughout December.
Ultimate Yuletide Destination: Embrace the season with fitness classes, exclusive experiences like beach horseback riding, group meditation, and a Winter Kids Camp.
Your Palace, Your Place Programme: Gain full access to the resort's facilities, including the beachfront, restaurants, spa, and fitness center, with a 20% discount on the total bill throughout 2024.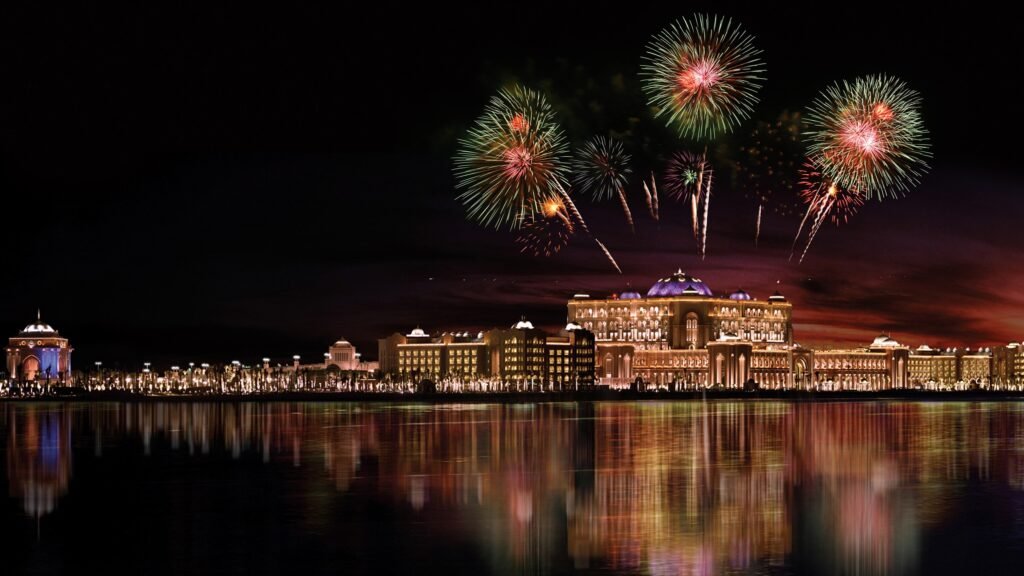 Emirates Palace Mandarin Oriental, Abu Dhabi, promises an unforgettable holiday experience, blending luxury, culinary delights, and festive celebrations.
6. Ladurée's Gourmet Turkey Takeaway
Ladurée, renowned for its delectable pastries and French cuisine, brings you a gourmet delight this holiday season. Order an 8 kg roasted Turkey with traditional French stuffing, along with delightful sides, starting at AED 950. Don't miss the chance to elevate your celebrations with Ladurée. Available from November 21st to December 31st, orders must be placed 48 hours in advance. Visit Ladurée's outlets, including Dubai Mall and Dubai Hills Mall Restaurants, or their website for more information.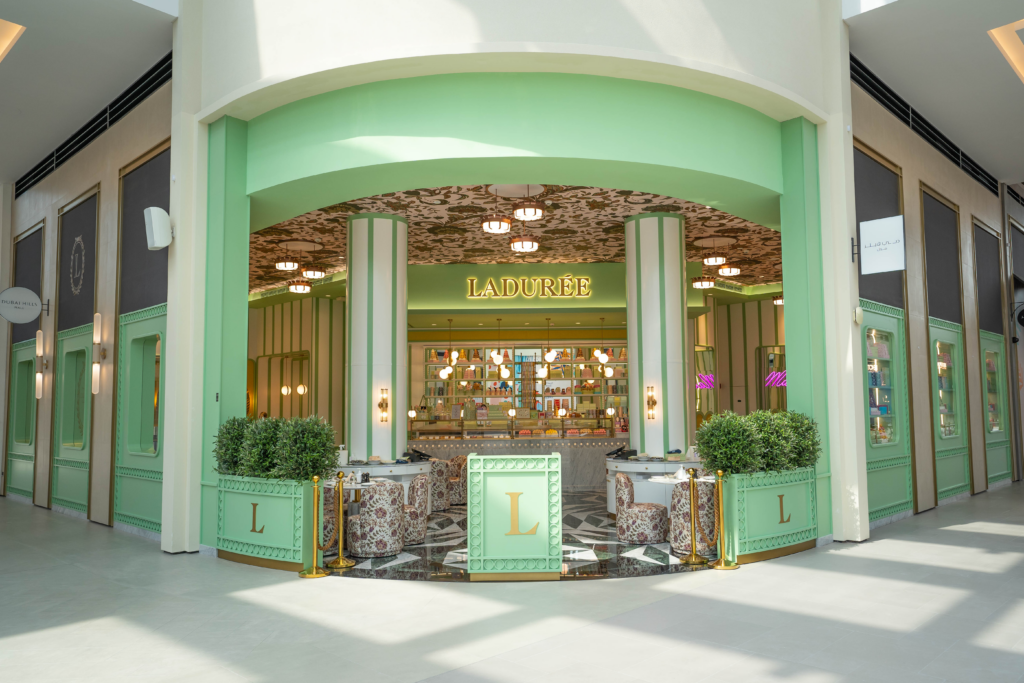 Ladurée's Festive Delights
Ladurée, the iconic French patisserie, is serving up a festive feast for your senses:
Festive Café Ambiance
Visit Ladurée's café adorned with the enchanting Christmas Garland, setting the stage for joyous gatherings.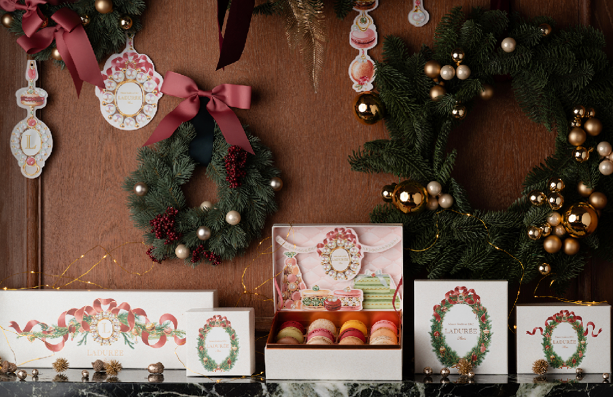 Christmas Macaron Gift Boxes & New Flavors
Limited-edition macarons in dazzling boxes – Speculoos and Nougat flavors to savor.
Available from November 15th in UAE, Oman, and Kuwait
Price of Gift boxes:
8 macarons – AED 150
12 macarons – AED 210
18 macarons – AED 295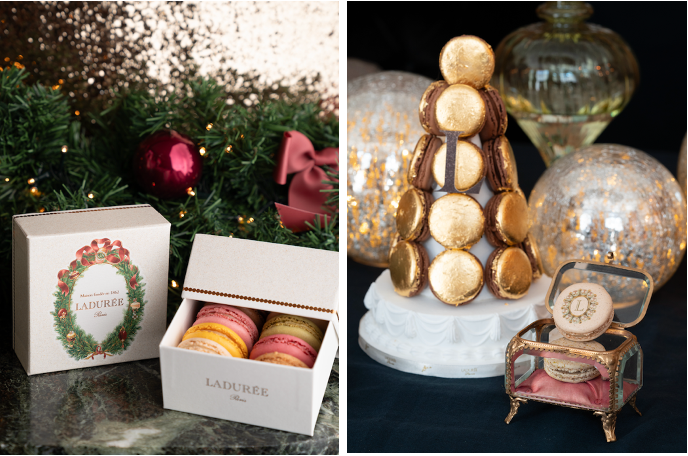 Christmas Yule Logs
Elevate your dinner with Ispahan, Pistachio, and Chocolate Yule Logs, a feast for the eyes and palate.
Available from November 15th in UAE, Oman, Kuwait, and Egypt
Price: 299 AED for 6 persons
Galette des Rois (Kings Cake)
Celebrate Epiphany with Ladurée's Signature Galette filled with almond-pecan cream or the Classic Galette.
Available from January 1st to January 31st, 2024
Price:
Signature Galette (6-8 persons) – 159 AED
Traditional Galette (4, 6, or 8 persons)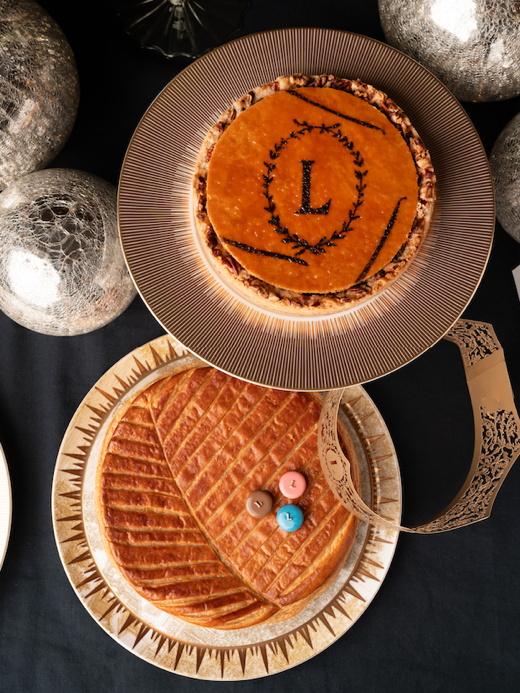 Festive Afternoon Tea
Indulge in a delightful spread featuring petit fours, savory treats, and iconic macarons, accompanied by non-alcoholic prosecco.
Available throughout December in UAE only
Price: AED 369 in Dubai Mall and AED 325 in other locations.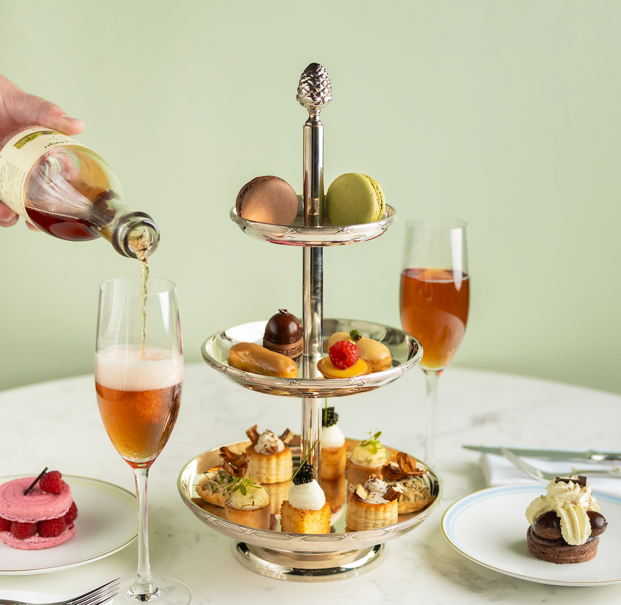 7. Café Society's Festive Feasts: delectable Celebration
Join Café Society in Dubai Marina for a magical festive brunch on December 25th and New Year's Day from 12 PM to 5 PM. Priced at AED 399 per person (including VAT), this delightful buffet promises a joyous feast to celebrate the season.
Family-Friendly Cheer: Bring your loved ones together for a merry afternoon. Children under six dine for free, and those aged 7 to 12 enjoy a 50% discount on festive menus. Café Society ensures a family-friendly atmosphere for all to savor the festive flavors.
New Year's Eve Glamour: Ring in the New Year in style with Café Society's celebration priced at AED 699 (inclusive of VAT). Enjoy fine dining and entertainment, with kids below 6 dining for free and those aged 7 to 12 enjoying a fantastic 50% discount on festive menus. It's a family affair filled with smiles.
Reserve Your Spot: Experience the magic of the season at Café Society. Book now for an exceptional festive dining experience. Click here for press releases and high-resolution images.
Café Society invites you to celebrate the festive season in a warm and elegant setting, creating lasting memories with exceptional dining.
8. Celebrate Joyous Moments at Al Jaddaf Rotana Dubai
Embrace the festive spirit at Al Jaddaf Rotana Dubai with private parties, Christmas brunch, and New Year's Eve extravaganzas.
Christmas Bliss: Enjoy a chic and private Christmas brunch on December 25th from 1:00 PM to 4:00 PM. Prices start at AED 195 with soft drinks and AED 325 for alcohol.
Advertisement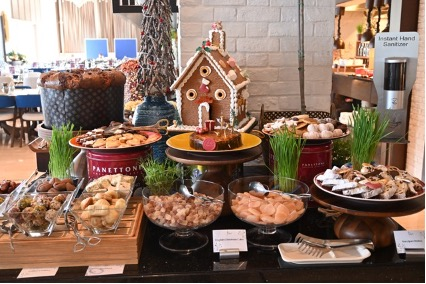 Turkey and Yule Log Takeaway: Simplify your Christmas dinner with Al Jaddaf Rotana Suite Hotel's Turkey and Yule Logs. Order from December 7, 2023, to January 7, 2024. Prices range from AED 650 to AED 175.
New Year's Celebration: Ring in 2024 with a dazzling New Year's Eve celebration on December 31st from 9:00 PM to 1:00 AM. Packages include AED 400 with soft drinks and AED 600 with house beverages.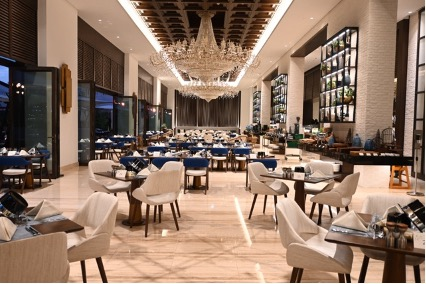 Festive Delights at Gardenia, Arabian Park: Experience enchanting moments at Gardenia, Arabian Park. Enjoy Christmas Eve dinner on December 24th and a magical Christmas Day lunch on December 25th. Prices start at AED 100 for soft drinks and AED 220 with house beverages.
New Year's Poolside Eve: Bid farewell to the old at Gardenia, Arabian Park's New Year's Eve celebration on December 31st. Enjoy an international buffet dinner from 9:00 PM to 1:00 AM. Prices start at AED 250 for soft drinks and AED 400 for house beverages.

9. Indulge in a Traditional Thanksgiving Feast at Swissôtel Al Ghurair
Savor the warmth of Thanksgiving with Swissôtel Al Ghurair's "Around the World" Sunday Brunch. Held at Liwan restaurant on November 26th from 12:30 PM to 4:00 PM, this family-friendly feast is a culinary journey celebrating the spirit of Thanksgiving.
Delectable Menu:
Immerse yourself in a gastronomic adventure featuring Beetroot Goat Cheese with Orange Segments, Beef Fajita steaks with Nachos, and a live carving station presenting Honey-glazed turkey with trimmings and Cranberry sauce. Conclude your feast on a sweet note with irresistible desserts like Caramel Hazelnut Cake, Peanut Truffle, and Chocolate Concorde Cake.
Festive Pricing:
The Swissôtel Traditional Thanksgiving Brunch is priced at AED 179 per adult, AED 89 per child (6 to 12 years), and complimentary for children below 6 years.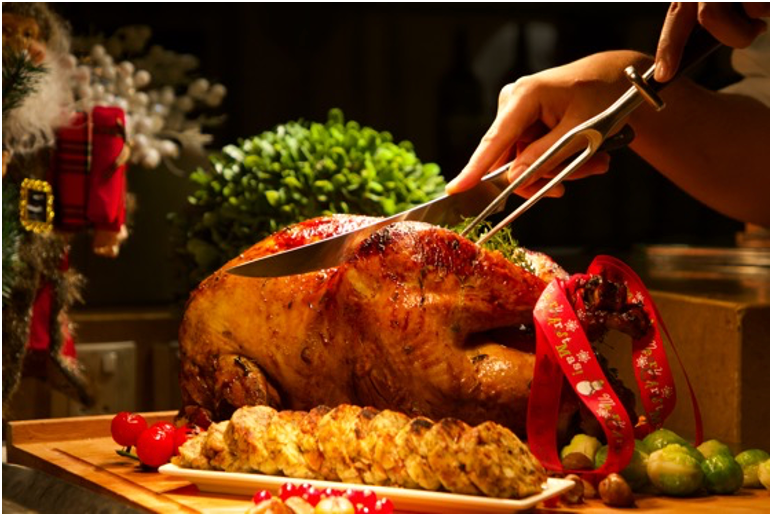 For reservations and more information on the festive dining offers, contact 04 293 3270, email dining.alghurair@swissotel.com, or visit Swissôtel Al Ghurair Festive.
10. Le Gourmet's Sushi Night at Galeries Lafayette: A Japanese Delight
Dubai's Galeries Lafayette unveils Sushi Night every Thursday at Le Gourmet, inviting enthusiasts on a culinary journey through Japan's exquisite flavors. Priced at Dh140 per person from 7 pm until closing, the night promises:
Edamame and Miso Soup: Classic Japanese starters to kickstart the evening.
Best Sushi Rolls for Two: Generous plates of expertly prepared Sushi Rolls, refilled throughout the night.
Delightful Japanese Dessert: A sweet conclusion to satisfy your cravings.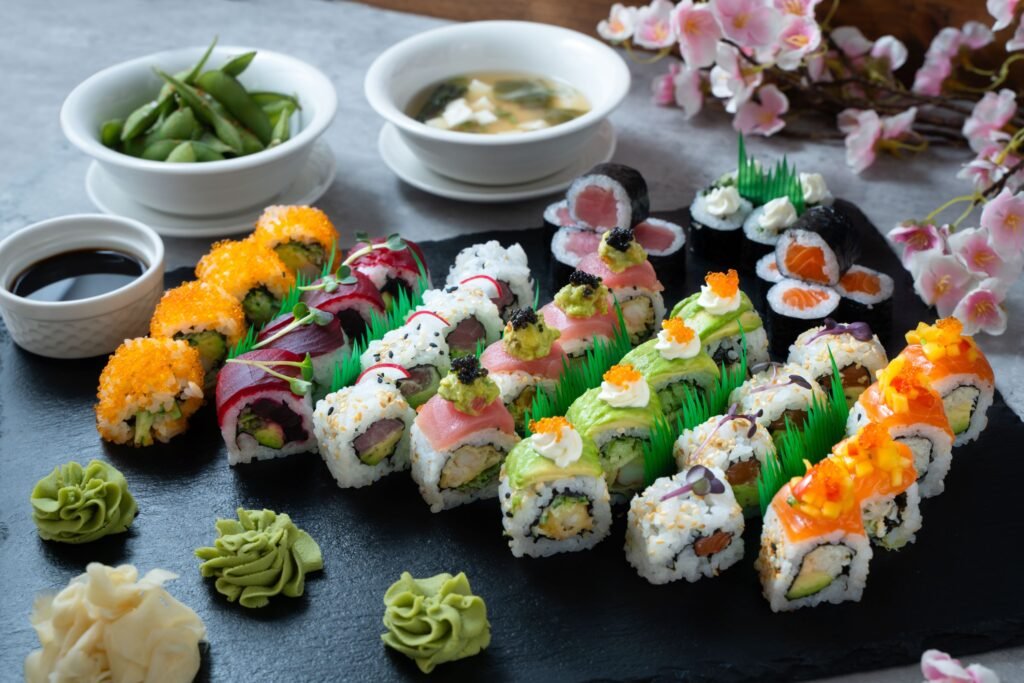 Relish the finest sushi at Le Gourmet, offering a vibrant setting for an unforgettable Japanese seafood experience.
11. Festive Feasting at Bombay Bungalow
Bombay Bungalow, renowned for its innovative take on traditional Indian cuisine, invites you to savor a curated Christmas menu from December 22nd to December 25th. Indulge in festive delights like Carkara Mutton Satay and the unique Roast Turkey Biryani—a fusion of traditional biryani and succulent roast turkey.
For New Year's Eve 2023, relish a lavish five-course set menu, priced at AED 500 for the vegetarian option and AED 550 for non-vegetarians. Whether indoors or at the outdoor seating, enjoy a delightful meal complemented by a beverage selection. From rich lentil soup to tantalizing appetizers and mouthwatering main courses like Buratta Butter Chicken, the feast concludes with tempting desserts like Moong Dal Kunafe or Kufi Falooda.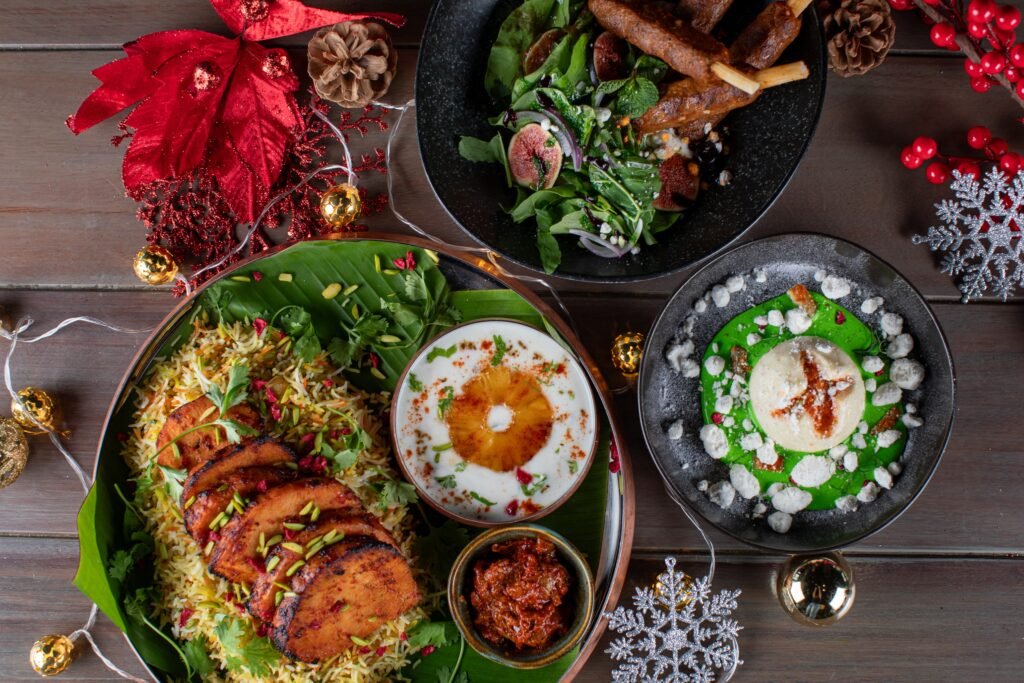 As the clock strikes midnight, witness the enchanting fireworks for an unforgettable New Year's Eve experience. For reservations, contact 800 692 8779 or book online. Also available on deliveroo.ae, talabat.com, and chatfood.io. Celebrate the festive season with Bombay Bungalow's culinary delights.

12. Festive offers at Hilton Ras Al Khaimah
Experience the joy of the season with Hilton Ras Al Khaimah's exclusive festive offer. Priced at AED 1020 per night, indulge in a delightful stay with the option of breakfast and lunch, or dinner at The Kitchen.
Hilton is nestled in Ras Al Khaimah and offers a picturesque setting, luxurious accommodations, and world-class amenities. Available for guests booking a two-night stay between December 23rd and 26th, the Christmas buffet, crafted by skilled chefs, promises a festive spread of traditional favorites and innovative creations.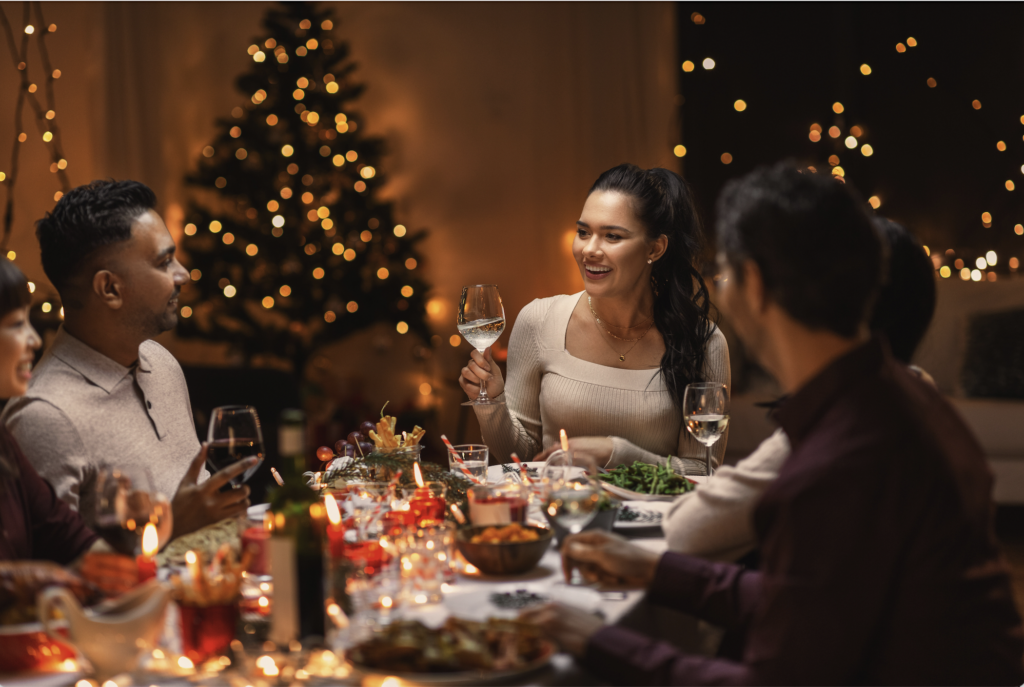 For reservations, contact +971 56 992 9631 or email reservations_rakresort@hilton.com. Celebrate the season in style with an unforgettable stay and culinary delights at Hilton Ras Al Khaimah.
13. Sfumato's Christmas menu
Sfumato unveils a culinary symphony with its Christmas menu, available from December 10th to 30th. Crafted by Michelin-recognized Chef Alena Solodovichenko, the menu features imaginative twists on Christmas classics.
Indulge in culinary wonders like Slow Cooked Beef Cheek with josper grilled parsnips and fermented cranberry sauce, or the Spiced Sage Rubbed Chicken with orange glazed carrots and a delicate jus infusion of red wine and cinnamon.
Other highlights include Stracciatella Ravioli with fresh black truffle, Spiced Butter Nut Squash Soup with crispy veal bacon, and a smoked duck Salad with fresh figs and Jerusalem artichoke espuma.
Conclude the feast with a Mandarin Tart featuring rosemary mousse and Yuzu jelly.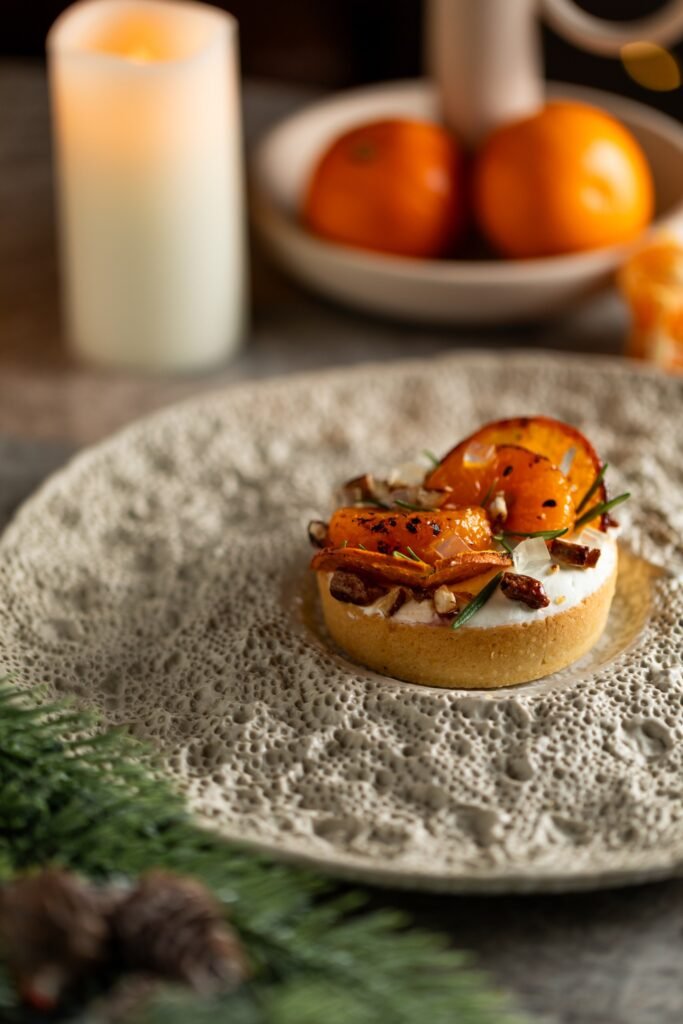 Complementing these exquisite dishes is Sfumato's curated beverage selection, elevating the dining experience with bold non-alcoholic cocktails and unique wines.
Prices:
Slow Cooked Beef Cheek: AED 195
Spiced Sage Rubbed Chicken: AED 140
Stracciatella Ravioli: AED 95
Spiced Butter Nut Squash Soup: AED 70
Smoke Duck Salad: AED 90
Mandarin Tart: AED 55
Celebrate the season's warmth at Sfumato, where each dish is a masterpiece, and every bite narrates a unique tale. For reservations, contact 058 101 5649. Discover the magic of Christmas flavors at Sfumato's website.

14. Carnival by Trèsind: Festive Delights Await!
Jingle, Mingle, and Savor at Carnival's Christmas and New Year Extravaganza
Carnival by Trèsind, nestled in DIFC, promises an unforgettable festive season with modern Indian cuisine and vibrant carnival-themed decor.
Christmas Celebrations:
Christmas Brunch (Dec 24, 2023): Indulge in an 8-course meal for AED 375 (non-alcoholic) or AED 475 (with drinks) from 1 pm to 4 pm. Reservation: +971 52 242 4262.
Christmas Dinner (Dec 25, 2023): Groove to a DJ's beats while relishing a lavish 9-course spread for AED 299++. Reservation: +971 52 242 4262.
New Year Highlights:
NYE Gala Dinner (Dec 31, 2023): Experience glamour with a nine-course meal, Bollywood DJ, and live singer. Prices start at AED 425++. Reservation: +971 52 242 4262.
New Year Brunch (Jan 1, 2024): Start the year with opulence at Carnival's brunch from 1 pm to 4 pm. Prices: AED 475 (alcoholic) or AED 375 (soft beverages). Reservation: +971 52 242 4262.
15. Address Sky View – The Restaurant: Christmas Eve Dinner
Celebrate in style with a set menu, festive flavors, and majestic views of Burj Khalifa.
When: December 24th, 7:00 PM – 11:00 PM
Where: The Restaurant
Price: AED 295 – AED 395 per person
Booking: +971 4 873 8888 or dineatskyview@addresshotels.com
Address Downtown – The Restaurant: Christmas Eve Dinner
Indulge in a 3-course set menu amid stunning night views of Dubai's iconic landmarks.
When: December 23rd to 25th, 7:00 PM – 10:30 PM
Where: The Restaurant
Price: AED 395 – AED 495 per person
Booking: 04 436 8888 or dineatdowntown@addresshotels.com
16. Palace Downtown – Ewaan: Christmas Eve Dinner
Experience a festive buffet-style dinner in Ewaan's enchanting setting.
Palace Downtown – Thiptara: Christmas Eve Dinner
Savor a festive set menu in the intimate ambiance of Thiptara with Burj Khalifa views.
Palace Downtown – Asado: Christmas Eve Dinner
Embark on an Argentinean culinary journey with stunning views of the Dubai Fountain.
17. DoubleTree by Hilton Business Bay – Republic Adda Bar & Lounge: Christmas Themed Brunch
Immerse in a Christmas-themed brunch with dynamic performances, face painting, and festive bites.
When: December 24th, 1:30 PM – 4:30 PM
Where: Republic Adda Bar & Lounge
Price: AED 185 – AED 385
Info: +971 52 924 7596 or DXBB_Republic@Hilton.com
DoubleTree by Hilton Business Bay – My Square: Christmas Eve Dinner
Celebrate Christmas Eve with live music, international dishes, and tantalizing beverages.
When: December 24th, 7:00 PM onwards
Where: My Square
Price: AED 225 – AED 345
Info: +971 55 314 7523 or DXBBB_Dinein@Hilton.com
18. Al Seef Heritage Hotel – Skafos: Christmas Eve Dinner
Experience a Christmas Wonderland with a festive buffet, live cooking, and scenic Dubai Creek views.
When: December 24th, 6:00 PM onwards
Where: Skafos
Price: AED 250 – AED 350 per person
Booking: +971 58 200 5850 or dining.alseef@hilton.com
As the festive spirit envelops Dubai, these venues promise unforgettable moments and delectable feasts for locals and visitors alike. Bookings are essential, and terms and conditions may apply. Embrace the joy of the season with Dubai's diverse culinary delights!
How to Book Your Festive Celebrations
To ensure you don't miss out on these exciting festive events, make your reservations in advance. Whether you're in Abu Dhabi or Dubai, these offerings promise to make your celebrations truly memorable. Enjoy the festive season with these delectable delights and unforgettable experiences.
Advertisement