Foodies, get ready for a 'royal' feast! Dig into an authentic North Indian culinary experience at an unbeatable price. Kulcha King, the popular homegrown restaurant chain offering sumptuous Indian-inspired everyday food, has added a new superstar to its menu, – 'The King's Thali'. Not just a feast for the eyes but also nourishment for the soul, guests can get a true taste of Indian culture and tradition through the King's Thali. Read on to know more.
Feast on over 12 lip-smacking dishes for just aED 39
The King's Thali offers an incredible range of traditional North Indian cuisine in a vibrant, welcoming, and cosy setting. Priced at an unbelievable AED 39 only, the royal thali delivers an assortment of dishes, perfect for those looking for an all-in-one meal experience.
Kick off the royal feast with a welcome drink. Once you've warmed up your appetite, move over to the thali. The royal thali includes a mix of vegetarian and non-vegetarian cuisines, featuring some of Kulcha King's signature dishes. Diners can feast on crispy and crunchy pakoras, piquant kebabs, savoury curries, salad, sweet and tangy sides, protein-packed dal sabji, and delicious and equally nutritious rice khichadi, served with tandoori bread. Finish your meal with a host of lip-smacking desi desserts.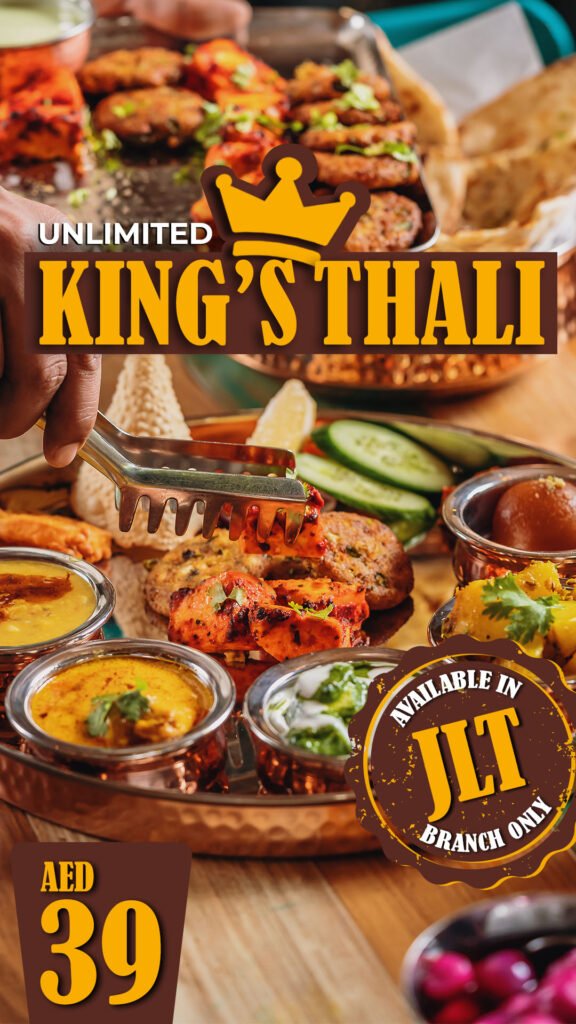 In Indian culture, the thali, a large metallic platter, is a traditional way to serve food in both the northern and southern parts of the country. Containing several smaller bowls called katoris
Advertisement

, each bowl is filled with one dish. Apart from multiple mains, the thali is usually served with various accompaniments like pickles, chutneys, and yoghurt. It is not only a way to serve food but also a chance to experience and sample the cultural diversity and age-old traditions of India.
The King's thali is available throughout the week only at Kulcha King's JLT branch from 11.30 am to 3.30 pm.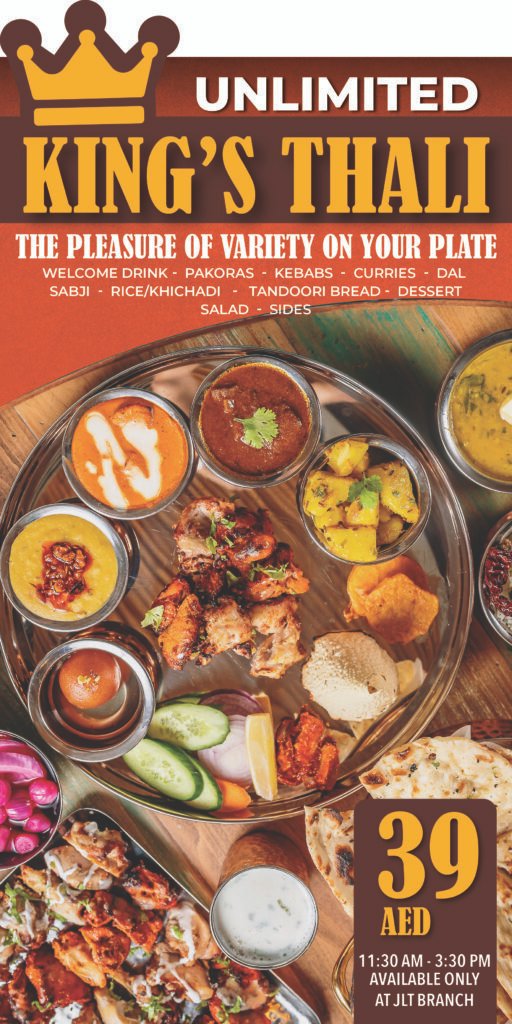 The King's thali aside, Kulcha King's menu also includes scrumptious veg and non-veg kathi rolls, their unique and one-of-a-kind kulcha pizzas, stuffed kulchas, kebabs, biryani, curries, dal, and more. The restaurant is known for its authentic North Indian cuisine, with a focus on quality and taste.
The restaurant's welcoming ambience makes it a great spot for families and friends to gather and enjoy delicious meals while making wonderful memories together.
Don't miss out on this mouthwatering addition to their menu and make sure to drop by at Kulcha King JLT branch and sample an Indian feast like none other.
Details
Address: Cluster O, O2 Residence – Promenade Level, JLT
Date– Available from Monday, 20th February
Time: 11.30 AM- 3.30 PM
When: All days (Sun-Sat)
Advertisement