Danube Properties, the UAE's fastest-growing private real estate developer, has announced its latest venture, the Oceanz project, set to redefine luxury living in Dubai's Maritime City. With a development value exceeding Dh2.5 billion, Oceanz promises a lifestyle that seamlessly merges architectural elegance with Italian interiors and luxury furnishings by Tonino Lamborghini Casa. Here's a closer look at what Oceanz has in store for residents and investors alike.
A Glimpse into Oceanz:
Oceanz will stand tall, rising 51 floors above the ground. It boasts a six-level podium that houses car parking and community facilities, while the remaining 44 floors will be dedicated to residential properties. This iconic project will offer a total of 1,250 residential units, including studio apartments, 1-bedroom, 2-bedroom, and 3-bedroom apartments, as well as a few retail stores.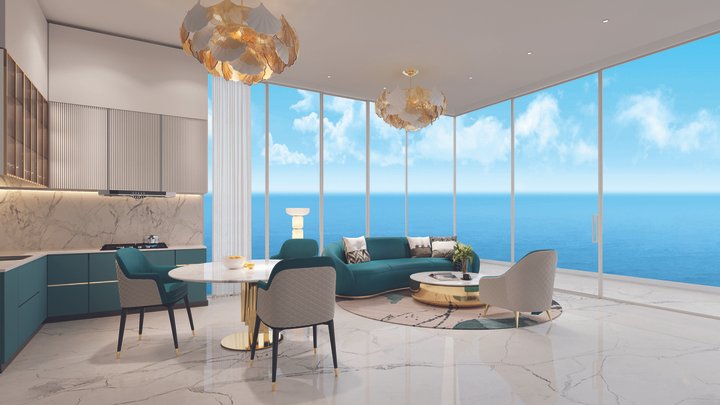 Also read: Sultan AlNeyadi's Space Mission Transforms Education In UAE
Luxurious Amenities:
Residents of Oceanz will enjoy a wealth of amenities, including an infinity swimming pool, sports arena, tennis court, barbecue area, jogging track, and even services like a doctor on call and nanny on board. With more than 40 community, health, and lifestyle facilities, Oceanz aims to provide an unparalleled living experience.
A Record-Breaking Project:
In terms of both units and development value, Oceanz is Danube Properties' largest project to date. Its prime location overlooking the Arabian Gulf positions it for future value appreciation and higher rental income potential.
Dubai's Booming Real Estate Market:
The launch of Oceanz aligns with Dubai's thriving real estate market, which has witnessed remarkable growth. The first six months of 2023 alone saw 60,440 real estate transactions worth Dh177.3 billion, driven by strong investor demand.
Danube Properties' Commitment:
Rizwan Sajan, Founder and Chairman of Danube Group, expressed their commitment to meeting the rising demand for homes in Dubai. Oceanz is the third project launched in just three months, demonstrating Danube Properties' dedication to offering diverse residential options and contributing to a balanced market.
Advertisement

Beautiful Ocean Views:
Sajan highlighted Oceanz's unique selling point – infinite ocean views that are unmatched in the market. He believes that in just three years, Dubai Maritime City will rival the most sought-after coastal properties in the world, and the value of each apartment will appreciate significantly.
Also read: Qatar Duty-Free Shines With 12 Wins At The 2023 Airport Food & Beverage Awards
Affordable Luxury:
Oceanz offers a range of residential units, starting from Dh1.1 million for a studio apartment, with a 1 percent monthly payment plan following the initial deposit. This affordability, combined with the potential for price appreciation, makes Oceanz an attractive proposition for both homebuyers and investors.
Sustainable Living:
In alignment with the UAE's commitment to sustainability, Oceanz apartments will be smart and sustainable, consuming less energy.
Golden Visa Incentive:
Danube Properties is also offering a 10-year Golden Visa to eligible homeowners, subject to government approval, further enhancing the attractiveness of Oceanz to potential investors.
Danube Properties continues to set the pace in the real estate market, delivering projects ahead of schedule and offering innovative solutions to meet the evolving needs of residents and investors.
With Oceanz, Dubai's skyline is set to welcome a new icon that promises not only luxurious living but also incredible value in the years to come. As Dubai's real estate market continues to shine, Oceanz stands as a testament to the city's unwavering appeal as a global real estate destination.
Advertisement