Updates on Dubai-Sharjah Highway Speed Limit: In a significant move to prioritize safety and streamline traffic flow, the Roads and Transport Authority (RTA) and Dubai Police have jointly announced a reduction in the speed limit on Al Ittihad Road. This bustling highway connecting Dubai and Sharjah will see a drop from 100km/h to 80km/h, effective November 20. This decision, backed by a thorough study, reflects a proactive approach to address the challenges of high traffic volume and enhance overall road safety.
Insights into the Dubai-Sharjah Highway Speed Limit Reduction to 80km/h
1. New Limit, Safer Commute:
Starting November 20, commuters traveling on Al Ittihad Road between the Dubai-Sharjah Highway border and Al Garhoud Bridge will experience a reduced speed limit from 100km/h to 80km/h. This decision, a collaborative effort between the Roads and Transport Authority (RTA) and Dubai Police, aims to enhance traffic safety and flow on this vital stretch.
2. Comprehensive Study Guides Decision:
The adjustment follows a recent comprehensive study that considered factors such as the frequency of traffic accidents, proximity of intersections, and recent developments in the area. This strategic move addresses the challenges posed by the high traffic volume on this crucial roadway.
3. Visual Cues for Drivers:
Traffic signs along the specified section of Al Ittihad Road have been updated to ensure a smooth transition. Red lines will mark the beginning of the speed reduction zone, adhering to established traffic safety standards. These visual cues enhance drivers' awareness of the revised speed limit.
Advertisement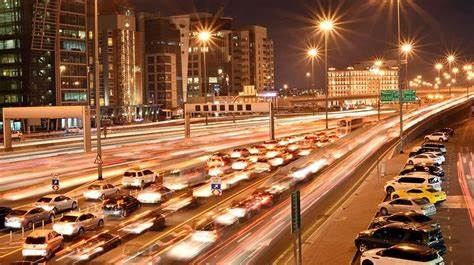 Also read: Banyan Tree Dubai On Bluewaters Island (socialkandura.com)
4. Collaborative Preventive Measures:
Emphasizing joint efforts, the RTA and Dubai Police General Headquarters highlight the importance of collaborative preventive measures, including the recalibration of radars. This proactive approach ensures the effective implementation and enforcement of the new speed limit.
5. Strategic Review Process:
The modification of speed limits is a meticulous process guided by various factors and engineering standards. This includes considerations such as road design speed, observed speeds of most drivers (85th percentile speed), urbanization along the road, pedestrian activity, the presence of essential facilities, historical traffic accident data, and overall traffic volume.
The decision to reduce the speed limit on Al Ittihad Road stands as a testament to the commitment of the Roads and Transport Authority and Dubai Police to continually enhance road safety. By integrating insights from a comprehensive study, implementing visual cues, and fostering collaborative preventive measures, this strategic adjustment addresses the evolving needs of the region's infrastructure.
As Dubai continues to grow and thrive, these changes contribute not only to the safety of road users but also to the overall efficiency of the transportation network. The drop in speed limit signifies a collective effort to create a safer and more streamlined commuting experience for residents and visitors alike. With these key updates, the Dubai-Sharjah highway is poised for a future where safety and efficiency coexist harmoniously, ensuring a smooth journey for all.
Advertisement