With the historic "longest Arab mission in space," Sultan Al Neyadi of the United Arab Emirates, scheduled to launch this morning, ambitions are soaring high once more.
Al Neyadi, 41, and the other three crew members are set to launch at 9.34 am local time today after NASA's SpaceX Crew-6 mission was scrubbed on Monday. The Crew-6 Dragon spacecraft dubbed "Endeavour" for Expedition 69 to the ISS is scheduled to launch on a SpaceX Falcon 9 rocket. Launch Complex 39A (LC-39A) at NASA's Kennedy Space Center in Florida, US, is the location of the launch.
Al Neyadi carries the aspirations of the late Sheikh Zayed bin Sultan Al Nahyan, the country's founding father, as well as the hopes and dreams of all Arabs, including Emiratis.
After the UAE Mission 2 is finished, the nation will be ranked 11th globally among nations that have accomplished a long-duration mission at the ISS. It will also achieve this milestone for the first time for an Arab nation. The UAE is additionally the first nation that isn't an ISS partner to take part in a lengthy ISS mission. Al Neyadi, the primary crew member and mission specialist, is joined by Russian cosmonaut Andrey Fedyaev and two NASA astronauts from the US, Stephen Bowen (commander) and Warren Hoburg (pilot), as well as Al Neyadi.
05:52 AM: Final preparations in their spacesuits
The Crew-6 astronauts have started to suit up for the launch later today. UAE astronaut Sultan Al Neyadi and his three crew mates will then walk out of the crew quarters and ride their Teslas to the launch pad.
06:34 AM: The Crew Has Arrived At The Launch Site
Crew-6 mates Stephen Bowen, Warren Hoburg, Sultan AlNeyadi, and Andrey Fedyaev have arrived at Kennedy's Launch Complex 39A. They have climbed aboard, and all final checks are being done.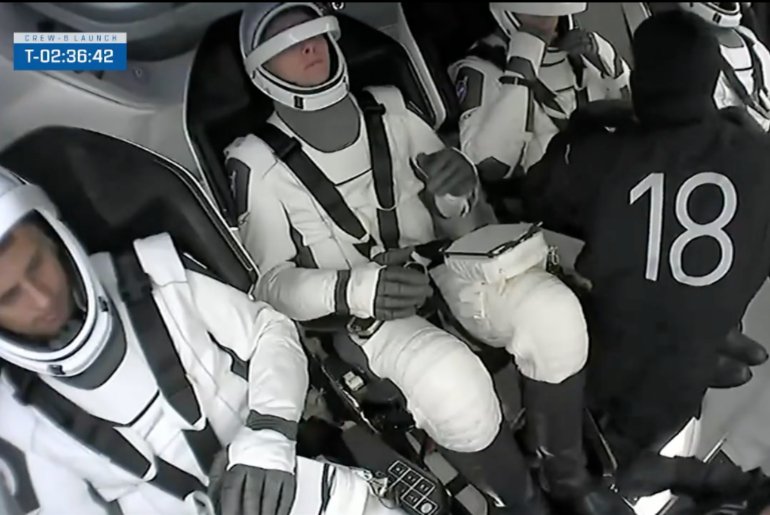 7:10: UAE Astronaut & His Team Mates Are All Buckled Up
Launch configuration communication checks have been executed, with no issues. The seats are being rotated into position for launch. The seating order inside SpaceX's Dragon Endeavour, from left, are Mission Specialist Andrey Fedyaev, Pilot Warren Hoburg, Commander Stephen Bowen, and Mission Specialist Sultan Alneyadi. Hatch is being closed of SpaceX's Dragon.
8:09 aM: Sultan Al Neyadi's family watching the launch from Florida
The family of UAE astronaut Sultan Al Neyadi, including his father and a few of his six kids, are in Florida to witness his space launch. His cousins and friends in large numbers are also present at the launch. They arrived in Florida a week ago, to support Dr. Al Neyadi.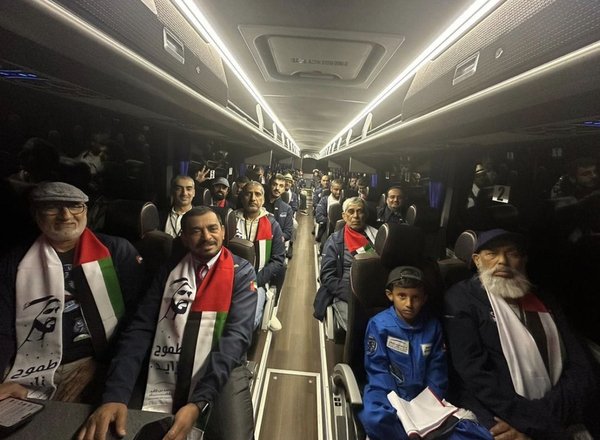 What's expected next?
The Dragon capsule's hatch is now closed. Ground team will start fuelling the rocket, with less than two hours remaining until lift-off. The crew has arrived at Launch Complex 39A ahead of flight. A final "go or no-go" determination will be made ten minutes prior to launch based on the weather and whether or not all systems are functioning properly. The launch of the rocket is scheduled for 9.34 AM GST.
The audio from mission control and the Dragon capsule is made available online by NASA, but the video feed will be interrupted for a while after takeoff. The astronauts can live stream themselves from inside the spacecraft once it has separated from the rocket and is moving steadily in the direction of the ISS.
8:54 AM: Weather At Kennedy Space Center Remains Positive for Crew-6 Launch
Weather officials with Cape Canaveral Space Force Station's 45th Weather Squadron continue to predict a 95% chance of favourable weather conditions for NASA's SpaceX Crew-6 launch from Kennedy Space Center in Florida. And in less than an hour, the SpaceX Falcon 9 rocket, with Endeavour atop, will lift off from Kennedy Space Center.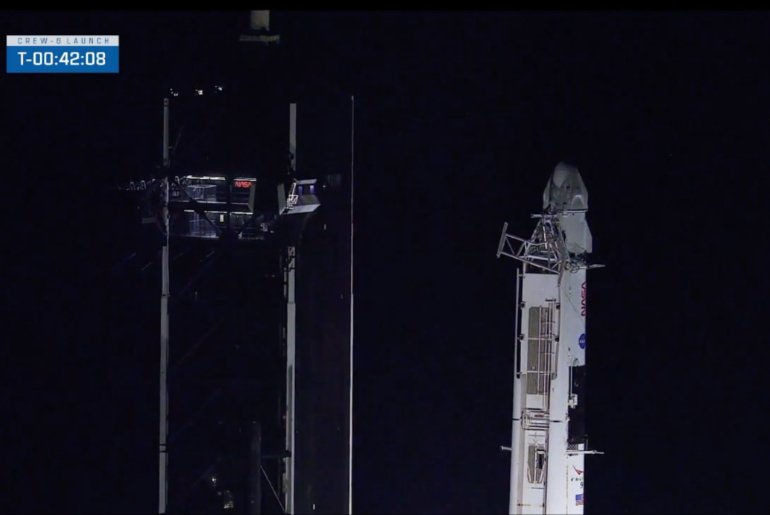 Interviewed live on Nasa TV alongside Salem Al Marri, director general of the Mohammed bin Rashid Space Centre, Maj Al Mansouri said the long wait was almost over.
"Sultan is super excited about this launch as it will be his first mission, and Woody [Hoburg]'s, so they can't wait to experience the weightlessness and start conducting science experiments," said Maj Al Mansouri, who was in Florida for the launch.
"It is a beautiful night for launch so hopefully it will happen. We are looking forward to seeing them floating."
09:00 aM: The LOX (liquid oxygen) loading has begun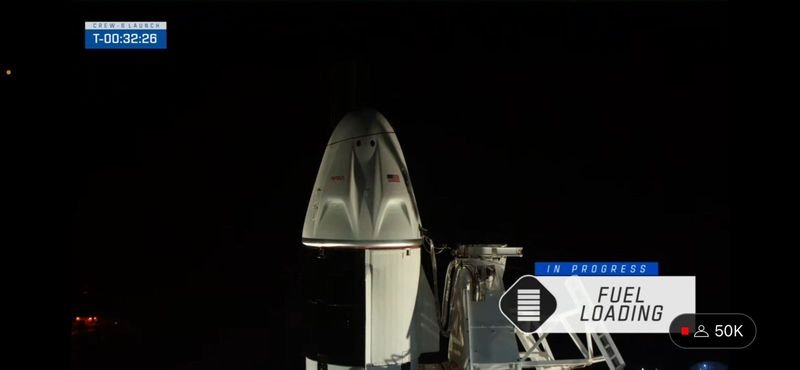 09:07 AM
"At this point, if we hear a hold for any reason, we will have to stand down and target our backup launch opportunity tomorrow, just under 24 hours from tonight's planned launch,"Kate Tice, SpaceX engineer.
09:17 AM: Falcon 9 fuelled as launch set to get a 'go' in 30 minutes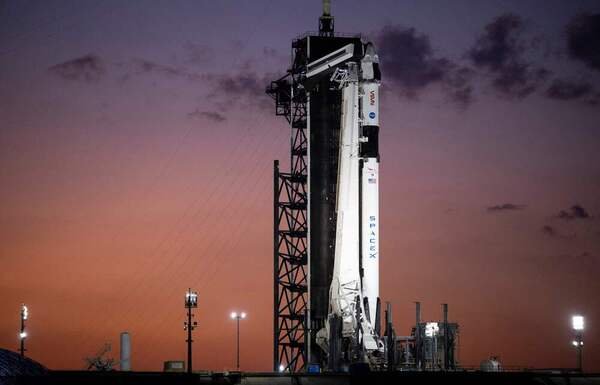 The SpaceX Falcon 9 is being fuelled up with less than 30 minutes to go until blast-off. The mission remains positive at this stage with all systems ready.
9:24 AM: Everything Looks Great, Launch To Take Place In Next 6 Minutes
Fuel loading is complete in the second stage, and liquid oxygen loading has begun. Everything remains on target for the 09:34 a.m. launch of NASA's SpaceX Crew-6 mission from Kennedy Space Center's Launch Complex 39A in Florida. 
Last 3 Minutes Left & UAE Is All Set To Make History
9:32 AM Less Than 2 Minutes To Go, Fuel Is Load All Complete
The RP-1 rocket fuel load for NASA's SpaceX Crew-6 mission launch is complete. It's just a few minutes until liftoff, and all looks good for the Crew-6 launch! 
9:34 AM: Sultan Al Neyadi Is Off To Space
Social Kandura brings you all the live updates about the mission here and on our social media channels. Watch this space for more!