Abu Dhabi, UAE – The Abu Dhabi International Boat Show is about to witness a groundbreaking debut as "THE ICON," the first-ever battery-powered maritime vehicle of its kind, makes its regional premiere. Measuring an impressive 13.15 meters with a top speed of 30 knots, THE ICON is not merely a yacht; it's a paradigm shift in luxury watercraft design for the electric mobility era.
The Epitome of Luxury Watercraft Innovation
Crafted through a collaboration between BMW and TYDE, with exterior and interior finesse by Designworks (a BMW Group subsidiary), "THE ICON" stands as the epitome of a new category of luxury watercraft. TYDE, represented in the GCC by THE SILENT POWER, is pioneering emission-free mobility while redefining the very essence of luxury.
Also read: Riyadh Air Soars To New Heights With Dual-Livery Unveiling At Dubai Air Show
Revolutionizing Maritime Travel with Hydrofoil Technology
What sets "THE ICON" apart is its revolutionary hydrofoil technology, derived from America's Cup racing. These underwater wings slash energy consumption by an astounding 80%, offering an unparalleled combination of speed, range, and efficiency. This foiling technique not only maximizes energy savings but also ensures an incredibly smooth and silent ride, free from the discomforts of seasickness.
Innovative Electric Propulsion for Unmatched Performance
Powered by two 100 kW electric motors drawing energy from six BMW i3 batteries, "THE ICON" boasts a range exceeding 50 nautical miles at 24 knots and a top speed of 30 knots. The foiling technology, coupled with its innovative drive, allows for nearly silent cruising, eliminating vibrations and slamming for an undisturbed journey.
Advertisement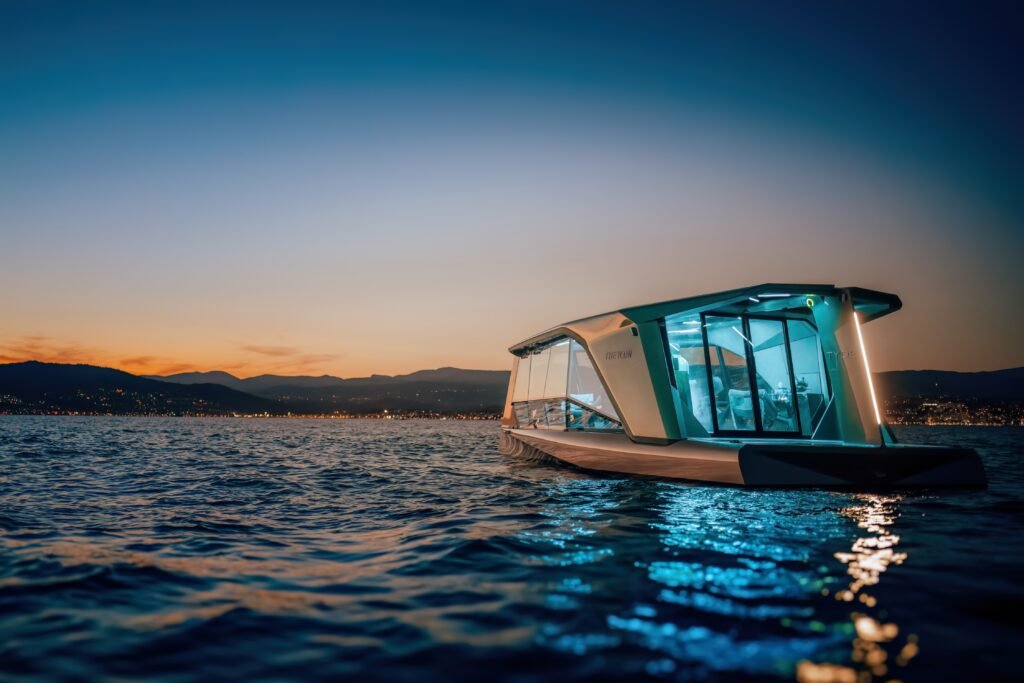 Also read: Ashanti To Grace Dubai's BLU With A Must-See Performance
Luxury Redefined: Aboard "THE ICON"
Beyond its cutting-edge technology, "THE ICON" offers a luxurious onboard experience. The spacious interior, spanning the entire 4.5-meter beam, features a low construction and a center spine housing technical components. The origami lightweight superstructure, adorned in a two-tone turquoise and golden color scheme inspired by the sea, complements the prismatic windows, providing passengers with panoramic views and an indulgent atmosphere.
TYDE: Pioneering the Future of Electric Maritime Transportation
TYDE, founded by Christoph Ballin and Tobias Hoffritz, brings together expertise from the water sports and automotive industries. Ballin, renowned as the visionary founder of Torqeedo, and Hoffritz, a former BMW developer, have joined forces to spearhead innovation in electric maritime transportation.
Sailing into the Future: Sea Trials at Abu Dhabi's Royal Marina
As THE SILENT POWER showcases "THE ICON" at the Abu Dhabi International Boat Show's Innovation Hub (Stand: I-B100), potential clients can experience sea trials at the Royal Marina of the Emirates Palace. It's not just a yacht; it's a silent power statement propelling luxury watercraft into an electrifying future.
In conclusion, "THE ICON" isn't just redefining luxury watercraft; it's reshaping the very seas it sails on, showcasing the future of electric maritime travel at the Abu Dhabi International Boat Show.
Advertisement