TCL Electronics (1070.HK), a global leader in the TV industry and renowned for its 98-inch TV brand, continues to redefine the home entertainment landscape with its latest addition to the XL Collection, the TCL 98P745. Following its success in introducing the first 98-inch QLED TV to the UAE market last year, the company is taking it a step further with an even more immersive experience for viewers.
The TCL 98P745, the crown jewel of the XL Collection, is in perfect alignment with TCL's mantra of "Inspire Greatness." These award-winning large-screen TVs bring advanced TV technology and Google TV together to offer viewers unparalleled picture quality and access to premium content. Notably, TCL is committed to expanding its XL Collection across global markets throughout 2023, ensuring that more households can enjoy the magic of larger-than-life entertainment.
The XL Collection consists of TCL TVs with screens that exceed 75 inches, offering a range of screen sizes and technologies to cater to various budgets and exceed the expectations of home entertainment enthusiasts. With this collection, technology transports viewers into their favorite worlds, delivering more impactful, immersive, and engaging visual experiences than ever before.
Cinema in Your Living Room
TCL's XL Collection redefines the cinematic experience at home. The 98-inch C735, featuring Google TV and QLED technology with 4K resolution, immerses viewers in entertainment with Hollywood-standard color performance. The 98-inch C735 is designed to replicate the best seat in a movie theater. When placed approximately three meters away, users enjoy a 60-degree field of view, akin to watching a colossal 30-meter screen from the middle row of a cinema. Both the 98C735 and 75C735, both QLED TVs, deliver Quantum dot natural colors, replicating a thousand shades exclusive to sunrise.
Advertisement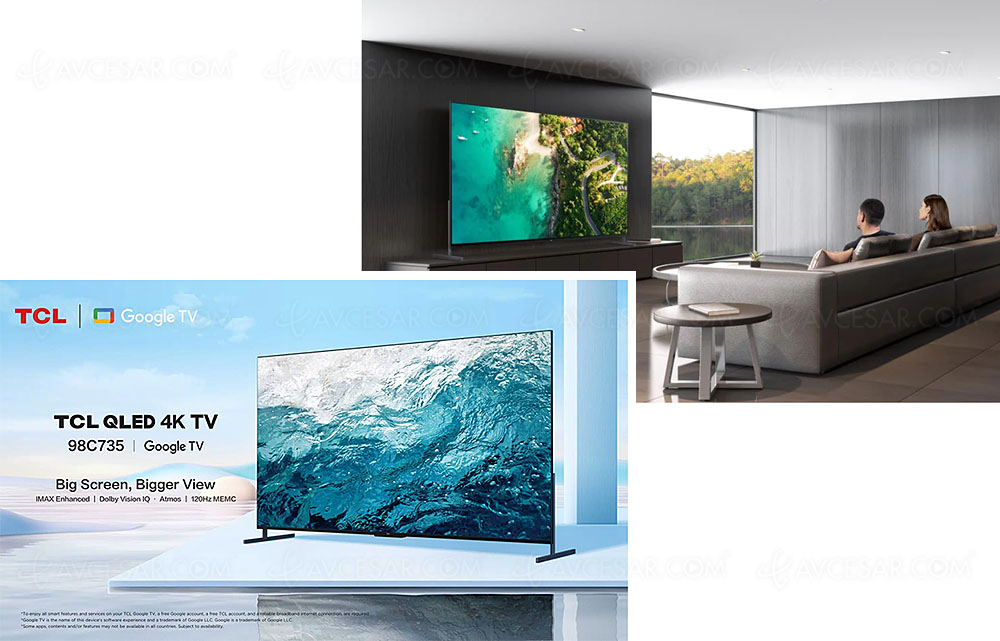 Also read: Experience Seamless Travel With Enhanced Smart Gates At DXB Terminal 3
For gamers seeking a seamless gaming experience, the 75C935 and 75C845 Mini LED TVs in the XL Collection offer low input lag and a Variable Refresh Rate of up to 144Hz, supporting HDMI 2.1 input – making it a dream come true for gaming enthusiasts.
TCL XL: Bringing Stadium Vibes Home
For sports fans, the XL Collection offers an immersive experience as if they were in the stadium, just in time for major sporting events this year. TCL's partnership with England's beloved Arsenal Football Club further intensifies the sports fervor, promising excitement and happiness for fans around the world.
Complete Immersion: Sound and Design
TCL understands that extraordinary visuals need equally remarkable audio to create an immersive experience. The XL Collection delivers crystal-clear sound with deep emotions and room-filling audio through Dolby Atmos. For those seeking even more, the simultaneous use of a soundbar provides a captivating surround effect, elevating the immersive viewing experience to new heights.
Designed with elegance in mind, TCL's XL Collection TVs feature a frameless design that seamlessly fits into any interior, ensuring an unobstructed view and an immersive viewing experience that captures your full attention.
TCL's 2023 XL Collection is set to transform your home entertainment experience, making it larger than life. Stay tuned for these cutting-edge Mini LED and QLED TVs that promise to redefine how you enjoy content at home.
Advertisement