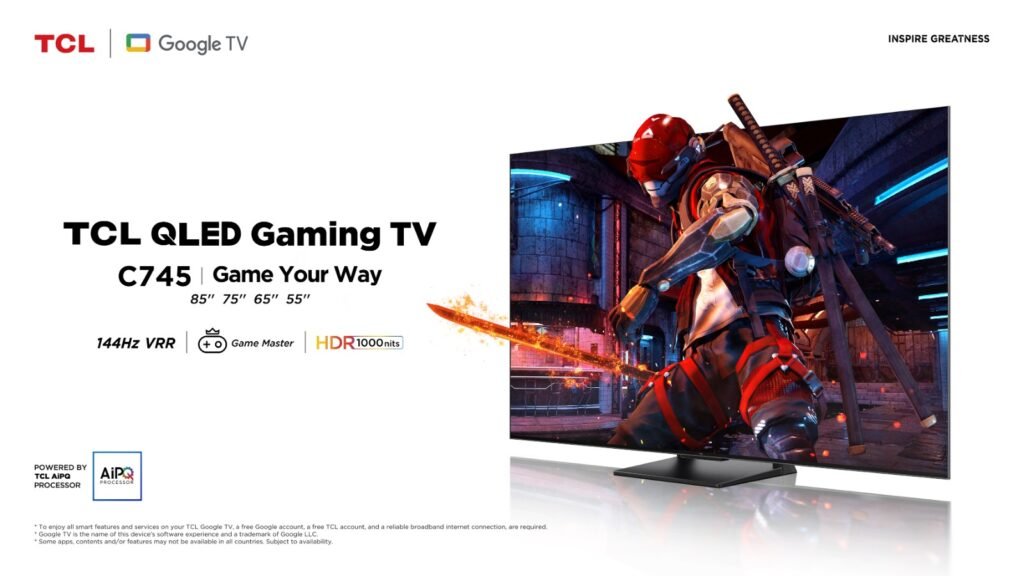 TCL Electronics, the global top 2 TV brand and top 1 98-inch TV brand, has raised the bar in gaming entertainment with the much-anticipated launch of the TCL C745 QLED 4K TV. Packed with cutting-edge features and top-of-the-line performance, this new gaming TV promises an unparalleled gaming experience, making it a must-have for avid gamers and entertainment enthusiasts alike.
High-Speed Refresh Rates for a Truly Immersive Experience
The TCL C745 leads the industry with its impressive 144Hz VRR (Variable Refresh Rate), ensuring incredibly smooth and fluid gameplay. No distractions, no tearing, no blurring – just pure immersion. This outstanding refresh rate delivers crisp visuals with better resolution, elevating the gaming experience to new heights.
Gaming Master 2.0 takes it a step further, optimizing all aspects of gameplay with pre-programmed settings. The revolutionary 144Hz VRR enhances visuals, while the Low Latency Mode (ALLM) ensures an ultra-responsive 6.5ms input lag, keeping you ahead of your enemies. With Shadow Enhancement, you'll always be one step ahead, unveiling even the deepest shadows and claiming victory in battles.
Seamless Adaptability and AMD FreeSync Premium Pro
The TCL C745 is equipped to support multi-HDR formats like Dolby Vision IQ and HDR10+, adapting to various game sources effortlessly. Combined with AMD FreeSync Premium Pro, the TV ensures seamless and artifact-free gameplay, regardless of the frame rate. Gamers can expect a breakthrough experience on both PC and console gaming.
Advanced Display Technology for Lifelike Visuals
The C745 employs fine control of each LED backlight with its optical image microstructure, ensuring superior visibility on the gaming battlefield. Full-array local dimming zones, independent across the display, enhance contrast ratios, brightness, and color uniformity, creating a lifelike and immersive visual feast.
The AiPQ Processor 3.0 utilizes intelligent algorithms to adjust quality parameters, including brightness, contrast, color, and definition, based on AI and human perception characteristics. The result is the most true-to-life visuals that transport players from one fantasy world to the next.
Advertisement

Dolby Vision for Cinematic-worthy Gaming
Gaming in Dolby Vision harnesses cinematic-worthy visuals, offering HDR 1000nits high brightness and 93% DCI-P3 wide color gamut. The C745 delivers exceptional brightness performance and diverse color presentations, allowing gamers to access every bit of detail and depth a game has to offer.
Immerse in Hyper-Realistic Sound with Dolby Atmos
To achieve true immersion, exceptional sound is essential. The TCL C745 boasts Dolby Atmos, providing an authentic 3D surround-sound experience that goes beyond left and right channels. Users will be enveloped in multidimensional audio, offering unparalleled clarity and detail, fully immersing them in their fictional surroundings.
IMAX Enhanced Certification for a Cinematic Experience
The TCL C745 proudly holds an IMAX Enhanced certification, featuring the highest standards in calibration, resolution, color, brightness, contrast, frame, and sound performance. This certification ensures users lose themselves in a truly immersive and cinematic experience like never before.
Elevate Your Gaming with HDMI 2.1
With the latest HDMI 2.1 support, the TCL C745 can handle higher video resolutions and refresh rates, pushing the boundaries of gaming and entertainment possibilities.
The TCL C745 QLED 4K TV redefines the gaming experience, combining advanced display technology, high-speed refresh rates, immersive sound, and adaptability to provide the ultimate gaming entertainment package. Available in 55", 65", 75", and 85" models, this gaming TV is set to revolutionize the way gamers play and experience their favorite games. Prepare to level up with the TCL C745 and embrace a new era of gaming brilliance.
Advertisement