Get ready for an entertainment-packed month with OSN+ as it brings you a whole new array of thrilling movies and TV series for the entire family to enjoy. Don't miss out on the latest releases and captivating shows, exclusively available on OSN+.
OSN+ SERIES YOU CAN'T AFFORD TO MISS
1. Running Wild with Bear Grylls – Season 2
Premiering on 1st August
Join the renowned survivalist Bear Grylls as he takes A-list celebrities on exhilarating adventures into remote and wild locations around the globe. Witness your favorite stars push their physical and mental boundaries in the latest episodes of 'Running Wild with Bear Grylls', exclusively on OSN+. Brace yourself as Bear imparts his expert teachings of essential survival skills, vital for high-stress situations.
2. Winning Time: The Rise of the Lakers Dynasty S2
New Season Premiering on 7th August
Get ready to witness the journey of the iconic LA Lakers, with their numerous championships and legendary players, in 'Winning Time: The Rise of The Lakers Dynasty' Season 2. Experience an electrifying trip through basketball history, highlighting pivotal moments, key players, behind-the-scenes stories, and the Lakers' lasting impact on the NBA and basketball culture. Catch all the action exclusively on OSN+.
3. Below Deck – Down Under S2
New Episodes Airing Weekly
Embark on a captivating journey with the crew of a luxurious yacht, dedicated to serving wealthy, high-profile charter guests. 'Below Deck – Down Under' is a must-watch series, offering a perfect blend of luxury, drama, and behind-the-scenes insights into the fascinating world of yacht chartering, exclusively on OSN+.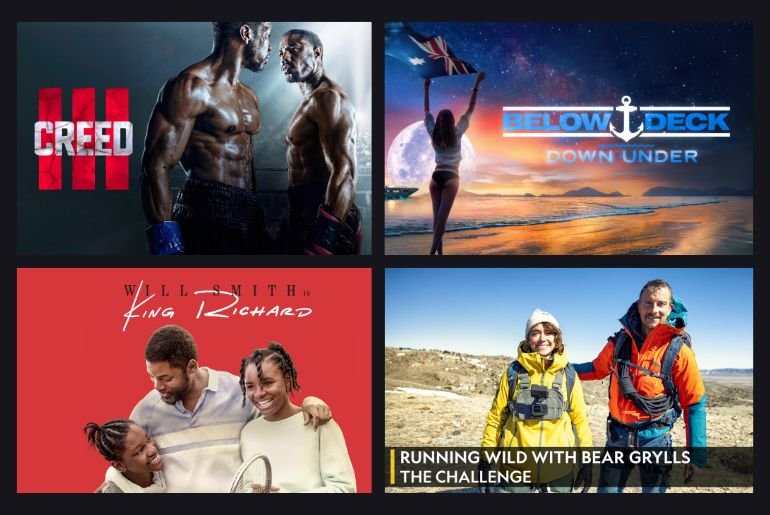 Also read: 6 Bollywood Movie Releases You Can't-Miss This August 2023
MUST-WATCH MOVIES
4. King Richard
Premiering on 4th August
'King Richard' portrays the inspiring true story of Richard Williams, the father of tennis superstars Venus and Serena Williams. Witness their incredible journey from humble beginnings to becoming two of the most celebrated players in women's tennis history, all thanks to their father's clear plan for success, even before they were born. Catch this inspirational movie exclusively on OSN+.
5. Creed III
Premiering on 18th August
The next chapter of the immensely successful Creed Trilogy is here on OSN+. Watch as Damian, a childhood friend of Adonis Creed, the boxing prodigy, resurfaces after serving time in prison. Will Adonis put his future on the line to battle a fighter who has nothing to lose? Don't miss this thrilling movie, exclusively on OSN+.
Advertisement

6. Tar
Premiering on 18th August
Get ready for Cate Blanchett's intense performance in 'Tar' as she portrays Lydia Tar, a virtuoso pianist and an earnest ethnomusicologist. Her life comes crashing down after a series of scandals threaten to shatter her world. Nominated for Best Picture and several other Oscars, this movie is a must-watch, exclusively on OSN+.
7. She Said
Premiering on 25th August
Prepare to be moved as 'She Said' uncovers a powerful story of sexual assault and harassment. Two tireless reporters shatter decades of silence, exposing shocking sexual abuse allegations against powerful Hollywood producer Harvey Weinstein, igniting the #MeToo movement. Watch this impactful movie exclusively on OSN+.
Also read: 13 Must-Watch OSN+ Emmy-Nominated Series Dominate The 75th Emmy Awards, Ready To Binge This Summer!
ARABIC PICKS
8. Riverbed
Premiering on 5th August
Join Carole Abboud and Oumaya Malaeb in 'Riverbed', a touching story revolving around Salma and her recently divorced and pregnant daughter. Follow their journey as they embark on a quest to rediscover the connection that binds them together, exclusively on OSN+.
9. Ikhwtay S3
New Season Premiering on 10th August
Delve into the heart-wrenching journey of four siblings whose lives are marred by the loss of their mother and father. With nothing left to cling to but each other, watch them bravely navigate through their struggles and forge an unbreakable bond, exclusively on OSN+.
FUN FOR KIDS
10. Puss in Boots – The Last Wish
Premiering on 18th August
Join Puss in Boots on a thrilling adventure as he discovers that he's on his ninth and final cat life. Fearing his enemies and old sword-swinging ways, Puss seeks companionship in Kitty Softpaws and Perrito, an optimistic dog, while searching for a Wishing Star to grant him more lives. Don't miss this delightful movie, exclusively on OSN+.
For more information, please contact osn@ipn.ae. Get ready to immerse yourself in the world of captivating entertainment, exclusively on OSN+ this August!
Advertisement