Dubai's beloved multicultural destination, Global Village, kicks off its 28th season with a week-early opening. As the gates swing open on October 18, 2023, visitors can look forward to an array of cultural experiences, thrilling shows, and delicious cuisines. Here's everything you need to know about the season's ticket prices, timings, and key attractions.
Ticket Prices and Discounts:
Global Village offers two types of entry tickets, each with a discount if purchased online:
Value Tickets:

At the gate: Dh25
Online: Dh22.5
Valid from Sunday to Thursday (excluding public holidays)

Any Day Tickets:

At the gate: Dh30
Online: Dh27
Valid on any day of the week, including weekends and public holidays
Global Village – Special Entry:
Senior citizens, children under three, and individuals with determination, plus one compani on, can enter for free.

Advertisement

Tickets are valid for a single entry during Season 28.
Also read: Exciting News: Abu Dhabi International Airport Terminal A To Open Soon
Attractions and Premium Shows:
Entry tickets grant visitors access to pavilions and free shows on the Global Village stages.
Some attractions come at a premium:

Stunt Show: Dh20
Ripley's Believe It Or Not: Dh45
Timings:
Global Village operates with the following schedule:
Sunday to Wednesday: 4pm to 12am
Thursday to Saturday and public holidays: 4pm to 1am
Tuesdays (except those falling on a public holiday) are reserved for families and women.
Country-Themed Pavilions:
Global Village is renowned for its country-themed pavilions, showcasing each country's culture, cuisine, clothing, and performances. This season, there are 27 pavilions, featuring countries like Turkey, Japan, Europe, Egypt, India, Pakistan, and Africa.
Fireworks:
Experience the magic of fireworks lighting up the night sky above Global Village every Friday and Saturday at 9pm.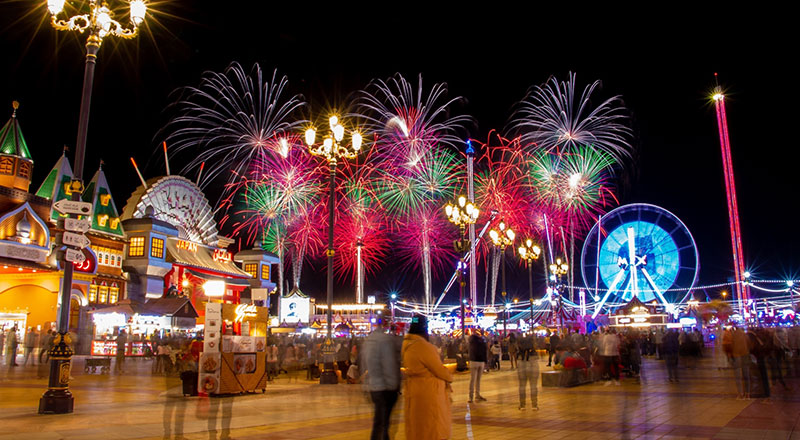 Also read: Perform Sharjah's Second Season: A Cultural Feast Returns To Sharjah
Shows and Performances:
Season 28 promises an array of entertainment with over 40,000 shows and 400 performers. Notable acts include AINJAA, the Philippine troupe, Urban Crew from America's Got Talent, Fusion Japan, and the Dhol Foundation from the United Kingdom.
Dubai's Global Village offers an enchanting experience for the whole family, and this season is no exception. With exciting attractions, delectable international cuisine, and mesmerizing shows, it's the perfect place to immerse yourself in diverse cultures. Book your tickets online for extra savings and get ready to create unforgettable memories.
Advertisement