The Sharjah Art Foundation is thrilled to announce the much-anticipated second season of Perform Sharjah, a cultural extravaganza that invites the community to immerse themselves in new experiences while exploring the city's heritage houses and art spaces.
The Season's Overview
Building on the success of last year's edition, this season of Perform Sharjah promises to be even more engaging and enriching. Eight captivating performances will be presented across Sharjah, starting from October 19, 2023, and continuing until February 11, 2024. Curated by the Director of Performance and Senior Curator, Tarek Abou El Fetouh, this year's lineup features performers from a wide range of artistic fields and disciplines.
A Journey Through Culture and Heritage
Unlike the first season which showcased performances in the streets and squares, the second edition of Perform Sharjah will delve into the extensive urban development project initiated 30 years ago in Sharjah. This project aimed to restore, rehabilitate, and rebuild the historical area of the city with art and culture at its heart. Alongside heritage preservation, this project also emphasized creating infrastructure for art and cultural activities, providing spaces for intellectuals, artists, poets, writers, and theatre makers to share their creations with the public.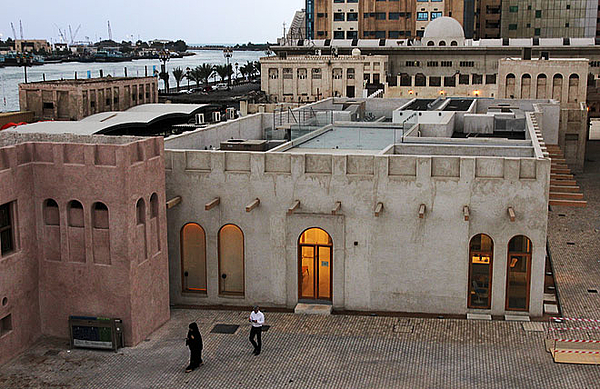 Also read: Lunar Eclipse In UAE: Witness Earth's Shadow Fall On The Moon This Month
The Program Highlights
Most of the performances in this second season of Perform Sharjah will take place in these meticulously restored heritage houses and spaces. This promises a cultural journey across the city, connecting the past and present in its historical center, a vital space in the imagination of its inhabitants.
Engaging with Heritage
The program showcases works that engage with transmitted heritage and modern archives from the last few decades. It delves into their role in the contemporary imagination and explores how artists address issues of identity, cultural specificity, epistemology, and alternative histories.
Also read: Qatar Airways Partners With Starlink For High-Speed Inflight WiFi!
Metamorphosis #2 by Essia Jaïbi and Jalila Baccar
October 19–22, 2023, Dar Al Nadwa, Calligraphy Square
In Metamorphosis #2, Essia Jaïbi revisits her memories and confronts her mother, Jalila Baccar, in a glass-walled dressing room. The performance becomes a platform for critiquing Tunisia's political, cultural, economic, environmental, and healthcare systems, as well as the rights of minorities and people with disabilities.
A Fascinating Journey
The Return by Rayyane Tabet
October 27–29, November 24–26, and February 3–4, 2024, The Flying Saucer
The Return
Advertisement

is an intriguing journey tracing a marble sculpture's 50-year odyssey, from legal disputes in New York to its eventual return to Lebanon.
A Message of Hope
Hunkaro by Mohit Takalkar
November 4–5, 2023, Calligraphy Square
Hunkaro invites the audience to engage in active listening through the power of storytelling and vocal techniques, emphasizing the aesthetic value of language.
A Living Memorial
Singing Youth by Judit Böröcz, Bence György Pálinkás, and Máté Szigeti
January 5–6, 2024, Bait Al Serkal, Arts Square
Singing Youth brings a memorial statue to life through acapella, using excerpts from newspaper articles, interviews, and political statements, narrating political upheaval, and the use of arts and sports for political ends.
Transcending Boundaries
4 by Tao Ye
January 7, 2024, Sharjah Performing Arts Academy
Tao Ye's choreography explores the human body's potential, using abstract choreography to create a mesmerizing experience.
Unbelievable Stories
Perhaps All the Dragons by Berlin
January 13–February 4, 2024, Bait Al Serkal, Arts Square
Perhaps All the Dragons presents unusual but true stories in a filmed monologue, exploring the 'six degrees of separation' theory, where seemingly ordinary people narrate stories balancing on the edge of believability.
Amazigh Perspective
Libya by Radouan Mriziga
January 27, 2024, Bait Obaid Al Shamsi, Arts Square
In Libya, Radouan Mriziga collaborates with dancers to elaborate on trans-generational shared histories from an Amazigh perspective, with North African music, dance, and cave paintings playing a pivotal role in the performance.
Perform Sharjah: A Festival of the Imagination
Perhaps Here by Various Artists
February 9–11, 2024, Bait Al Serkal, Arts Square
Perhaps Here features a variety of live performances by artists from diverse disciplines, inviting audiences to experience intellectual, emotional, and aesthetic expressions.
Admission to Perform Sharjah is free, but prior booking is required. Tickets can be booked at the box office in Al Mureijah Square, at performance venues, or on the website.
In addition to these spectacular performances, Perform Sharjah will offer an array of learning opportunities through workshops and talks led by participating artists, in collaboration with local partners and cultural practitioners.
Don't miss out on this unique cultural experience that promises to leave you inspired and enriched. Mark your calendars and book your tickets for Perform Sharjah's second season. It's a journey you won't want to miss!
Advertisement