Dubai is the land of development and innovation. From building the world's tallest residential skyscraper to magnum opus resorts, we can expect a lot from the emirate in the coming years. And now, to add more to its series of iconic projects, Dubai is getting a futuristic tower inspired by the Banyan tree. R.evolution is developing the project. Eywa will feature interlacing root designs, private waterfalls, luxury residences and more. The development is expected to be complete by 2026, here's everything to know.
Also Read: You Will Enjoy A 9-Day Long Holiday In The First Half Of 2024, Here's How
Eywa Will Feature Sauna, hammam Baths, Private Waterfalls & More
European real estate developer R.evolution will be launching its first residential project in the UAE with this project. Eywa will redefine the future of living in Dubai and offer 48 two to five-bedroom waterfront residences with sizes ranging from 3,064 to 16,256sq ft. The project is being developed on the banks of the Dubai Water Canal and offers impressive views of the water, Downtown Dubai and Burj Khalifa. Eywa is only a 6-10 minute drive from Downtown Dubai, The Dubai Mall and The Opera District and a 15-20 minute drive from Dubai International Airport.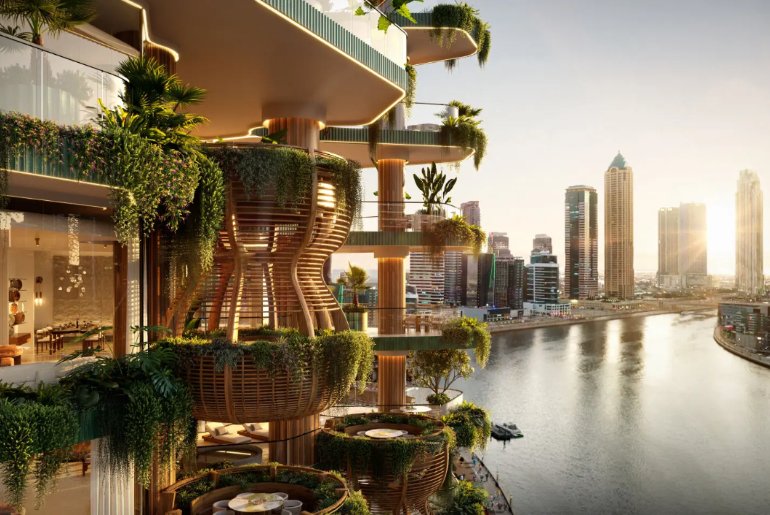 Eywa is inspired by the Banyan tree and the Southern Sky Column, the famous quartz sandstone mountain, located in Zhangjiajie National Forest Park in Hunan, China. Besides 48 exclusive residences, Eywa will also have two penthouse apartments strategically placed over 19 stories. The unique design of the building, with circular open columns and an organic weave of branches, lets you step into a world where science and spirituality intertwine.
With Eywa, developers aim to offer the concept of 'Wild Luxury' in Dubai, where it is all about building a deeper connection with yourself.
It Will Offer 48 Exclusive Residence & 2 Penthouse
Also Read: Sheikh Zayed Grand Mosque Attracts Over 3.3Million Views In First Six Months 2023
The ultra-luxurious living will have a chef's table, library, private waterfalls, hammocks, club House, spa, gym, show kitchen, dining spaces, private dining/conference rooms and library/music zone. From cold plunge pools, and sauna to a hammam bath, residents will be spoilt for choices at Eywa.
As per the developers, the ultra-luxurious residential area will be equipped with plush finishing, planned spaces, spacious high-end bathrooms, and kitchens equipped with premium appliances. This sounds like a new concept, and we cannot wait to be ready.
Advertisement