Love cycling? Well, thankfully Dubai has a whole lot gorgeous cycle tracks that lets you make the most out of the fitness activity. But now, Dubai-aites can make a brand-new addition to their cycling route. Wondering what and where? The RTA has announced the opening of a new tunnel dedicated for cyclists in the city. Isn't that super cool? Read on to find out where you can hit up next!
Also Read: Video: Dubai's New Cycle 'Loop' Could Make It The World's Most Connected City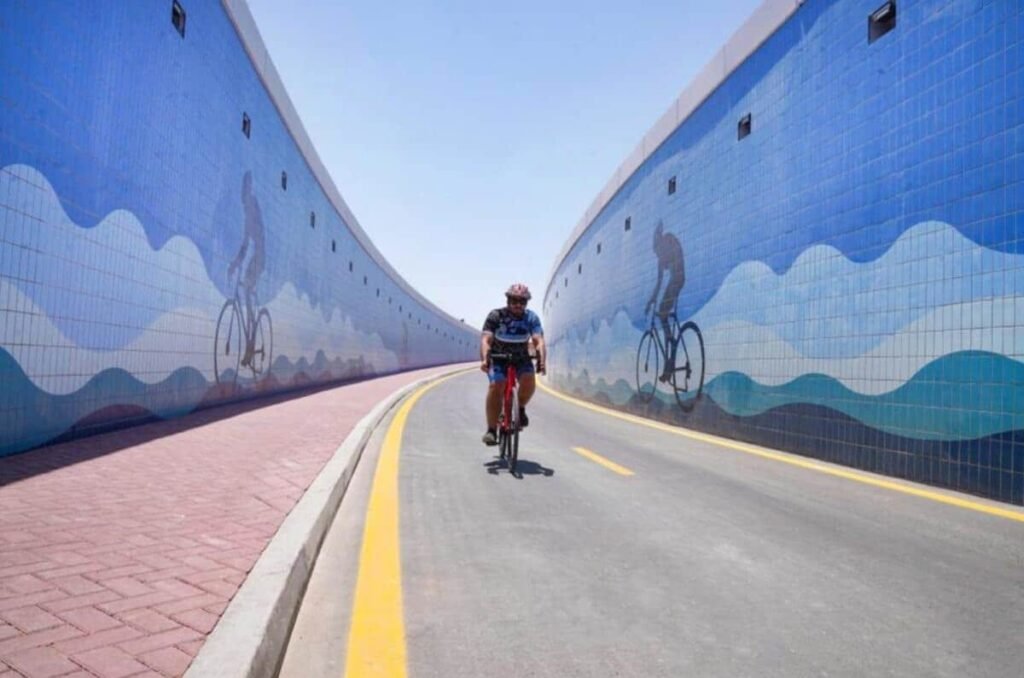 The new track measures 160m & is located in Meydan
The Roads and Transport Authority (RTA) opened a tunnel for bicycle lanes in Meydan, with a total length of 160 meters and a width of 6.6 meters, with a capacity of about 800 bicycles per hour. By working to develop the infrastructure for bicycle paths, and linking them to residential areas and attractions in the emirate, in a way that encourages residents and visitors to practice sports and recreational activities, and provides a safe driving experience for bicycle users, in addition to applying the best and latest safety requirements to enhance the safety of drivers. cyclists while practicing this sport.
The project, which is part of the Meydan Intersection Development Project, includes converting the surface intersection of the bicycle path with Al-Midan Street into a tunnel that provides free and continuous movement on the Meydan path, reduces waiting time for cyclists due to the cancellation of the surface intersection, and contributes to serving bicycle path users. By linking development projects in the area of ​​Nad Al Sheba Square and the Riders Club to the track.
Advertisement

Also Read: Dubai's First Water Tricycle Is Now Here & It Screams 'FUN'
The design and implementation of the bike path tunnel took into account the application of the best international standards and specifications and technical guides, as it is compatible with the nature of the region, as the interior design of the tunnel reflects the levels of plateaus and hills at sunset, in addition to that the tunnel includes day and night lighting to maintain clear vision for cyclists at all times. .
It should be noted that the implementation of the bicycle lanes tunnel in the Meydan area comes within the framework of a comprehensive plan developed by the authority to provide special bicycle paths that cover all areas of the Emirate of Dubai. This achievement is also part of a comprehensive plan to develop bicycle paths, and aims to connect various vital areas. In the emirate, bringing the total length of bicycle paths to 819 km by the end of 2026.
So, when are you heading?
Also Read: Saudi Arabia To Launch The World's Largest Water Project; Set To Build A River Longer Than The Nile

Advertisement