As the festival of lights, Diwali approaches, it's time to make your celebrations extraordinary. We've gathered four incredible offers and products that will help you shine this festive season.
1. Urban Company's Festive Sale: Transform Your Home and Look Your Best
Urban Company's Diwali Festive Sale is here to elevate your festivities. From October 18th to November 5th, seize the opportunity to enjoy fantastic discounts and deals that will make your festival even brighter.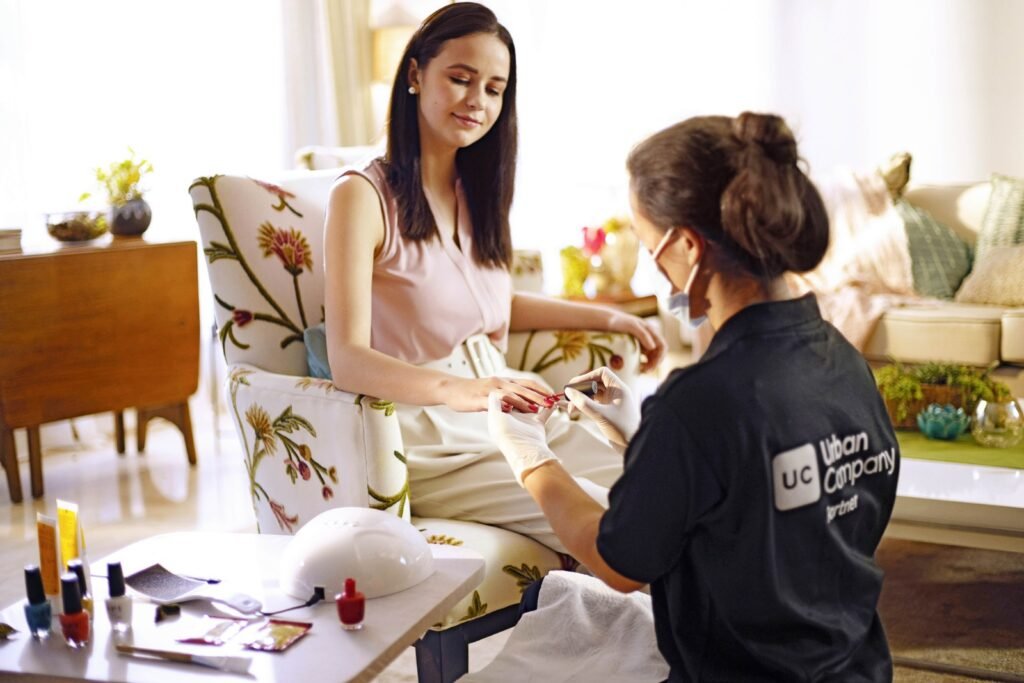 Also read: Dubai Fitness Challenge 2023: Mark Your Calendar For Healthier Days Ahead
Highlights:
Date: October 18th to November 5th.
Discount: Up to 30% on cleaning services, salon services, and home repairs.
Daily deals: Up to 20% off for existing users.
2. MissPalettable's Gift Guide: Radiant Skincare and Beauty Essentials
MissPalettable has curated a special Diwali Gift Guide filled with skincare and beauty essentials. These products will leave your loved ones feeling pampered and radiant during the festival of lights.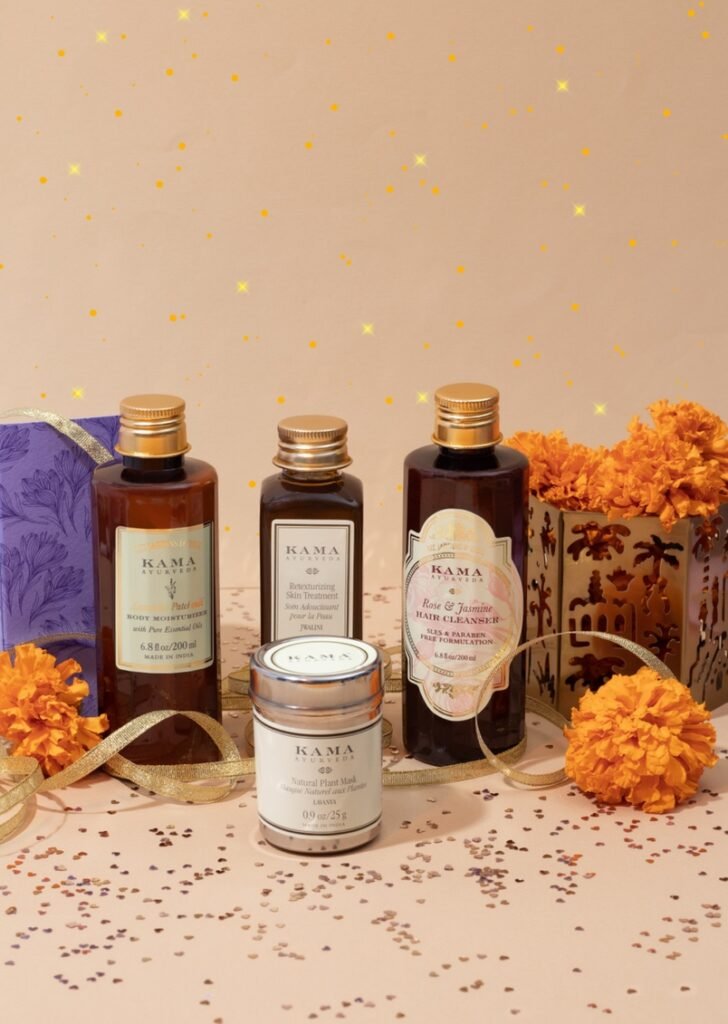 Highlights:
Features: Ayurvedic oils by Kama Ayurveda, Character's makeup sets, and Cle Cosmetics' skincare products.
Emphasis: Pamper your loved ones and make them feel radiant this Diwali.
3. Kamat's Handcrafted Sweets and Chocolates: Diwali Delights
Kamat, the pioneer of Indian vegetarian dining, presents a delightful collection of handcrafted sweets and chocolates. These treats will infuse sweetness and joy into your festive celebrations.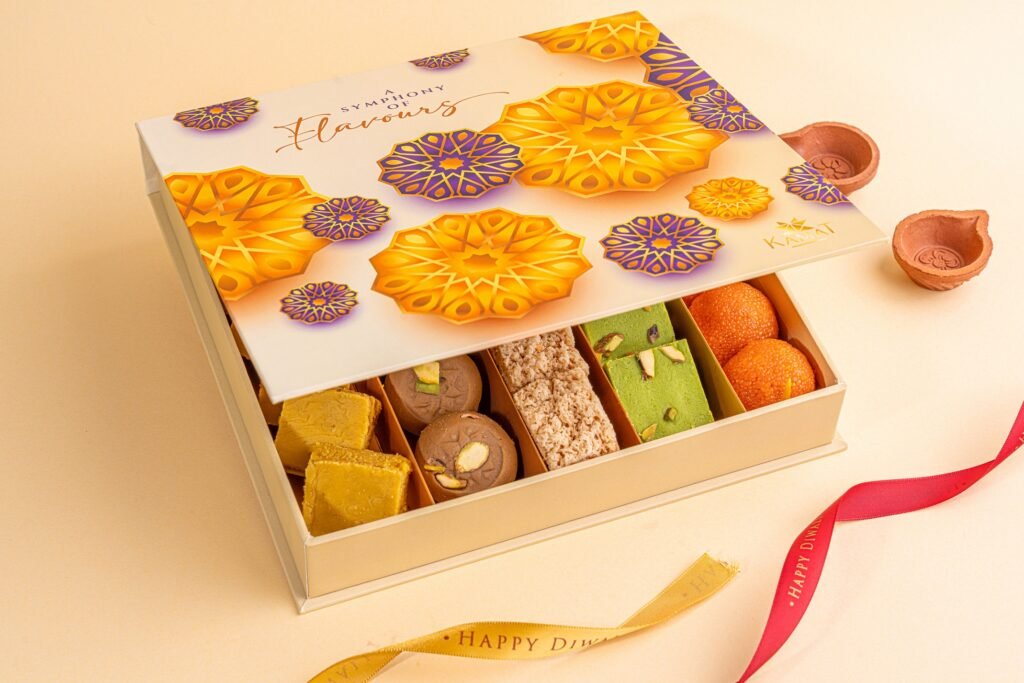 Highlights:
Range: Classic, Premium, Choicest, and Assorted boxes.
Starting price: AED 65.
Perfect for gifting or adding a sweet touch to your Diwali festivities.
4. Celebrate Diwali with Mudra's Ayurvedic Wellness Gifts
Mudra has illuminated this Diwali with a splendid collection of Ayurveda-inspired well-being gifts. These luxurious, 100% natural beauty and wellness products draw wisdom from Ayurveda traditions.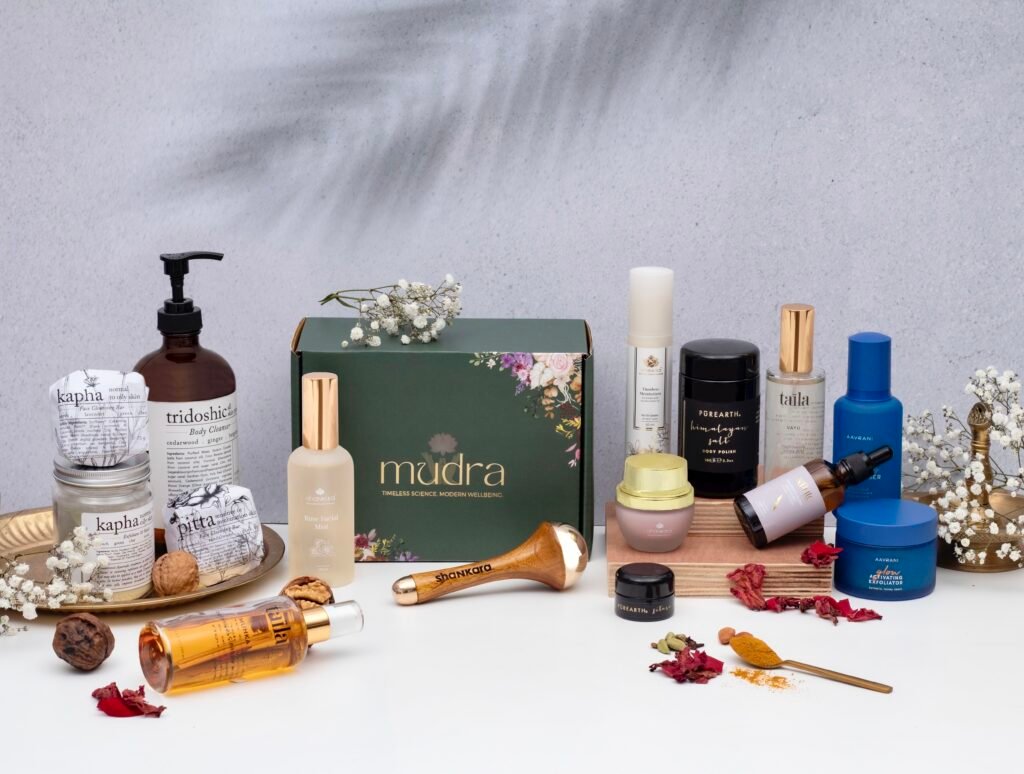 Also read: Exciting Two-Day Korean Culture Festival Unfolds In Abu Dhabi
Highlights:
Holistic Well-Being: Ayurvedic Gifts
Mudra curates brands harnessing natural ingredients and Ayurvedic wisdom.
All products are non-toxic, chemical-free, and organic.
Unique Gift Boxes: Personalized Diwali Surprises
Craft your own unique gift box, including a personalized note.
Choose from categories like Skincare, Superfoods, and Wellness.
Recommended Products: Endorsed by Mudra's Founders
Pritha & Pragya, Mudra's founders, endorse well-being products.
Explore items like Shankara's Kansa Massage & Marma Wand, Purearth's Rose & Seabuck Replenishing Face Cream, and more.
This Diwali, gift the essence of well-being with Mudra and make the celebration extraordinary.
5. Celebrate Diwali with Laduree's Delightful Treats
Laduree has prepared a sumptuous Diwali treat for you, featuring exquisite desserts that capture the essence of this auspicious festival. Indulge in the rich and delightful creations from November 1st to 20th at Laduree's locations.
Highlights:
Diwali Tart: A Culinary Symphony of Decadent Flavors
Enjoy Laduree's newest Diwali Tart, a culinary masterpiece infused with the spirit of the festival.
Revel in the crunch of the dessert's golden cashew base, harmonious cashew financier, and rich Jivara chocolate mousse.
Priced at 55 AED at Dubai Mall and 52 AED at other locations from November 1st to 20th.
Tart Coco Vegan: A Flavorful Journey for the Compassionate Palate
Explore the Vegan Coco Tart, a vegan-friendly dessert that boasts a symphony of flavors.
Delight in the crumbliness of chocolate streusel and a delicate financier embraced by coconut chocolate cream.
Priced at 55 AED at Dubai Mall and 52 AED at other locations from November 1st to 20th.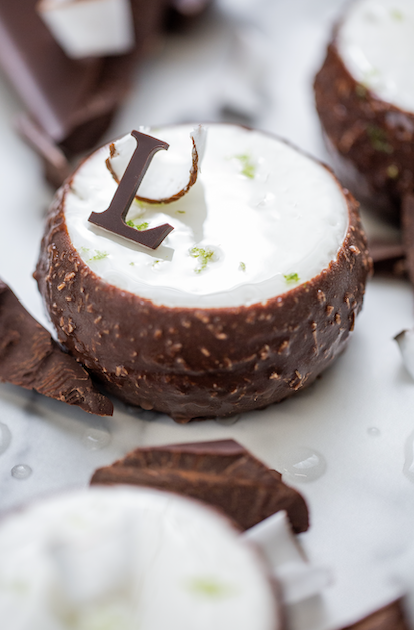 Banoffee French Toast: A Decadent Twist on a Classic
Savor the Banoffee French Toast, a warm brioche bread with layers of indulgence.
Topped with velvety caramel ice cream, Chantilly, caramelized macadamia nuts, and a banana compote.
Drizzled with cinnamon caramel sauce, priced at AED 65 from November 1st to 20th.
With Laduree's delightful Diwali treats, you can add a touch of sweetness and luxury to your festive celebrations. Don't miss the opportunity to indulge in these limited-time creations!
6. Couqley's E-Gift Cards: The Perfect Culinary Gift
This gifting season, Couqley introduces its range of e-gift cards, offering an authentic French dining experience to Dubai residents. These versatile cards are themed for various occasions, starting from AED 250.
Highlights:
Versatile Gifting Options
Couqley's e-gift cards come in themed options for occasions like Steak Frites Night, Ladies Night, and Thanksgiving.
Starting at AED 250, these cards can also be open-ended, applicable to the entire Couqley menu, with customizable messaging.
The e-gift cards remain valid for a generous six months.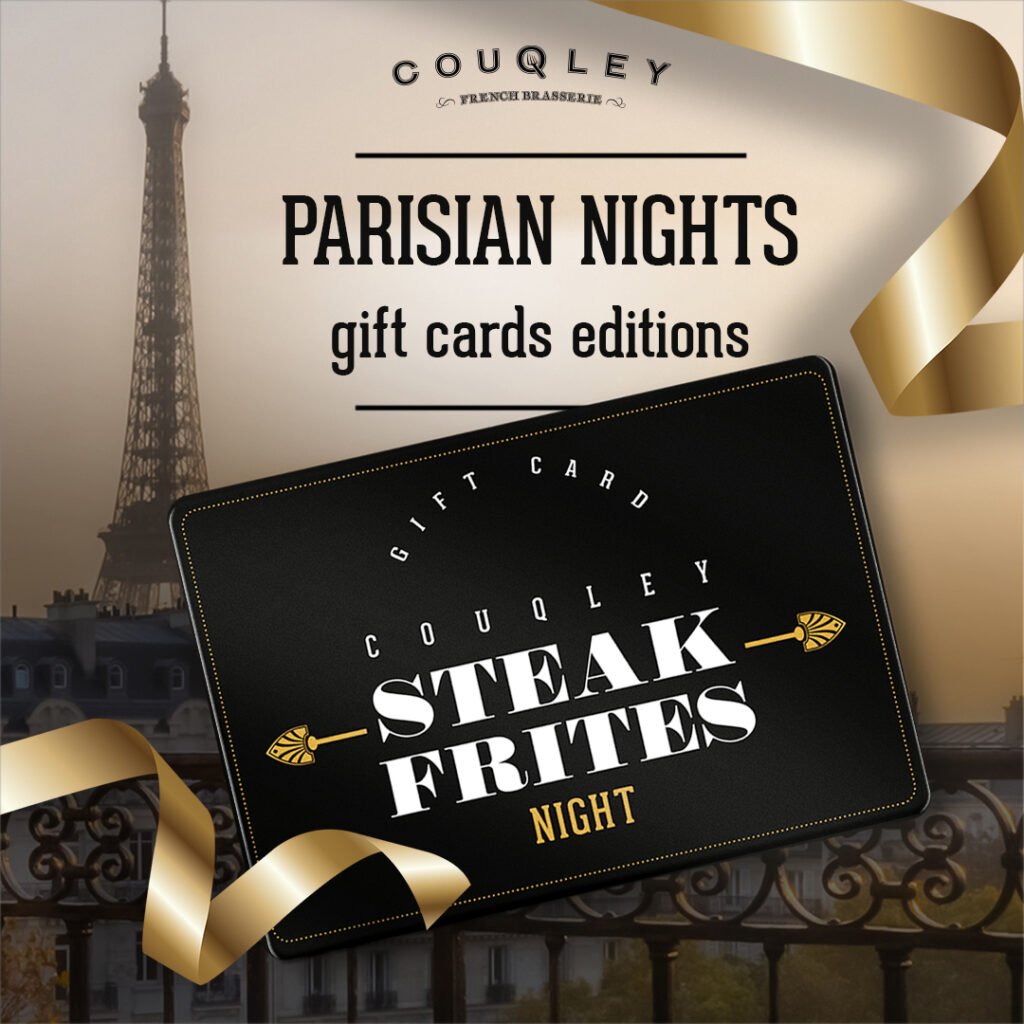 A Culinary Experience to Share
Gifting a Couqley e-gift card is more than just a meal; it's sharing the joy of a culinary journey.
Recipients can create cherished memories at Couqley's cozy bistro in JLT or bustling brasserie in Pullman Downtown.
Couqley, known for its great food and personalized service, now offers the perfect gifting solution.
Diverse Categories and Pricing: Express Your Love
Advertisement

Couqley's e-gift cards are available in various categories, with pricing starting from AED 250.
Look out for new card themes launching soon, making these e-gift cards an ideal way to express love and appreciation.
Visit their website to purchase Couqley's e-gift cards and make this gifting season special with the gift of fine dining.
7. Glowing in Gold: Dubai Shopping Malls Group's Festival of Lights Campaign
Dubai Shopping Malls Group (DSMG) and Dubai Festival and Retail Establishment (DFRE) have partnered to create an electrifying shopping experience during the 'Festival of Lights.'
Campaign Period: From November 1st to 15th, shoppers are invited to participate.
Participation Requirement: Spend just AED 200 at any of the participating malls.
How to Win: Shoppers can unlock winning opportunities by scanning QR codes available in-store, revealing surprise deals.
The Golden Prize: 20 fortunate shoppers will have the opportunity to win gold worth AED 5,000 each.
Grand Finale: On November 16th, the lucky winners will be digitally drawn from among the participating customers.
Participating Malls: Times Square Centre, Silicon Central Mall, Arabian Center, Al Ghurair Centre, Dubai Festival Plaza, Al Khail Gate Mall, Bay Avenue Mall, Reef Mall, and Oasis Mall.
8. Diwali Delights: Win 1 Kg of Gold with Idealz for Just 7 Dirhams
Diwali, the Festival of Lights, is fast approaching, and there's no better way to celebrate than by winning 1kg of gold! Idealz, in the spirit of giving and making special moments memorable, is offering this exclusive Grand Prize for Diwali in Dubai 2023.
Offers & Details:
Grand Prize: The official Grand Prize for Diwali in Dubai 2023 is a dazzling 1kg of gold.
Participation: To enter the draw, purchase an 'idealzbasics' shopping card for just AED 7 from the Idealz app or idealz.com.
Coupon Entries: Each purchase of the 'idealzbasics' card grants you one coupon entry into the prize draw.
Campaign Period: You can participate until November 9, 2023.
Live Draw: The live draw will take place on November 10, 2023, in the presence of a government official from Dubai Economy and Tourism.
Affordable Celebration: The campaign's ease and affordability make it a must for anyone looking to add some extra dazzle to their Diwali celebrations.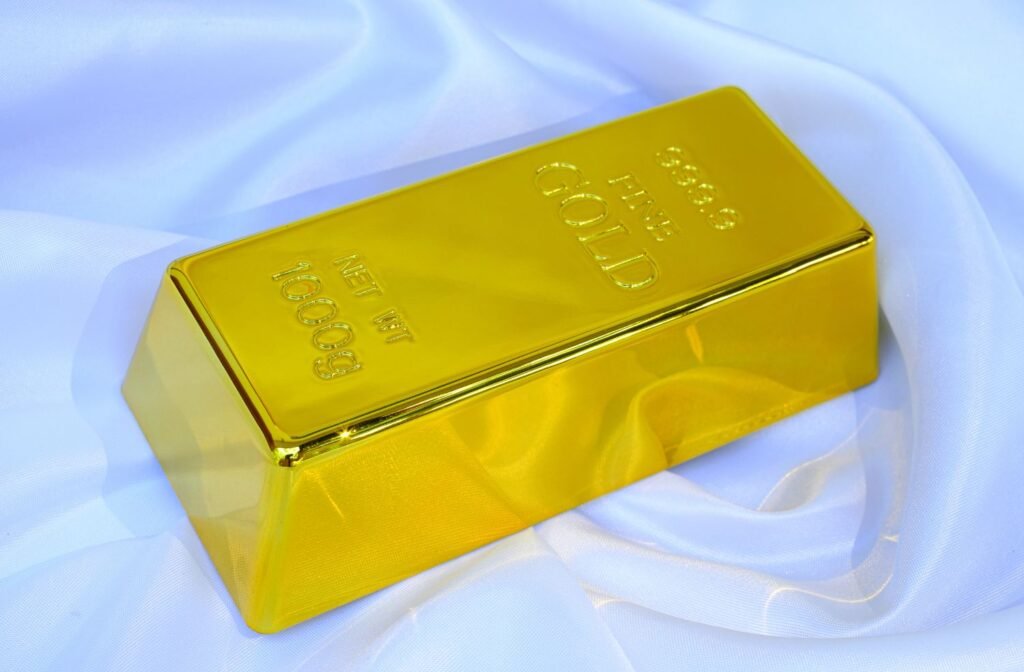 This Diwali, make it a time to remember by winning 1kg of gold with Idealz for just 7 Dirhams.
9. Healthy and Sugar-Free Diwali Delights at Kashkan
Kashkan, helmed by renowned celebrity chef Ranveer Brar, illuminates Diwali with a special collection of guilt-free, sugar-free Diwali sweets. This exclusive assortment caters to diverse tastes and dietary preferences, celebrating the festival without compromising on health.
Highlights:
Sugar-Free Kaju Katli and More
The Kaju Katli is ingeniously prepared with nourishing jaggery for an authentic taste.
Date Berry and Nut Berry sweets blend rich dates for a fusion of warm and traditional flavors.
Classic Laddoos with a Healthy Twist
Enjoy classic Indian laddoos made with jaggery, including motichoor, strawberry motichoor, and besan laddoo.
The unique Pista Paan sweet infuses the essence of gulkand for an indulgent Diwali experience.
Tailored Mithaai Boxes for Personalized Gifting
Kashkan offers an assorted mithaai box collection, allowing customization for personalized gifting.
Pre-order your preferred selections and explore sampler boxes directly from the restaurant for a hassle-free experience.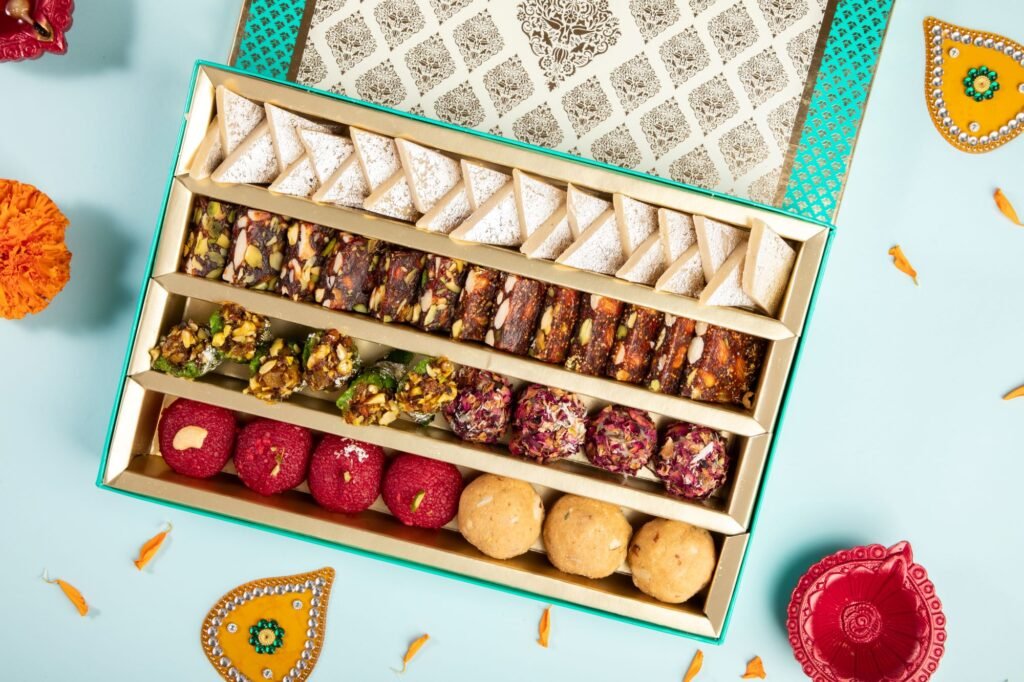 Celebrate Diwali with the goodness of health and tradition, courtesy of Kashkan's sugar-free Diwali treats.
10. IKEAS' AROMATISK's Diwali Delight: Elevate Every Moment
Transform your space into a festive haven with Al-Futtaim IKEA's AROMATISK 2023 Collection. From serving feasts in style, illuminating rangolis with tealight brilliance, and creating cozy conversational spaces with textiles, to crafting a warm welcome at your doorway, elevating festive gifts, and ensuring post-celebration comfort with AROMATISK bed linen – every detail adds joy to your Diwali celebrations.
With these exceptional deals and carefully curated gifts, your Diwali celebrations will undoubtedly be one to remember. Embrace the festive spirit, pamper your loved ones, and savor the sweetness of the season. Make your festival unforgettable!
Advertisement