Located around 1.5 hours from Dubai, Hatta offers the best of nature, hikes, adventure and more. Nestled high in the Hajar Mountains, Hatta is also known for its Wellness Festival. COREUNITY will be back with Hatta Wellness Festival this year. It was launched last year and focuses on health, wellbeing and movement. And now the dates for Hatta Wellness Festival 2024 are out. The wellness festival will run from Friday, January 19, until Sunday, January 21. Read on for all the deets.
Also Read: You Can Now Explore Hatta In A Cool Hop-On-And-Off Bus For AED 2 Per Stop
Hatta Wellness Festival To Take Place On January 19, 2024
The three-day Hatta Wellness Festival will take place over the Jan weekend in 2024, and tickets aren't on sale yet. However, you can head to COREUNITY's website and register for the pre-sale. The pre-sale starts on August 1st 2023, so register and get the notification first when the tickets go on sale. For pricing, the day will cost around AED149, and the Hatta wellness festival will take place at Hatta Wadi Hub.
Perfect for the entire family, the wellness festival will offer activities like yoga, breathing techniques and HIIT. And with your tickets, you will get unlimited access to all the scheduled activities. And we are sure in the 2024 festival- you can expect a lot more.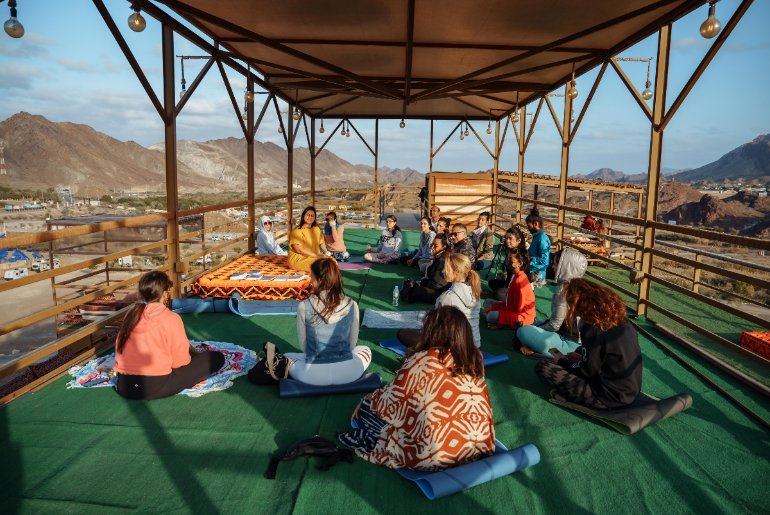 Pre-sale For Tickets Begin On August 1st, 2023
If you are all set to attend the Hatta wellness festival, you will be happy to know that camping will be available at the event. For camping, you can hire all the gear while booking tickets. Besides, you can also win tickets for Hatta Wellness Festival for FREE. How? It's simple, participate in Core Direction's wellness challenge.
Also Read: Dubai's Hatta Makes It To The List Of One Of The World's 50 Most Beautiful Towns
Advertisement

On Monday, July 31st- Core Direction will launch the new 4-Week Health & Happiness Programme and include- 28-Day Habit Tracker. Commit four weeks to your fitness, health & happiness this summer and be in with a chance to win 2 COREUNITY Full Festival tickets!
Besides this, did you know you can now explore Hatta on an E-scooter? Yep, you read that right! Dubai's Roads and Transport Authority (RTA) has launched e-scooters at 11 sites along the 9 km route in Hatta.
RTA Installs Over 600 Bikes, E-Scooters & More At Hatta
RTA has started operating individual mobility stations for bikes and e-scooters and features a variety of soft mobility means like bikes, mountain bikes, and e-scooters, facilitated by the global micro-mobility provider, Lime. The stations are located at 11 sites, notably the Heritage Village, next to Wadi Hatta Park, Hatta Hill Park, the public bus station, and Hatta Valley.
The authorities are eager to develop these solutions to provide visitors with diverse options to experience the best of Hatta. Known for its unique geographical location, environmental and cultural diversity, and a plethora of entertainment options, this place in UAE offers the best of everything.
In fact, in the first quarter, 1,902 trips were recorded, with e-scooters accounting for 984 and bikes and mountain bikes contributing the remaining 918 trips. Activities at present are closed for summers, but whenever you plan to visit this idyllic destination, ensure to enjoy the breathtaking landscape and the mountainous environment by renting individual mobility means such as bikes, e-scooters, and mountain bikes.
Also Read: Everything You Must Know About Hatta Redevelopment Project
There are 600 shared mobility means- 250 e-scooters, 250 bikes, and 150 mountain bikes that can be driven on tracks stretching 11.5 km. Individual mobility means operation stations and rest stops for riders are spread across the tourist hotspots in the area.
Advertisement