UAE's leading food delivery platform, Talabat, recently launched rest stops for delivery riders in Abu Dhabi for summers. And now, the Department of Municipalities and Transport (DMT) has announced a new project for delivery riders. The Delivery Riders Hub pilot project will be implemented in Abu Dhabi in September 2023. Through this initiative, Abu Dhabi Government entities, the private sector and non-profit organisations aim to improve the quality of life in Abu Dhabi and promote the emirate as a preferred global destination to live, work and invest. Furthermore, the Delivery Riders Hub aims to provide a comfortable work environment for delivery motorcycle riders. Read on for all the deets. 
Also Read: Charlie Puth To Perform In Abu Dhabi For The First Time On October 1st
Delivery Riders Hub Project Will Ensure That Delivery Riders Can Work In A Comfortable Setting
The Delivery Riders Hub project will provide the riders with shaded waiting areas, comfortable seating equipped with air conditioning and drinking water facilities. These provisions will enhance their working conditions, especially during the summer months.
Besides this, it will also offer delivery riders a host of benefits. From providing parking spaces for their motorcycles to addressing the problem of delays in food delivery, the Delivery Riders Hub will ensure that delivery riders are prevented from being issued with traffic fines. The riders can also use the hub to generate income by using them as advertising and promotional locations.
Advertisement

Delivery Riders Hub Will Launch On E25 Street
The Delivery Riders Hub initiative launching in September will be on E25 Street because it is one of the hotspots for restaurants and cafes. The new hubs are designed to be quickly produced and assembled and can accommodate 10 to 15 individuals.
Also Read: Pop Legend & Record-Breaking Artist Robbie Williams To Perform In Abu Dhabi On October 18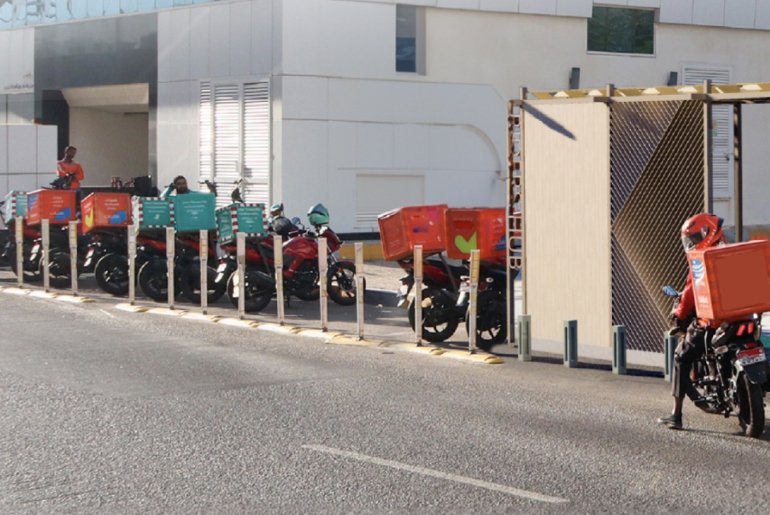 Speaking about this newly launched initiative, His Excellency Hamad Al Mutawa, Executive Director of the Planning and Infrastructure Sector at DMT, said:
"The pilot project reflects the department's commitment to enhancing the public appearance of Abu Dhabi city and improving the quality of life and wellbeing of the emirate's community. It aims to provide a suitable and motivating working environment for delivery drivers by providing safe spaces, shaded waiting areas with comfortable seating, air conditioning and drinking water facilities. By investing in improving the working conditions of bike drivers, we contribute to enhancing Abu Dhabi's position as a smart and inclusive city for all."
It, indeed, is a great move! Stay tuned for more deets on this.
Advertisement