In a delightful treat for movie enthusiasts, Cinema Under the Stars returns to Jumeirah Lakes Towers (JLT) Park in Cluster Q, transforming it into an open-air cinematic haven for an unforgettable experience.
A Stellar Lineup
Every Saturday night until March 2, locals and expats alike can revel in the magic of beloved classics, all under the night sky and, most importantly, for free. The schedule boasts a diverse lineup, promising an evening filled with nostalgia and excitement.
Grab Your Spot Early
Seats for these cinematic delights are available on a first-come-first-serve basis, so eager moviegoers are encouraged to secure their spot on the grassy expanse early. The movies commence at 7.30 pm, providing the perfect setting for a picnic-style gathering with friends and family. Bring your popcorn, nachos, and favorite snacks to enhance the outdoor movie experience.
Also read: Diwali Celebration In Dubai: Indian School Students To Get Extended Weekend
Explore the Neighborhood
JLT, a vibrant community known for its lively atmosphere, offers the perfect backdrop for this cinematic spectacle. Attendees can make the most of the experience by exploring the neighborhood's cool bars, lively restaurants, and charming cafés before or after the movie.
Advertisement

Cinema Under the Stars: A Movie Buff's Paradise
For those wondering about future screenings, the schedule boasts titles like "Spider-Man: Into the Spider-Verse" on February 24 and concludes with the enchanting "How to Train Your Dragon" on March 2. Don't miss out on this cinematic delight – head over to Cluster Q, JLT Park, and mark your calendar with the upcoming movie nights.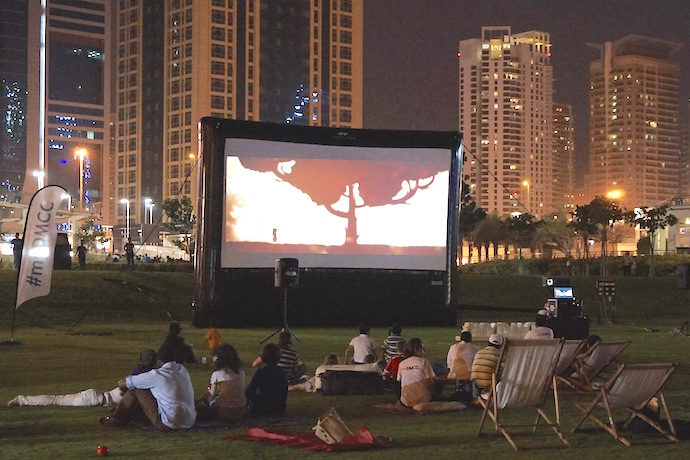 Also read: XPark By Etisalat Opens New Season With Action-Packed Weekend On Kite Beach
Plan Your Movie Nights
More information about the schedule and event details can be found on the JLT official website. So, gather your friends, pack your picnic bag, and immerse yourself in the magic of Cinema Under the Stars – an unforgettable experience that combines the charm of classic movies with the enchantment of a starlit night.
Ensure you don't miss out on this cinematic delight by planning your movie nights under the stars in JLT Park. Cinema Under the Stars is not just a movie night; it's an experience to cherish.
Advertisement