In a significant development for Indian students in the United Arab Emirates (UAE), the Central Board of Secondary Education (CBSE) curriculum is set to undergo a transformative change in 2024. Over 80 schools in the UAE offer the CBSE curriculum, and they will soon adopt a bi-annual board exam system, aligning with global CBSE standards. This move aims to alleviate the pressure on students and enable them to showcase their true potential.
The New Bi-Annual CBSE Board Exam System
Under the new system, students will have the opportunity to sit for board exams twice a year, with only their best scores being retained. This approach is designed to reduce academic stress, allowing students to excel without the burden of a single high-stakes examination. The implementation of this system will commence from the academic year 2024-25 in a phased manner, with additional guidance from CBSE schools.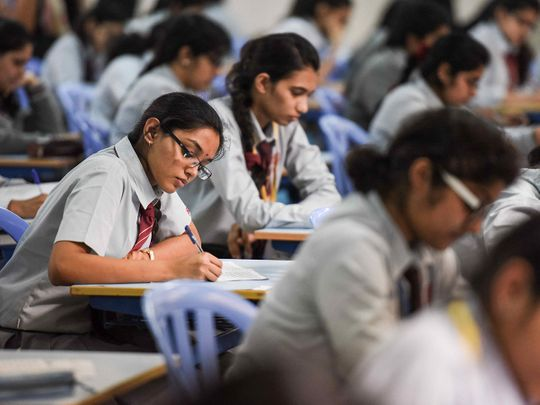 Also read: BCCI Releases 400,000 Cricket World Cup Tickets To Meet High Demand
Dr. Anjuli Murthy, Principal/CEO of GEMS Our Own High School, Al Warqa'a, highlighted the ultimate goal of making subject-wise board exams immediately accessible after each school term, providing students with a more flexible and comprehensive assessment structure.
Positive Impact on Student Well-being
Punit MK Vasu, CEO of The Indian High Group of Schools, lauded the introduction of bi-annual board exams, emphasizing that it offers students a fairer chance to showcase their skills and understanding. He believes this shift from rote memorization to competency-based assessment will enhance students' depth of knowledge and reduce stress levels. Additionally, the commitment to optimizing textbook costs signifies a significant step towards a student-centric educational framework.
This change also provides students with greater flexibility in subject choice and "on-demand" exams, encouraging them to make informed decisions about their academic future. It promotes a more holistic educational approach centered on positive reforms.
Two-Language Requirement
While the bi-annual exam system brings relief, it introduces a new challenge in the form of a two-language stipulation for students in Classes 11 and 12. According to Vandana Marwah, Principal of Delhi Private School, Sharjah, students will need to study two languages, with at least one being native to India. This requirement poses a unique challenge for students in foreign countries like the UAE, where they study Arabic until Grade 9 or 10, with Arabic becoming optional in Grades 11 and 12 in line with UAE guidelines.
Advertisement

Dr. Murthy explained that currently, Indian students in Grades 11 and 12 are only required to study one language. However, the National Education Policy 2020 prioritizes education in Indian languages, leading to the inclusion of an additional Indian language requirement. Schools offering non-Indian languages may need to reevaluate their provisions to accommodate this change.
Subject Choice and Educational Perspective
In addition to the two languages, students will have the flexibility to choose four subjects from at least two of three categorized groups: "Group 2: Art Education, Physical Education and Well-being, Vocational Education," "Group 3: Social Science and Humanities, Interdisciplinary Areas," and "Group 4: Science, Mathematics and Computational Thinking."
These changes aim to offer students a wider range of courses, allowing them to pursue their preferred subjects without the pressure of adhering strictly to Science, Medical, Commerce, or Humanities streams. This approach will provide a stronger foundation for higher education and encourage a holistic perspective.
Impact on Higher Education
Opinions on how the new system will affect higher education are mixed. Keshav Maheshwari, Managing Director of Allen Overseas, which supports students for competitive exams such as NEET and JEE, recognizes that dividing CBSE exams into two parts introduces a notable change. While it offers opportunities for deeper subject understanding and critical thinking, it also places added pressure on students to excel in two separate exams. Maheshwari emphasizes the importance of comprehensive resources, rigorous practice, and personalized mentorship to prepare students for success in their academic journeys.
Also read: Sultan Al Neyadi's Space Homecoming: Hear His Heroic Words
The adoption of bi-annual CBSE board exams in UAE schools represents a significant stride towards a more student-centric and comprehensive educational framework. While it introduces new challenges, it also promises a brighter future for Indian students, reducing the burden of high-stakes exams and promoting holistic learning. This change, set to begin in 2024, reflects the evolving landscape of education, prioritizing student well-being and academic excellence. CBSE schools in India and abroad will collaborate closely to ensure the successful implementation of these reforms.
Advertisement