Emirati astronaut Sultan Al Neyadi has returned to Earth following his extraordinary six-month mission aboard the International Space Station. This historic moment in the UAE's space exploration journey has captivated the world's attention and inspired countless individuals worldwide.
Sultan Al Neyadi's Gratitude
In a touching message posted on X (formerly known as Twitter), Sultan Al Neyadi expressed his deep gratitude and provided reassuring news about his health. He wrote, "From Earth to Space & back, I write to you with gravity under my feet and warmth in my heart from all the love and support you all have shared. Thank you all for being part of this journey with me. Friends, I'm in good health and looking forward to meeting you all very soon."
Sultan Al Neyadi's heartfelt words resonate with people globally, and his safe return is a testament to his appreciation for the unwavering support he received throughout his mission.
Also read: Grammy-Winning Sensation Sean Paul To Rock Dubai's Stage In October
A Historic Achievement for the UAE
As the first Emirati astronaut to embark on such a mission, Sultan Al Neyadi's accomplishment holds immense significance for the United Arab Emirates and the broader space exploration community. His triumphant return marks a pivotal moment for the entire nation, symbolizing its commitment to space exploration and scientific advancement.
Advertisement

Inspiring the Next Generation
Sultan Al Neyadi's dedication and courage have ignited inspiration among countless individuals, both in the UAE and across the world. His journey has proven that dreams can be realized, and the stars are within reach for those who dare to explore.
A Message of Unity and Hope
Amidst global challenges, Sultan Al Neyadi's heartwarming message serves as a beacon of inspiration and unity. It reminds us of the unifying power of human achievement and the limitless possibilities that space exploration offers to people of diverse backgrounds and nationalities.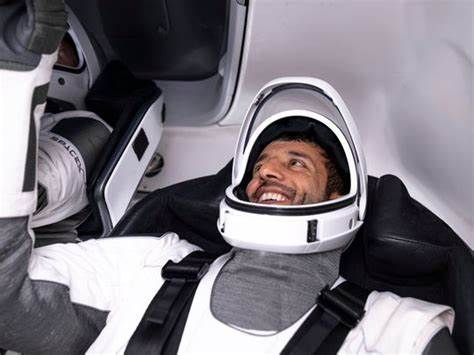 Also read: CB2 Showcases 'Designed To Make A Statement' Campaign With Exclusive Collaborations
Looking Ahead: The Cosmos and Beyond
As the world eagerly anticipates further updates from Sultan Al Neyadi, his message lingers, reinforcing the notion that the sky is not the limit. Humanity's journey into the cosmos is just beginning, and Sultan Al Neyadi's mission reminds us that our dreams and aspirations can propel us to reach new heights.
Sultan Al Neyadi's triumphant return from space is a testament to human potential and unity. His journey has inspired and continues to inspire generations, and his message carries the hope that the stars will forever beckon us to explore the boundless expanse of the universe.
Advertisement