The transformative journeys of Bollywood actors as they shed those extra pounds are nothing short of inspirational. Through gruelling trials and tribulations, they strive to achieve the perfect physique to feel better about themselves. These inspiring transformations inspire us to strive for a healthy and balanced lifestyle with a combination of regular exercise and a nutritious diet. From those who battled the bulge to make their mark in Bollywood, to those who bounced back after pregnancy weight gain, these stars have shown us the power of determination and self-discipline.
1) Alia Bhatt
Alia Bhatt, welcomed her first child, a daughter named Raha Kapoor, with her husband Ranbir Kapoor in November 2022. In a recent interview, Alia talked about the pressure that new mothers face to lose weight and get back to looking a certain way. She admitted to loving food and revealed that she had to lose weight because films are a visual medium, and actors need to look appealing. Alia's fans were stunned by her post-pregnancy weight loss and praised her for her stunning transformation. Some netizens remarked that it did not even look like Alia had given birth, she had lost so much weight. Alia's appearance, just three months after giving birth, has left fans in awe.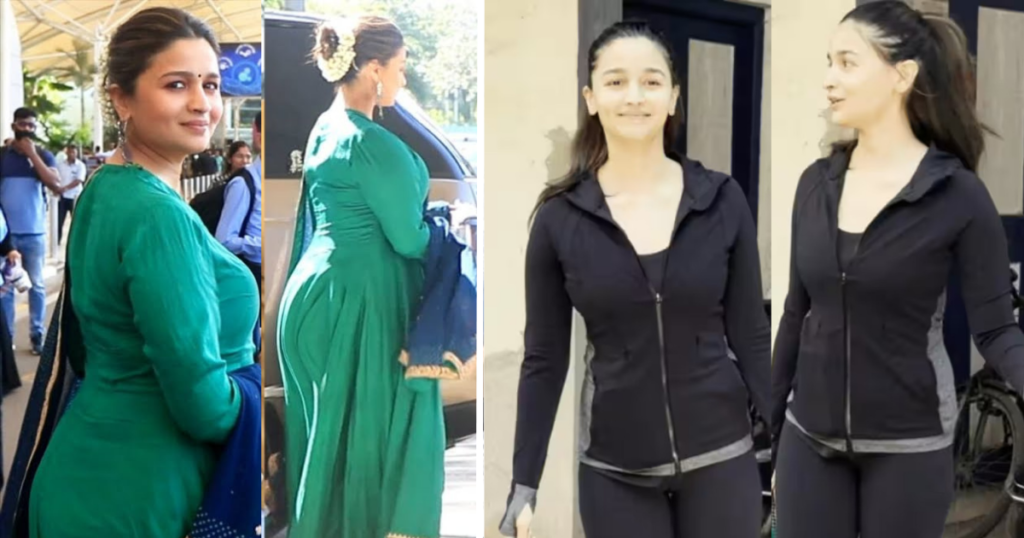 2) Sara Ali Khan
Before Sara Ali Khan's weight loss journey began, she tipped the scales at 96 kilos. But despite her struggles with PCOS, a hormonal disease that causes weight gain and other issues, Sara was determined to work towards living a healthy lifestyle Bollywood did have some beauty standards one of the being weight loss and a sexy figure which is still considered to be size zero. Sara's journey was far from easy, but her unwavering determination saw her shedding an impressive 30 kilos. Along the way, she had to follow a strict diet and exercise regime, customized to suit her body's needs and preferences. But what truly sets Sara's weight loss journey apart is her bravery in speaking out about her struggles with PCOS. Despite the lack of awareness about this hormonal disease, Sara has been an advocate for lifestyle changes, vitamins, and fitness to help manage the condition. Sara Ali Khan's journey is nothing short of inspirational and serves as a beacon of hope for anyone looking to transform their body and health.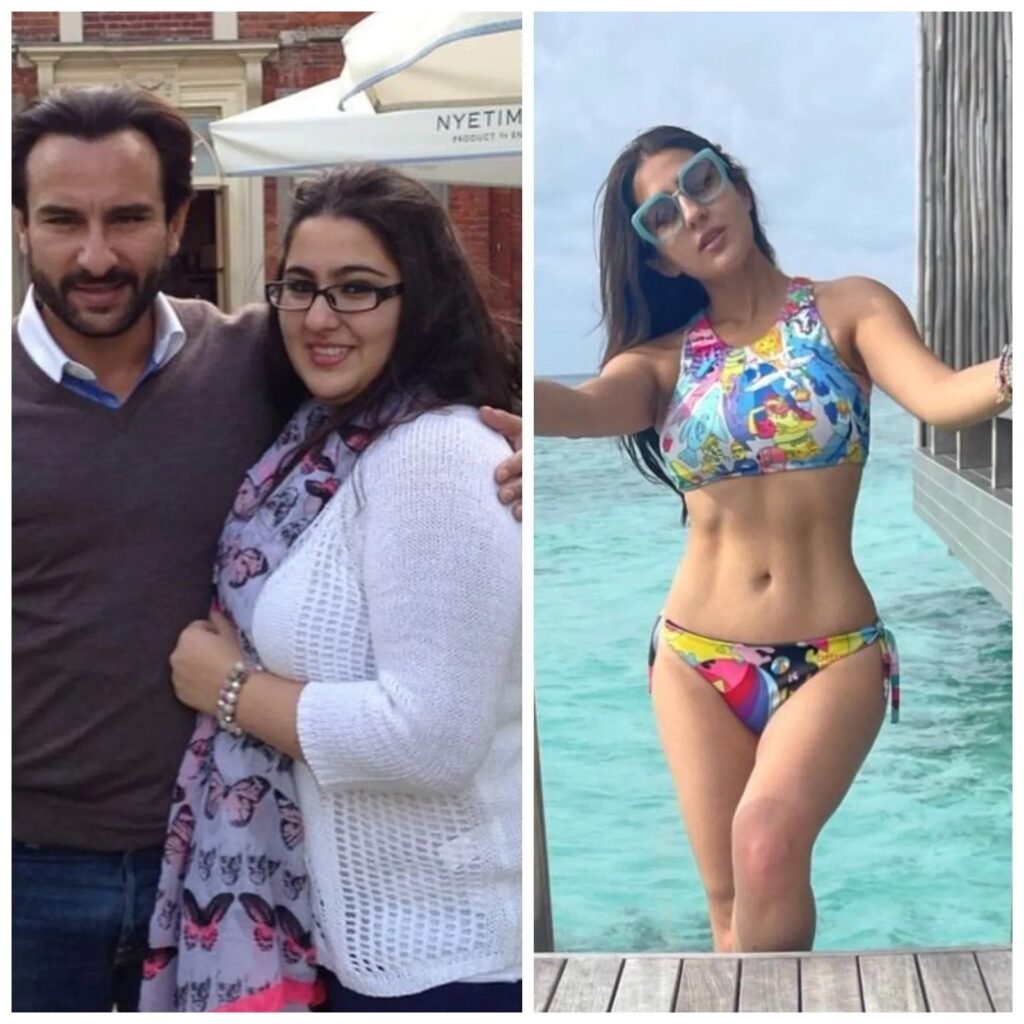 2) Arjun Kapoor
Arjun Kapoor's weight loss journey is one of the most talked about in B-town. Before he made his debut in Bollywood, Arjun was struggling with obesity. He weighed around 150 kg and suffered from health issues like asthma and high blood pressure. Arjun's transformation was not easy, and he had to work hard to shed those extra kilos. Apart from his physical transformation, Arjun also underwent a mental transformation. He became more disciplined and focused on his goals. He was determined to succeed in the film industry and worked hard to improve his acting skills and physique. Today, he maintains a healthy lifestyle. His transformation is an inspiration to many who struggle with weight issues and want to achieve their dreams.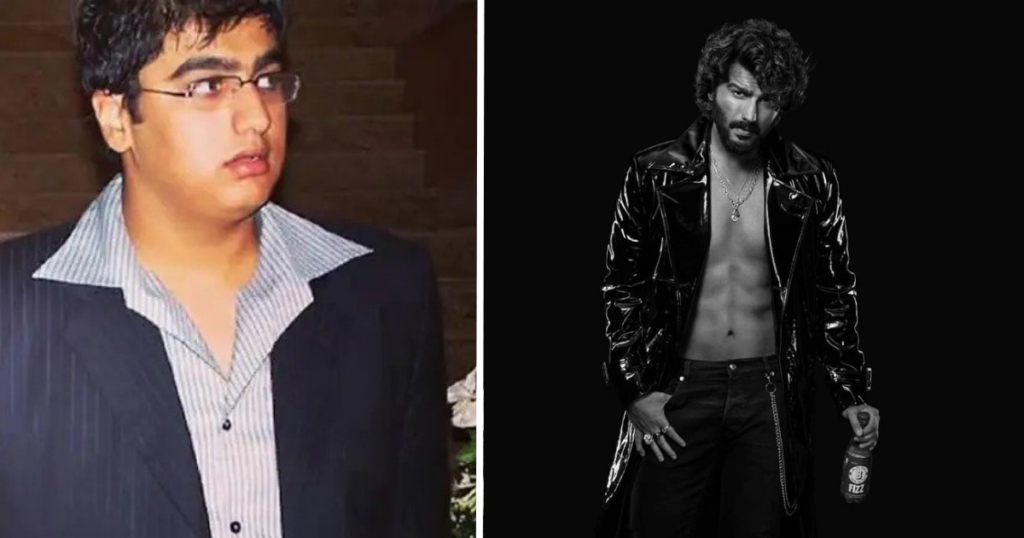 4) Kareena Kapoor Khan
Did you know that Bollywood's very own 'poo', Kareena Kapoor Khan also went from fir to fab? She has always been in the limelight for her acting skills and her fashion choices, but her weight loss journey has been equally impressive. Before entering Bollywood, Kareena had a chubby frame and was not particularly concerned about her weight. However, after her debut film 'Refugee', she began to focus on her fitness and started working out regularly. In her 2010 film "Tashan", Kareena showed off her toned body in a bikini scene, and became the face of size zero! After giving birth to her son Taimur in 2016, she was determined to lose her post-pregnancy weight and get back into shape. She worked hard to lose 20 kgs in just six months and looked stunning in her comeback movie 'Veere Di Wedding.' She was even quick to get back on her feet after the birth of her second son. She continued to work out and followed a balanced diet plan to shed the post-pregnancy weight and she often shared her glimpses on social media inspiring us all.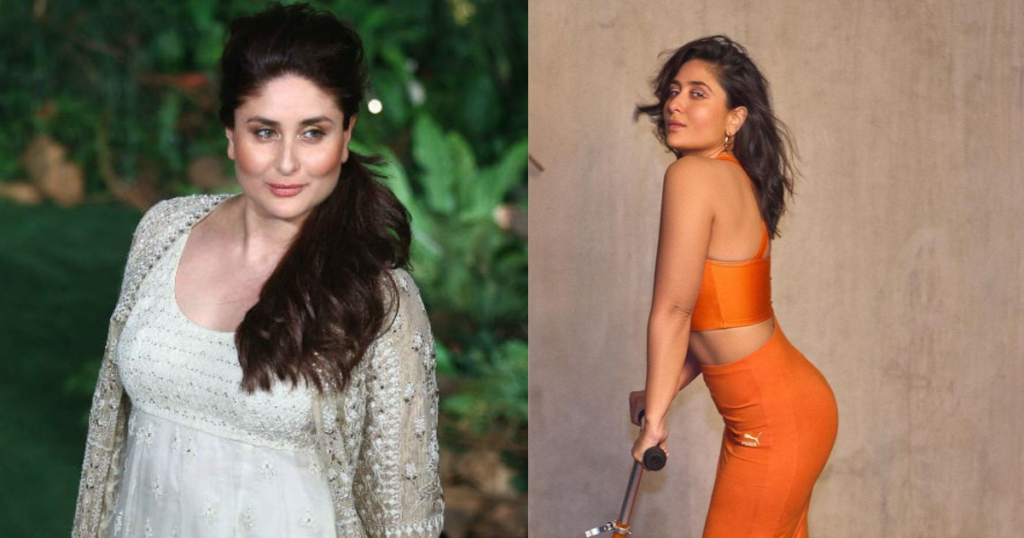 5) Sonam Kapoor Ahuja
Sonam Kapoor's weight loss journey has been an inspiration to many. Before making her debut in Bollywood in 2007 with Saawariya opposite Ranbir Kapoor, Sonam reportedly weighed around 86 kilos and struggled with Polycystic Ovary Disorder (PCOD). Sonam worked hard to transform herself before entering Bollywood. She followed a strict fitness routine and lost an impressive 35 kgs before her debut. Fast forward to 2023, and Sonam Kapoor once again wowed everyone with her post-pregnancy weight loss. Just three months after giving birth to her son Vayu, Sonam looked stunning and fit during an event in Delhi.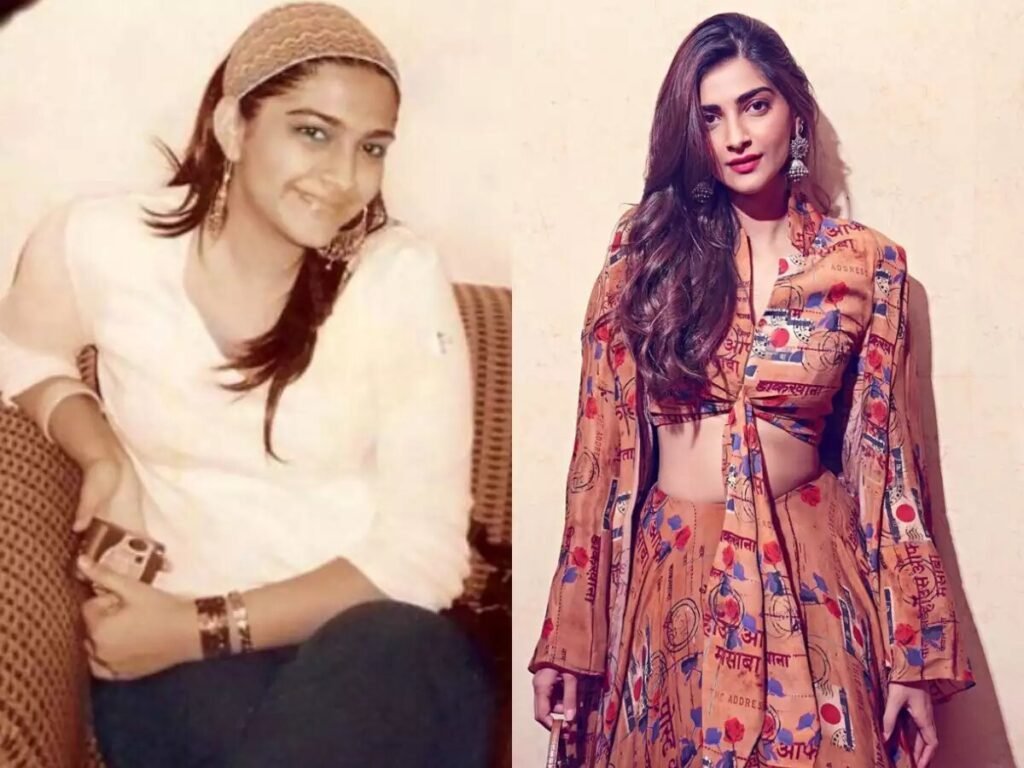 6) Sonakshi Sinha
Sonakshi Sinha, who made her Bollywood debut in 2010 with the movie "Dabangg" opposite Salman Khan, was reportedly 95 kgs before entering the industry. She was known for her curvy figure and was criticized for her weight by some. However, Sonakshi stunned everyone with her dramatic weight loss transformation for her movie "Tevar" in 2014. She lost over 30 kgs and looked stunning in the movie. Sonakshi followed a strict diet and worked out for three to four hours every day to achieve her goal. Her weight loss journey started when she was 18 and couldn't stay on a treadmill for more than 30 seconds at a gym. She decided to lose weight not because she wanted to be an actor, but because she knew it was needed. During the promotion of her latest outing Double XL, Sonakshi recently revealed how she never listened to her mom who told her to lose weight. She believes that the conditioning of a child begins at home, and her mom realized this after watching the film.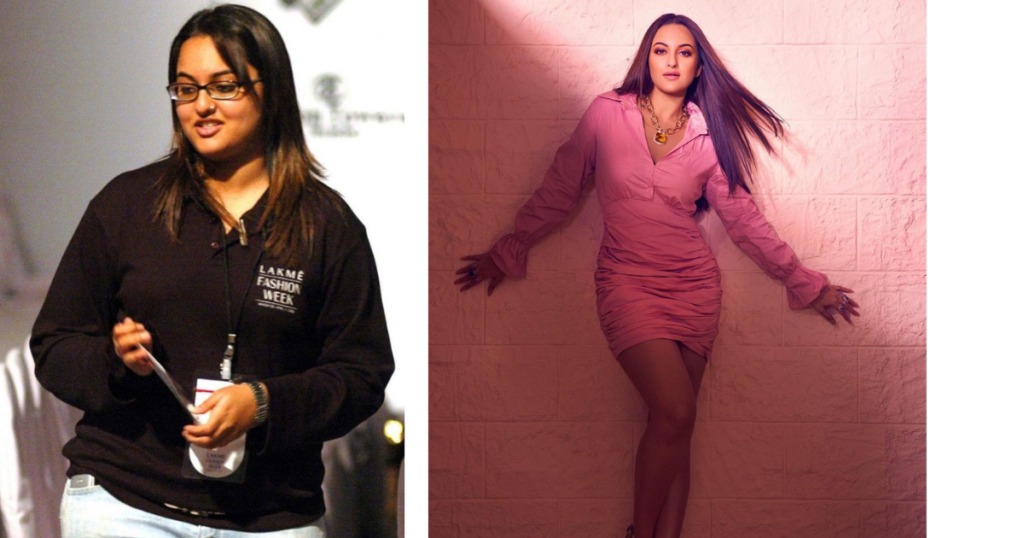 7) Bhumi Pednekar
Bhumi Pednekar is one Bollywood actress who is known for her incredible weight loss transformation. When she was offered her debut film "Dum Laga Ke Haisha" in 2015, she weighed around 72 kilograms. However, her character in the movie required her to put on even more weight, which she did by consuming a high-calorie diet. After the film was completed, Bhumi had to shed all the extra weight that she had gained for her role. She worked very hard to lose the extra pounds and managed to look super fit and toned in a short span of time. To achieve her weight loss goal, Bhumi followed a balanced diet and incorporated rigorous physical activity into her routine. She also practised yoga and strength training to boost her metabolism and achieve her desired body shape. Her transformation is truly inspiring and serves as an inspiration to many who are struggling to lose weight and achieve a healthy lifestyle.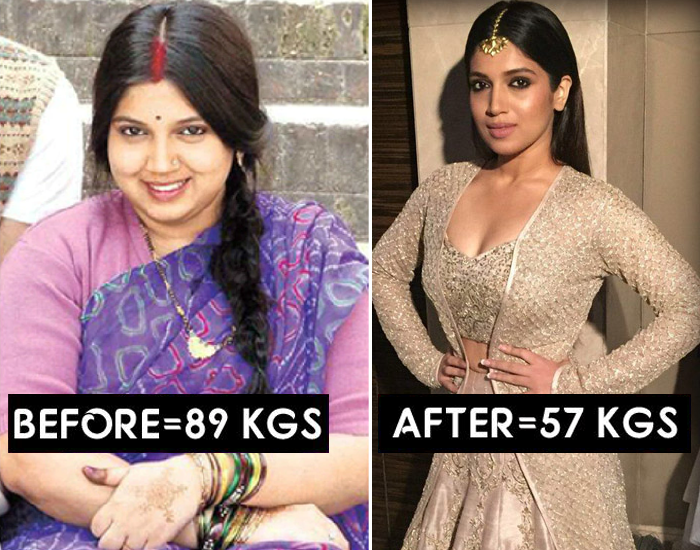 8) Karan Johar
Karan Johar, the successful Bollywood director, admitted that his busy schedule had taken a toll on his health and fitness over the years. However, after becoming a parent, he decided to make a change and prioritize his health. He sought the guidance of fitness trainer Kunal Gir, who had previously helped actor Ranbir Kapoor prepare for his role in the movie "Sanju". With Gir's help, Johar adopted the keto diet and incorporated fat-burning exercises into his routine. After four months of dedication and hard work, he lost nearly 17 kilograms and transformed his physique. He continues to stay fit and fabulous!