The holy month of Ramadan has officially begun, and if you are travelling for work or otherwise during the Holy month, your favourite airlines have got you covered. And now, after Emirates Airlines, Etihad, and Qatar Airways have also launched an Iftar meal on select routes. Read on for all the deets.
Also read: Emirates Launches In-Flight Iftar Meal Boxes For Ramadan
Qatar Airways has launched an iftar bag for Ramadan, and it includes a bottle of water, fresh Laban, Medjool Dates, Chicken Musakhan Wrap, Falafel Wrap and Baklava. For inbound flights to Doha, passengers will get the same selection with a Chicken Shawarma and a Muhammara Wrap. The Iftar bag will be available on selected routes across Algeria, Bangladesh, Djibouti, Egypt, India, Iran, Iraq, Jordan, Kuwait, Morocco, Oman, Pakistan, Saudi Arabia, Sudan, Tunisia and the United Arab Emirates. And to ensure that Iftar timings are met, the Qatar Airways cabin crew will announce the commencement of this service and serve the Iftar meal bags at the appropriate time during the flight.
When it comes to Etihad Airways, Abu Dhabi's national carrier will also be providing Iftar meals to its passengers. With Etihad, break your fast on board with refreshing laban, water and dates, or savour our delicious range of dishes created in collaboration with Emirati Chef Khaled Alsaadi. And when it comes to Emirates, the airline has launched thoughtful, nutritionally-balanced iftar meal boxes. Fasting passengers across all cabin classes to select Emirates destinations will receive this box.
Also read: Starbucks Launches Ramadan Special Menu & It Screams Festive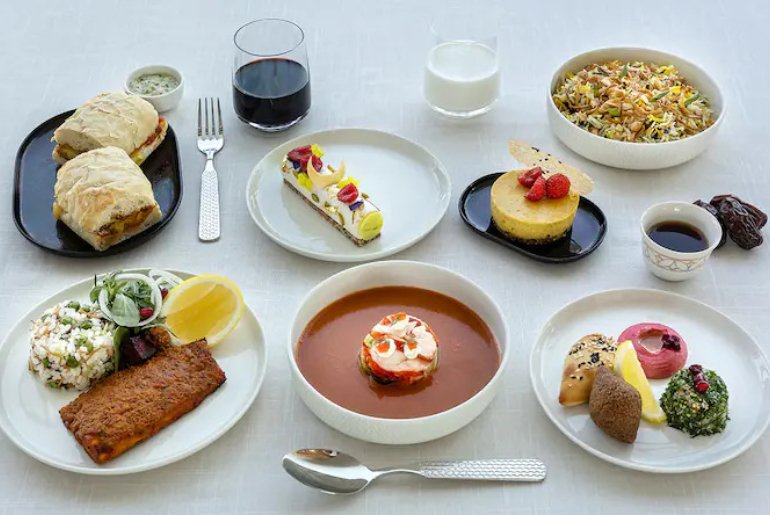 All these arilines will be serving meals across all classes throughout the holy month of Ramadan.