UAE is the epitome of luxury, grandeur and beauty. From stunning wellness retreats to ultra-luxurious resorts and hotels, UAE has everything to offer. And now, to take the love for luxury and beauty to the next level- Earth Hotels, an experience-driven boutique hotel brand, is set to open a futuristic jaw-dropping retreat in Abu Dhabi. Called Earth Mangroves, the property will open in Abu Dhabi in the second quarter of 2025. Read on to know everything about this luxurious retreat.
Also read: Enjoy Iftar In A Floating Hotel In Dubai For AED159 ONLY
In terms of locations, the exact location is yet to be revealed; however, it will be amidst the dense mangrove forest in Abu Dhabi. Speaking about the property, it will have 41 free-sanding futuristic-looking bungalows winding their way across a plush green landscape and floating on the waterfront. The decor of the retreat will complement the mangroves. It will be earthy, modern and minimalistic. The property will also have a lounge to encourage you to socialise with other guests. The "Sticky Lounge", will be the epicentre of the hotel, bringing like-minded travellers, thrill seekers and staycationers together to chill and revel in the smug glow of collective bliss.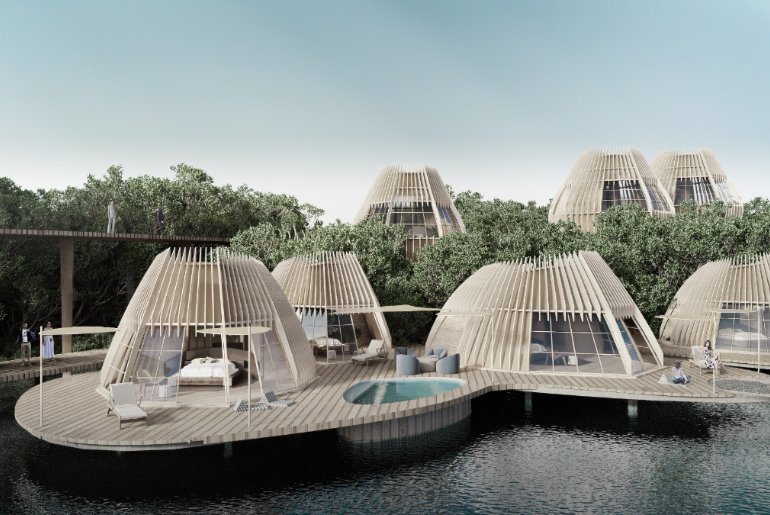 Furthermore, guests will be able to indulge in expansive activities like kayaking to paddle boarding, yoga, meditation, running or just casually strolling and taking it all in. The retreat aims to provide you with the best of food, experience and stay, thereby making your staycation the best one in Abu Dhabi. In fact, after Abu Dhabi, Earth Hotels will open its second property in the UAE. It will be called Earth Shore and will be located on Marjan Island, Ras Al Khaimah. The seaside property will feature 265 rooms with world-class luxury. Earth Marjan will be a vibrant lifestyle beach hotel serving a distinctive blend of relaxation and adventure and living it up with some fresh party vibes.
Also read: Saudi Arabia To Launch A High-End Luxury Cruise For Ultra-Rich
You can choose from a resort room, cabana, or duplex sky suite- all the rooms are designed from a sustainable and experiential mindset – perfect for a romantic escapade, a fun-filled family vacation or an energizing getaway with friends.
And while stunning properties are coming up in the UAE, Earth Hotels is also launching its properties on the sun-drenched shores of Porto in Portugal at the end of 2024, a massive lifestyle hotel in Jeddah slated to open in 2025, followed by an 85-key urban residence in Riyadh in early 2026.
Offering the best of everything with great food and vibes, Earth Hotels is set to become the next must-visit retreat in UAE.