In a remarkable leap forward for traveler experience, Abu Dhabi Customs has unveiled an extraordinary innovation at Abu Dhabi Airport: the state-of-the-art Abu Dhabi Airport Face-Recognition Robot. Harnessing the power of artificial intelligence (AI), this revolutionary robot can read body language and recognize faces, promising to streamline the customs process and provide travelers with an unparalleled experience.
The AI-Powered Marvel
Pioneering Technological Advancements
Presented by Mohammed Al Hammadi, Senior Customs Controller at Abu Dhabi Customs, this advanced robot signifies a significant stride towards enhancing traveler experiences. With its remarkable AI capabilities, it has the potential to transform the way we approach airport customs.
Efficient Data Collection
One of the most extraordinary features of this AI-powered marvel is its capability to efficiently collect comprehensive traveler information. It can simultaneously assess the body language and facial expressions of a group of five to seven individuals, even from a considerable distance of up to six meters.
Abu Dhabi: Elevating the Traveler Experience
Personalized Service in Multiple Languages
This innovative robot has a singular mission: to expedite the customs process and elevate the overall traveler experience. Its integrated AI system enables it to communicate with travelers in their preferred language, effectively addressing their inquiries and offering valuable assistance.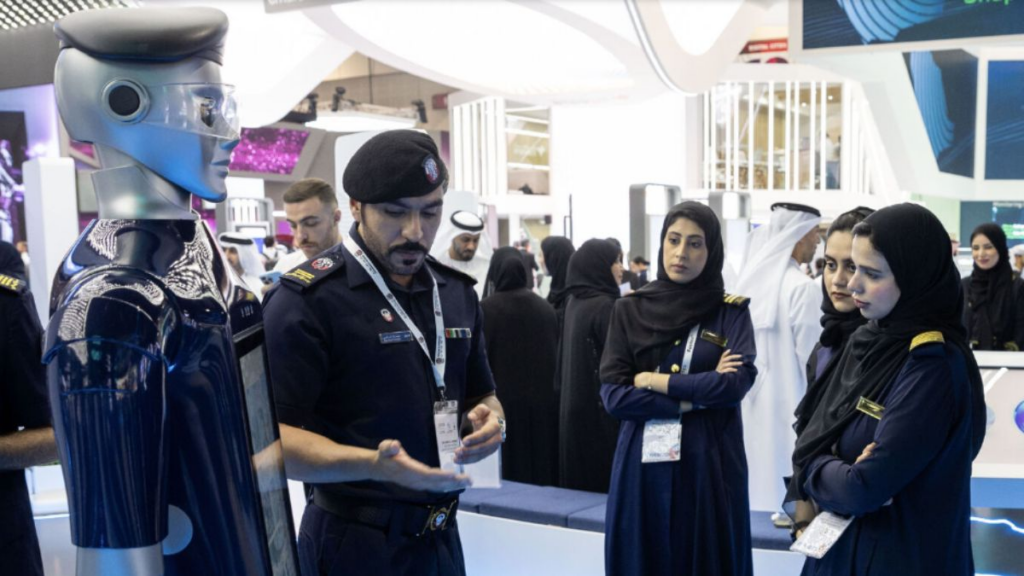 Also read: UAE Public Holidays 2024: Mark Your Calendar For Eid Al Adha And More!
Satisfaction Measurement and Personalization
Equipped with advanced cameras and sensors, this remarkable robot can gauge traveler satisfaction with the service provided. Moreover, it can determine their gender and estimate their age, contributing to a more personalized and efficient customs process.
Advertisement

A Glimpse into the Future
Expanding Horizons
The role of this AI-powered robot is poised to expand even further. Expect it to take on customs clearance for goods, marking a significant stride towards a more efficient and technology-driven approach to customs operations.
GITEX Global 2023: A Nexus of Innovation
Showcasing Technological Advancements
The introduction of the Abu Dhabi Airport Face-Recognition Robot coincided with GITEX Global 2023, an international event that brought together the brightest minds, forward-thinking governments, and cutting-edge companies to explore the vast potential of AI. From driverless car trials to the transformation of software development through generative AI, GITEX Global delved into various aspects of this technological frontier.
Global Collaboration and Innovation
Pony.ai, a global leader in robotaxi technology with Toyota's support, expressed its interest in expanding its presence to the Middle East during GITEX Global 2023. The region's favorable business environment and willingness to adopt advanced AI technology offer compelling incentives for innovative enterprises.
Also read: Emirates Introduces In-Flight Meal Pre-Order Service To New Destinations
Embracing Technological Advancements
The introduction of the Abu Dhabi Airport Face-Recognition Robot underscores the UAE's unwavering commitment to harnessing technology for the benefit of travelers. We anticipate further groundbreaking innovations in the future. Events like GITEX Global serve as vital platforms for showcasing technological advancements and fostering global collaboration. This robot signifies a giant leap towards a more seamless and personalized airport experience in Abu Dhabi.
Advertisement